{{#pushedProductsPlacement4.length}} {{#each pushedProductsPlacement4}}

{{product.productLabel}}
{{product.model}}
{{#each product.specData:i}} {{name}}: {{value}} {{#i!=(product.specData.length-1)}}
{{/end}} {{/each}}
{{{product.idpText}}}
{{#if company.requestButtonsVisibility.requestButtonQuestion == "ACTIVE"}}
{{elseif company.requestButtonsVisibility.requestButtonWhereToBuy == "ACTIVE"}}
{{/if}}
{{#if product.innovationType}} {{else}} {{#if product.newProduct}} {{/if}} {{/if}} {{#if product.hasVideo}} {{/if}}
{{/each}} {{/pushedProductsPlacement4.length}}
{{#pushedProductsPlacement5.length}} {{#each pushedProductsPlacement5}}

{{product.productLabel}}
{{product.model}}
{{#each product.specData:i}} {{name}}: {{value}} {{#i!=(product.specData.length-1)}}
{{/end}} {{/each}}
{{{product.idpText}}}
{{#if company.requestButtonsVisibility.requestButtonQuestion == "ACTIVE"}}
{{elseif company.requestButtonsVisibility.requestButtonWhereToBuy == "ACTIVE"}}
{{/if}}
{{#if product.innovationType}} {{else}} {{#if product.newProduct}} {{/if}} {{/if}} {{#if product.hasVideo}} {{/if}}
{{/each}} {{/pushedProductsPlacement5.length}}

Operating pressure: 0.49 bar
Flow rate: 4166.66 ft³/s
Industrial Air Filtration As the cost of energy continues to increase, plant managers are continually looking for ways to reduce power consumption. Within our filter portfolio is the unique MCF PowerSaver, a filter that can save up ...

Flow rate: 200000 m³/h
Industrial Air and Dust Filters (with bag) Schenck Process Pulse Jet Filters can be used in a wide variety of air filtration applications. There are nine different products in the Pulse Jet family of filters that provide a wide range ...

Flow rate: 70000, 50000 m³/h
Industrial Air and Dust Filters (with bag) Schenck Process Pulse Jet Filters can be used in a wide variety of air filtration applications. There are nine different products in the Pulse Jet family of filters that provide a wide range ...

Flow rate: 200 m³/h
Industrial Air and Dust Filters (with bag) Schenck Process Pulse Jet Filters can be used in a wide variety of air filtration applications. There are nine different products in the Pulse Jet family of filters that provide a wide range ...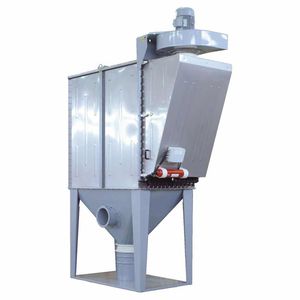 air filter
DRYBATCH series
Operating pressure: 5 bar - 6 bar
Flow rate: 6000 m³/h
The polygonal shape DRYBATCH® Dust Collector comes with a horizontally mounted filter elements, a compressed air jet cleaning system built onto the access door and a space-saving compact design. It has been designed for dust collection ...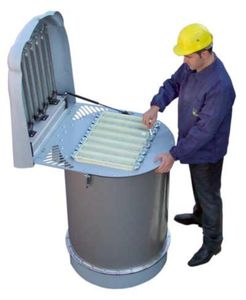 The Silotop® is a cylindrically shaped dust collector manufactured by Wamgroup. It consists of a body made of stainless steel and Polypeat® filter elements. It has a diameter of 800mm, a filter surface of 24.5m2l; and a maintenance height ...

particulate filter
HOPPERJET
The HOPPERJET ®, made of 304 stainless steel flanged materials, requires minimal assistance and working space. It is a small ventilating filter indicated for mechanically filled hoppers. In addition, the product is designed with either ...

DUSTSHAKE R02 is a polygonally shaped Venting Filter for silos which are pneumatically filled from tankers. Function Dust is separated from the dirty air flow by means of a multi-pocket polyester filter element. Dust drops back ...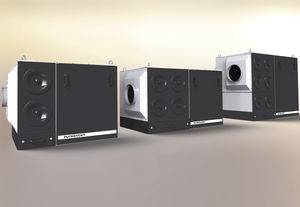 welding fume filter
MDB-COMPACT
With the MDB-COMPACT Plymovent brings you the proven and unbeaten technology of the MultiDust Bank in a compact and pre-assembled range of models. The MDB-COMPACT is available with a wide choice of filter media and can be used for almost ...

Filter designed for the suction of dust generated during the unloading of granular material into collection tanks. The filter uses anti-static polyester bags. The suction air passes through a series of grates positioned in the lower ...

The GOT Pocket filter is used to eliminate oily fumes deriving from rectification, turning, milling and the removal of shavings in general. It is also suitable for various kinds of fumes, where the dimension of the micro drops is not ...

The GST pocket filter has an aluminum profile and galvanized metal panels. It's designed for eliminating fumes caused by welding operations, or in instances where dust concentration is low and the granulometry is not fine. There are ...

Bag filter, Maxi Product type Filter for Compact AHU Model Series BFM Used in MAXI Filter class F5 F7 G3

Extract air filter. Bag filter. Dimension 510x475x300/10. Filter class EU5/F5 fine filter. For use in Rotovex 3800. 2pcs/unit. Create PDF Products in the same series BFRO SR09 IAQ F5 Filter BFRO SR11 E F5 Filter BFRO SR11 IAQ ...

Supply air filter for TOPVEX TR04 CAV and VAV variants. Filter class F7 fine filter. Fits to Topvex TR04 units produced after 2010-05-10. Before this date use item 203540.

Filter. Dimension 245x390x300/3. Filter class EU7/F7 fine filter. For use in TA 450.

Bag filters with 438x438x400/3 dimension and Filter-Class EU5/F5 provisions for filter cassette FFS.

Flow rate: 14000 m³/h
NESTRO bag filters are manufactured for overpressure and negative pressure operation; specialists refer to this as the raw or gas side connection of fans (the fan blows into or sucks through the filter system). All bag filters can be ...

Reliable, high quality stainless steel filter housing with filter bag system. The circulating filter BFS-101, delivered with one 100 micrometer NMO filter bag, is a perfect fit for a medium size circulating system, such as in automotive ...

Product: F18 65 / F18 85 / F18 95 / F18 98 Frame: in strong pressed plastic, non-toxic, incinerable. Filter section: fireproof and waterproof glass microfiber. Rigid pocket bag filters made in strong pressed plastic, the filtration media ...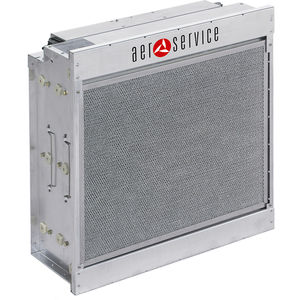 Filtration size: 0.4 µm
Operating pressure: 24 Pa - 149 Pa
Flow rate: 1300 m³/h - 3360 m³/h
FE-H series thanks to their standardised dimensions according to the traditional dimensional characteristics of pocket bag filters and to the integrated tightness electronic circuit, provides a perfect interchangeability with the pocket ...

Operating pressure: 105 Pa - 450 Pa
Flow rate: 1350 m³/h - 4200 m³/h
The pocket bag filter with the synthetic microfiber section and galvanized sheet metal frame, is composed in assembled pockets which support each other through special metal inserts that guarantee the perfect seal and microfiber glass ...

The Pocket filter offers high efficiency filtration, superior dust holding capacity and low resistance. Filtration classification according to European standard EN 779 : G3 à F9 Information Standard dimensions or on demand. Depth ...

Our compact air filters offer maximum performance from minimal size to provide the ideal solution where demands are high, space at a premium and quality a pre-requisite. Through innovative frame and media pleating technology, our range ...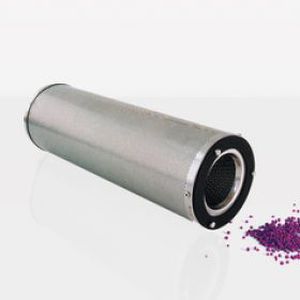 Available in a variety of formats, Technicis' gas adsorption filters use a variety of materials including the latest impregnated and activated carbons. Designed for the elimination of smalls and toxic or harmful gases, these carbon filters ...

liquid filter
DN100-DN250
The multibag filter housing can be fitted with 4 - 6 - 8 - 10 - 12 bags, size 20. The opening and closure of the vessel can be done quickly. Double security is enabled at the security locking and opening of the cover. Maintenance is ...

liquid filter
PO18 - PO31
The PO18 and 31 series are single bag filter housings. They are built with fast opening cover, swing bolts, and flexible legs. These units come with 10 bar maximum pressure at 100 °C and fully drainable through their bottom outlets. In ...

oil filter
CLEAN FV, EF OIL
Flow rate: 2000 m³/h - 21000 m³/h
The CLEAN-FV Filter is used in the mechanics and graphics industries and in other industrial divisions where there is a need to purify air from oily fog produced by processing and to recover filtered oil for recycling. OPERATING ...


air filter
25 mm, max. +90 °C | Foldbag FB
Filter bags made of a bent sheet metal frame or a plastic frame completely incinerate pockets are made of acrylic fiber Advantages: Low pressure drop High accumulation of dust 100% synthetic fiber Also available in out of standard ...
See the other products
MGT FILTRIxARIA

air filter
25 mm, max. 80 °C | Micropur MP
These are filter bags made of sheet metal or plastic frames for trapping dust particles and make up as efficient filters. They exhibit a model for low pressure drop but a dust holding capacity that is on the higher side. Variants of ...
See the other products
MGT FILTRIxARIA

air filter
25 mm, max. 70 °C | Glassbag
Description: Large filter surface High dust holding capacity Applications: Particulate and aerosol filtration in ventilantig and air conditioning Prefiltration for absolute filters
See the other products
MGT FILTRIxARIA

air filter
25 mm, max. 80 °C | Turboglass TRG
Description: The filter consists in a in recyclable polystyrene frame The filter is in microfiber glass without cellulose humidity resistant Advantages: Long service life Light and robust Large filter surface Microglass fiber without ...
See the other products
MGT FILTRIxARIA

water filter
25 mm, max. 80 °C | Turbohigh
Rigid bag filter with 100% synthetic media polystyrene frame 100% synthetic media, water repellant Avantage: wide filter surface 19 mq high dust holding capacity low pressure drop high performance fleece long service life Washable ...
See the other products
MGT FILTRIxARIA

Operating pressure: 33 Pa - 135 Pa
Flow rate: 0.94 m³/s
Just as the first incarnation revolutionised bag filter design, Revo II pushes the boundaries of filter technology even further. With a state-of-the-art synthetic media incorporating nanofibres, Revo II provides a remarkable dust holding ...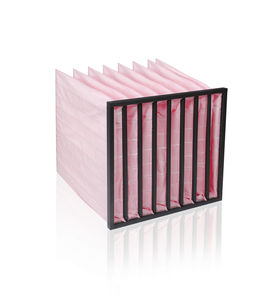 Operating pressure: 450 Pa
Flow rate: 3400 m³/h
Packed with features, SoniQ II bag air filters are ultrasonically-sealed (hence the name) to nullify the drawbacks associated with traditionally sewn pockets. Removing stitch holes is obviously the main benefit, but this method of sealing ...

Operating pressure: 450 Pa
Flow rate: 3400 m³/h
With a maximum operating temperature of 100 °C, Fibatex is designed to operate in the most extreme of environments. Featuring pockets constructed of layered micro-fine glass fibres with an additional covering layer on the clean air ...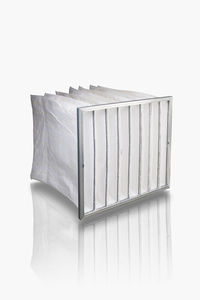 Operating pressure: 450 Pa
Flow rate: 3400 m³/h
Choose a longer life with Novatex. With excellent dust holding capacities, Novatex bag filters offer a longer service life to make yours easier. Reduced air filter expenditure, lower maintenance costs, fewer change-outs, less to dispose ...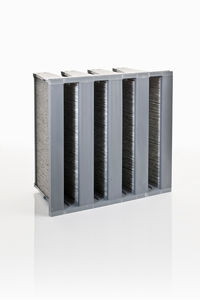 gas filter
AFP-AZ Comfort
Operating pressure: 17 Pa - 130 Pa
Flow rate: 850 m³/h - 3400 m³/h
AFP-AZ Comfort gas adsorption filters are an excellent, inexpensive method for removing odours and improving indoor air quality in air-conditioned buildings – an important contribution to the cure of "sick building syndrome" (SBS). AFP-AZ ...

air filter
1 300 - 3 400 m³/h | SY series
Semi rigid filtering bags Polyurethane frame injected over the bags, leakage proof Filtering bags thermowelded of high resistance Filter microbiologically innactive. They do not offer any nurturing elements for the growth of microorganisms Humidity ...

MultiPuls-WT depth filter cartridges are employed instead of pulse filters (surface filters) wherever the dust concentration is lower than 0.2 mg/m³, or when relative humidity is very high and the use of retention filters (depth filters) ...

multi-bag filter
Delbag FireTex
The FireTex line of encompasses filters which greatly reduce the fire hazards and consequently protect processes and human lives. In an array of industrial processes as for instance, welding or grinding of metals in the automotive ...

The MULTISACK bag filter is a modern classic. These aerodynamic filter bags minimize air-flow resistance and multiply the effective filter-surface area – resulting in pure energy efficiency. MULTISACK bag filters consist of synthetic ...

Air-filter elements with pleated micro-glass-fiber are designed so that the number and the height of the pleats are optimally matched to operational conditions. The correct distance between the pleats is maintained by separators or by ...

The bag cartridges are equipped with an aluminum frame to retain 68 single tubes including Venturi nozzles. The filter media area per cartridge is 13 m². Depending on the application, the following filter materials are available: Polyester ...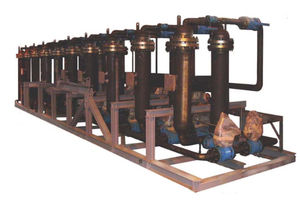 Filtration size: 25 µm - 500 µm
Flow rate: 0 m³/h - 1000 m³/h
Series MBW SELF- CLEANING FILTERS MODULAR DESIGN TAILOR MADE CHARACTERISTICS: – Construction materials: Carbon steel Stainless steel 5% Cr alloy steel (other materials as option) – Conform ...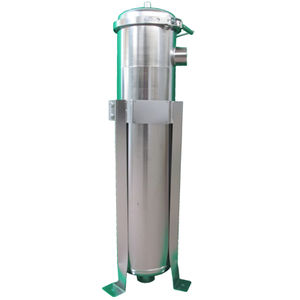 Product Features The filter single bag housings GPS series represent an ideal solution for the treatment of multiple types of liquids in various fields of application. Our range of bag filters in contrast to other similar products ...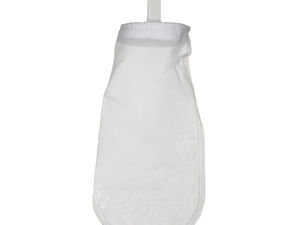 Description GV filter bags are the most economical and reliable solution for this type of product. They can be made of polypropylene, polyester and nylon. The finishing of the bag are all with double stitching and heavy to give strength ...

BAG FILTERS A full range of bag filters for exhaust air cleaning and dedusting We offer a range that is virtually unmatched by any other company and has evolved to cover all tasks relating to dedusting and cleaning exhaust air/gases.The ...

air filter
NX xxxxxx CPSN
Operating pressure: 250, 35, 56 Pa
Flow rate: 750 m³/h - 6400 m³/h

air filter
NM xxxxxxDPH series
Operating pressure: 170 Pa - 280 Pa
Flow rate: 1700 m³/h - 3400 m³/h

air filter
NM xxxxxx DPCA, DPF7CA
Operating pressure: 150, 120 Pa
Flow rate: 400 m³/h - 3200 m³/h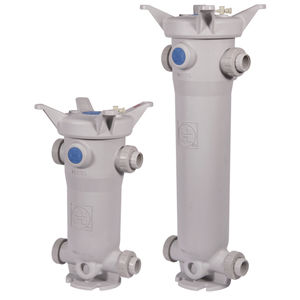 Operating pressure: 150 psi
New FLV Series Bag Filters are new FLV Series Filters, believed to be the most advanced thermoplastic bag filter. The unit features a one-piece injection molded platinum GF-PP (Glass Filled Polypropylene) body, available in two sizes1 ...

Filtration size: 1 µm - 800 µm
Operating pressure: 150 psi
The Duplex Bag Filters, manufactured by Hayward®, is a single or double length flow control system that does not need to shut down and no downtime needed when changing filter bags. By means of turning the handle, it can switch a single ...

Filtration size: 1 µm - 800 µm
Operating pressure: 150 psi
HAYWARD Simplex Bag Filter is made of metal and categorized as single and double length sizes. These metal filters will ultimately rust or cor-rode and contaminate the process media. This can never happen with a Hayward PVC or CPVC all ...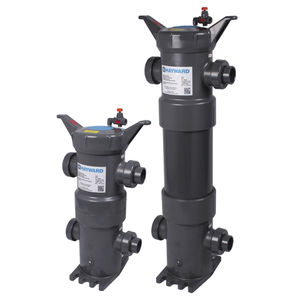 Filtration size: 1 µm - 800 µm
Operating pressure: 150 psi
The NEW FLV Series in PVC and CPVC materials, featuring true-union design in 1-1/4" to 4" sizes, with socket, threaded or flanged ends. Ideal for sodium hypochlorite and bleach processing and handling. FPM seals standard, EPDM optional. ...