{{loadProductsPushed('subcat','273', '','','4', '3')}} {{#pushedProductsPlacement4.length}} {{#each pushedProductsPlacement4}}

{{product.productLabel}}
{{product.model}}
{{#each product.specData:i}} {{name}}: {{value}} {{#i!=(product.specData.length-1)}}
{{/end}} {{/each}}
{{{product.idpText}}}
{{#if company.requestButtonsVisibility.requestButtonQuestion == "ACTIVE"}}
{{elseif company.requestButtonsVisibility.requestButtonWhereToBuy == "ACTIVE"}}
{{/if}}
{{#if product.innovationType}} {{else}} {{#if product.newProduct}} {{/if}} {{/if}} {{#if product.hasVideo}} {{/if}}
{{/each}} {{/pushedProductsPlacement4.length}}
{{loadProductsPushed('subcat','273', '','','5', '3')}} {{#pushedProductsPlacement5.length}} {{#each pushedProductsPlacement5}}

{{product.productLabel}}
{{product.model}}
{{#each product.specData:i}} {{name}}: {{value}} {{#i!=(product.specData.length-1)}}
{{/end}} {{/each}}
{{{product.idpText}}}
{{#if company.requestButtonsVisibility.requestButtonQuestion == "ACTIVE"}}
{{elseif company.requestButtonsVisibility.requestButtonWhereToBuy == "ACTIVE"}}
{{/if}}
{{#if product.innovationType}} {{else}} {{#if product.newProduct}} {{/if}} {{/if}} {{#if product.hasVideo}} {{/if}}
{{/each}} {{/pushedProductsPlacement5.length}}

mercury analyzer
0 - 500 ng (0 - 100 ppb) | HG-400
Looking for a mercury analyzer that is reliable and simple to operate yet expandable and upgradeable? The HG-400 from HIRANUMA offers the Total Solution - the features you asked for at a price you can afford. The HG-400 performs cold ...

dissolved ozone analyzer
0 - 3 ppm | 499AOZ
The revolutionary Emerson 499AOZ Dissolved Ozone Sensor is made out of ozone-resistant polysulfone. It has an easily replaceable membrane which does not require the use of any tools, a variopol connector option, and an automatic compensation ...

dissolved ozone analyzer
0 - 5 000 ppb | 6510i
The 6510i Dissolved Ozone Sensor with ISM has an operating range of 0-5000ppb (mg/l). The full features of ISM, such as full sensor identification, calibration history, Adaptive Calibration Timer, Time to Maintenance, and Dynamic Lifetime ...

TOC PAT700 The PAT700 TOC analyzer fully complies with all global pharmacopeias (USP, EP, JP) requirements. Each sample is fully oxidized guaranteeing the most accurate TOC result that follows EP2.2.44 guidelines. Production uptime ...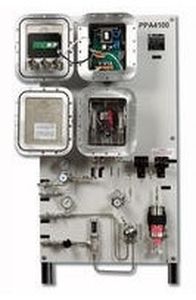 vapor analyzer
0 - 90 psi | PPA4101
ABB Reid Vapor pressure Analyzers - RVP4500 Series are suitable for precise measurement of Reid Vapor Pressure for the entire gasoline range along with its feedstocks. The microprocessor-based single board computer series provide an ...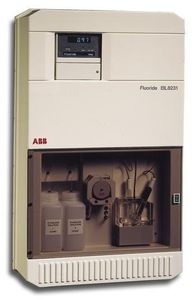 The 8231 fluoride monitor model is a self-contained analyzer with a fluorescent display and compact design. A pair of fluoride ion-selective and reference electrodes come with the analyzer, mounted in a flow-cell that is temperature ...

multi-gas analyzer
max. 10 % | CALOMAT 62
The CALOMAT 62 by Siemens is a thermal conductivity analyzer ideal for corrosive gas applications. This analyzer allows a direct measurement of gas component concentration even in aggressive environments. Depending on the use and the ...

gas analyzer
max. 1 000 ppmv | SIPROCESS UV600
This equipment has been strategically engineered for those ranges of measurement that fall in the range of zero to medium measurements. This equipment is also useful for several other UV-active gases such as NO2, H2S and SO2. There is ...

The Set CV by Siemens is designed for determining the quality of natural gas. Siemens provides a standardized system that fulfills the demands from sample probe, high pressure reduction and sample conditioning system through quality ...

VOC analyzer
1 000 µg/m³, 10 - 30 min | VOC72M
The VOC72M from Environnement s.a is designed as strong and as a fully automated analyzer that provides an equal performance to the laboratory chromatographs. This device is specifically highly adapted for fixed or mobile ambient air ...
See the other products
Environnement S.A

ozone analyzer
0 - 10 ppm, min. 20 s | O342M
The O342M from Environnement S.A., is an ozone analyzer that is suitable for use in ambient air monitoring, indoor air monitoring, mobile laboratory, and laboratory and field studies on the effects of ozone. Features of this ozone analyzer ...
See the other products
Environnement S.A

N2O analyzer
0 - 1 ppm, 180 s | AC32M-CNH3
The AC32M - CNH3 Series, manufactured by Environment S.A®, is an analyzer and chemiluminescence converter for ammonia nd nitrogen oxides. It comes with 4 different variety of continuous modes like, NH3, NO / NO2 / NH3, NO / NO2 and NO. ...
See the other products
Environnement S.A

mercury analyzer
0.001 – 1 000 μg/m³ | AMESA-Mercure-Hg
The AMESA-M Sampler is a continuous stack mercury sampler designed with fully automated features. It has a total measuring range of 0.001 to 1000 μg/m³ and conforms to the US EPA Performances Standard 12 B. It performs long-term sampling ...
See the other products
Environnement S.A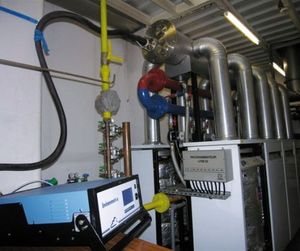 VOC analyzer
PORTABLE GRAPHITE 52M
The Graphite 52M by Environnement S.A is a volatile organic compound (VOC) analyzer which is designed for measuring the presence of VOC in a gas sample. For this specific model, it can be used for a wide measurement range of about ...
See the other products
Environnement S.A

residual gas analyzer
1 - 300 AMU | DyMaxion RGA
The data acquisition and control electronics of the "zero footprint" Smart Sensor Residual Gas Analyzer can be mounted directly on the sensor. It can be connected to a computer via its RS-232 port or RS-485 port for multiple analyzer ...
See the other products
AMETEK Process Instruments

residual gas analyzer
Dycor Mobile Cart System
The Mobile Residual Gas Analyzer, manufactured by AMETEK Process Instruments, features a mobile cart system which can be facilitated with any type of Dycor residual gas analyzer. This device is configured in a small and solid design. ...
See the other products
AMETEK Process Instruments

residual gas analyzer
LC-D Series RGA
The Dycor LC-D Series Residual Gas Analyzer (RGA) offers outstanding performance, yet is priced to be the most cost-effective RGA on the market. The LC-D Series instruments are constructed from materials that are compatible with Ultra ...
See the other products
AMETEK Process Instruments

natural gas analyzer
250 - 2 500 ppmv | Model 5100 P
The portable AMETEK 5100 works on the principle of Tunable diode laser absorption spectroscopy, offering highly accurate measurements instantaneously. Complete with an inbuilt reference cell for laser line-locking, it is an ideal product ...
See the other products
AMETEK Process Instruments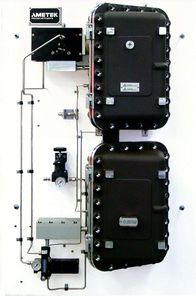 hydrogen sulfide analyzer
0 - 4 000 ppm | Model 931
The 931 Single Gas H2S Analyzer is a A minimal, dependable, blast resistant process analyzer manufactured by AMETECK that is frequently needed to properly monitor and control most advanced substance forms. Whether you are performing ...
See the other products
AMETEK Process Instruments

raw density profile analyzer
STENOGRAPH
For MDF boards, the raw density profile has a decisive influence on the panel quality. For the economic production of wood based panels, this parameter is essential and needs to be monitored and optimised. The GreCon Raw Density Measuring ...

raw density profile analyzer
DAX 5000
Fast and reliable analysis of the raw density profile of different wood based panels with the GreCon Labor Density Analyser. The Labor Density Analyser DAX 5000 can be used flexible with various product alternatives and measures the ...

residual gas analyzer
1 - 300 AMU | DyMaxion RGA
The DyMaxion RGA is an intelligent sensor residual gas analyzer has the data acquisition and control electronics installed straightforwardly on the sensor and can be connected to a computer utilizing either RS-232 port or RS-485 port ...

residual gas analyzer
1 - 300 AMU | DyMaxion Conductance
This ionizer has been designed to produce enhanced sensitivity and to reduce background noise. A ion source that has limited conductivity is able to operate with sample pressures reaching 10-3 torr without the need for any extra reduction ...

Mobile cart system offered by Dycor are equipped with Dycor residual gas analyzer(RGA) type. Sturdy and compact cart may be configured, based on selected inlet manifolds and vacuum pumping systems. It has an automatic start up of integrated ...

natural gas analyzer
250 - 2 500 ppmv | 5100 series
The 5100 model is a hand-held gas analyzer that is ideal for use in testing the performance of a plant unit, which includes dryers. It is also suitable for the verification of the gauging results of an on-line moisture analyzer. This ...

AOX analyzer
multi X® 2500
The AOX/TOX Analyzer multi X® 2500 is manufactured by Analytik Jena, it is designed to provides a flexible, future-oriented system for sum parameter analysis that meets the requirements of every modern laboratory. The fully automated ...

The AMA254 Advanced Mercury Analyzer is an atomic absorption spectrometer which is engineered for the accurate detection of trace mercury in solids and liquids. Even without requiring sample pre-treatments or concentration, the system ...

multi-gas analyzer
MFA 9000
Witt's MFA 9000 Multigas Analyzer is generally utilized for the measurement of 2-component gas compounds. It is also used for high-quality portable and on-site analysis. The analyzer device features a thermal conductivity-based measurement ...

mercury analyzer
HM-1400 TRX
Extractive Automatic Measuring System (AMS) for continuous total mercury monitoring (CMM) in stack gas or process gas analyser using extractive measuring principle analyser does not require failsafe instrument air conversion of Hgx to ...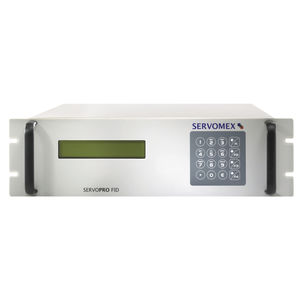 total hydrocarbon analyzer
SERVOPRO FID
The SERVOPRO FID analyzer is a Flame Ionization Detector-based analyzer, designed to assure safe operation within Cryogenic Air Separation plants by ensuring the level of Total Hydrocarbons (THC) is maintained below inflammable limits ...


trace analyzer
SERVOPRO Chroma (k4000)
The SERVOPRO Chroma (K4000) analyzer with its unique non-depleting plasma emission detector is one of the most versatile gas analyzers on the market. Many applications will be satisfied by a single 4U rack analyzer configuration, making ...

gas analyzer
SERVOPRO MonoExact
The SERVOPRO MonoExact gas analyzer is designed to meet the process control and product qualification needs of industrial gas producers and users. Offering our ground breaking TruRef Thermal Conductivity (TCD) measurements, its performance ...

The E-WK I is a Volatile organic compound or VOC analyzer developed by Weiss Umwelttechnik. It determines the emissions of VOC from objects under precise test conditions. The user may direct and control the development to satisfy the ...

⊙Sensitivity Separation efficiency and signal-noise ratio enhanced by utilizing adsorption, thermal desorption technology. Complementary detection combined FID with PID in serial for an optimal sensitivity. ⊙ Response time Enable ...

spectrum analyzer
OMA-3000
OMA-3000 Process UV Spectrum Analyzer The OMA-3000 series process spectroscopy analyzer adopts advanced diode array detection, optical fiber transmission and chemometric algorithm technology etc, which can realize the real-time analysis ...

nitrogen analyzer
NH3N-2000 Series
Ammonia Nitrogen Online Analyzer With the years of experiences on process analysis and environmental monitoring instrument development, the Focused Photonics Inc has developed the NH3N-2000 series ammonia nitrogen online analyzer, which ...

lead analyzer
HMA-2000 Series
Electrochemistry heavy metal online analyzer HMA-2000Series heavy metalonline analyzer monitors heavy metal online based on electrochemicalmethod,with high precision, is environmentally friendly, and applied for measuring heavy metal ...

In the market to day, the RGT-01 is the first global instrument that offers a quantitative analysis of seal performance for flexible residual oxygen and vacuum packages. The fluid level analysis technique uses a differential pressure ...

residual gas analyzer
i-Vacupack 6100
The i-Vacupack 6100 from Labthink is a vacuum packaging analyzer which is designed to be the first device used for measurable analysis of seal performance, and volume of residual gases for different flexible vacuum packages. This device ...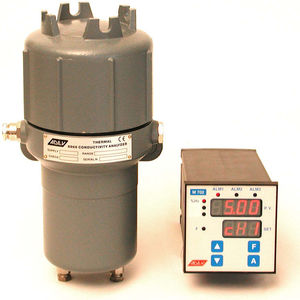 The ATEX 8866 is manufactured by Adev. It is a thermal conductivity gas analyzer, that is designed for applications like heat treatments, copper melting, and galvanizing in a wide array of demanding industries such as chemical, petrochemical, ...
See the other products
Adev

The 8866 TR is manufactured by Adev. It is a thermal conductivity analyzer (Triple Field), that is especially designed for application in hydrogen-cooled generators and production technical gases. This thermal conductivity analyzer can ...
See the other products
Adev

The 404 Series of Portable Binary Gas Analyzer, manufactured by Adev, is specifically designed to permit precised and continuous analysis of a binary mixture. It is mainly used for all zero-based ranges and suppressed ranges from 20 ...
See the other products
Adev

404 TCA Thermal Conductivity Analyser (4 Ports with Refernce Flow) The four ports thermal conductivity analyzer mode 404 TCA allows accurate and continuous analysis of a binary (two component) mixture. This solution with reference ...
See the other products
Adev

The 4400 TR thermal conductivity analyzer, designed for monitoring of H2, CO2 and air in hydrogen cooled generators, and for production industry, permits the measure of 3 binary mixtures with only one instrument. The selection of the ...
See the other products
Adev

residual gas analyzer
0.16 - 500 ppmv | 3-032-R003
During the operation of gas insulated switchgear decomposition products might occur after a breakdown which has a negative impact on the gas quality in the circuit breaker as well as on the insulation properties. For this reason the ...