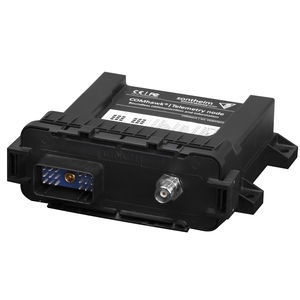 WiFi communication module
COMhawk
COMhawk™ is a communication and telematics module for a variety of diagnostic tasks. Its modular hardware and software structure allows for easy integration into different applications. Based on a MicroC/OS-II or Linux operating systems, ...

GNSS receiver
Zenith25 Pro series
With its internal radio and 3.75 G Penta band GSM, the full support of GPS, GLONASS, Galileo, BeiDou and SBAS systems the Zenith25 Pro Series is truly future proof. Combining all those technologies with the Q-Lock™ technology, Zenith25 ...

GALILEO receiver
Serie Zenith25
Equipped with state-of-the-art GNSS receiver technology, Zenith25 provides a high level of performance. The reliable and robust GNSS system that "works when you do" – even in extreme environments. The Q-Lock™ technology tracks all satellites ...

GLONASS receiver
Zenith10 / Zenith20 series
The GeoMax Zenith10 is a complete and fully integrated GNSS receiver, allowing to track simultaneously 38 satellites of the GPS and GLONASS systems. With the capability of tracking 60 satellites of GPS, GLONASS & BeiDou simultaneously, ...

The Yamasaki S100 SFP Multimode Transceiver is specifically designed to operate up to distances of 1804ft (550m) in multimode fiber optic networks. These SFPs are mostly used in Gigabit Ethernet and Fiber Channel situations with speeds ...
See the other products
Yamasaki Optical Technology

optical transceiver
S41314C-15
The Yamasaki GBIC transceiver provide a reliable and cost effective solution to your GBIC requirements. Yamasakis GBICs are compatible with CISCO® switches, and provide instant hot pluggable fiber ports for your switches. FEATURES ...
See the other products
Yamasaki Optical Technology

optical transceiver
6 Series SFPs
See the other products
Yamasaki Optical Technology

optical transceiver
7 Series SFPs
See the other products
Yamasaki Optical Technology

optical transceiver
SPF 8 Series
See the other products
Yamasaki Optical Technology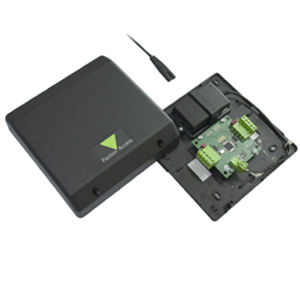 Extend a dataline beyond 1km Dataline can be branched off Install up to 5 repeaters on a single dataline Intergrated termination jumpers About - The maximum length for a RS485 dataline is 1km. Using a repeater on the dataline allows ...

FEATURES:  Engineered and manufactured in the USA  FCC, IC, CE certified by accredited independent laboratory  RoHS Compliant  2.4 GHz with Extended Range and DSSS ( Direct Sequence Spread Spectrum )  Worldwide license free operation  ...

RS232 receiver
IP66, 24 - 230 Vac | EXDTRX
17 functions, preset, glass protection device and alarm feature included IP66 230Vac or 24Vac power supply EXDTRX3 feeds the Pan & Tilt heater 4 holes for cable glands 3/4" NPT Maintenance of configuration even in case of power loss Up ...

RS232 receiver
12 - 230 Vac, -20 °C...+50 °C | DTRX3
The DTRX3 digital receiver is controlled by a microprocessor and is utilized for the remote control of a Pan & Tilt motor, wiper, washer, 4 auxiliary contacts (12Vdc and 24Vac camera power supply, 2 dry contacts), and a motor-driven ...

RS232 receiver
24 Vac, -20 °C...+50 °C | DTMRX2
The D TMRX2 is a data telemetry receiver gadget that is controlled by a chip. It is designed suitable for remote control of a pan and tilt motor, and a engine driven zoom lens. All the D TMRX2 functions are totally control by the D CT, ...

DTRXDC, is a digital receiver which is controlled by a microprocessor, used for remote controls with variable speed Pan and Tilt motor (PTH355P). It has a motor driven zoom lens. RS232 or RS485, can be the connection to the control unit, ...

analog receiver
max. 1 200 m | DTWRX
The DTWRX series of telemetry data receivers are ideally used for applications concerning wiper and washer pumps. These units only operate when used with the UPTWAS pump models, which allow these receiver units to easily be integrated ...

fiber optic receiver
max. 1 550 nm | FH-OR-26021A
This is an optical video receiver that is compatible with up to 2,602MHz band.It is of a highly reliable design with power supply redundancy configuration. Further, the monitoring signals are SNMP-compatible, enabling remote control and monitoring.

radio receiver
868.3 Hz, 230 V | LET 210R...380R series

The R&S®ESMD wideband monitoring receiver was specially developed to handle signal searching, radiomonitoring, radio detection and spectrum monitoring tasks. It performs all measurements in line with ITU recommendations and meets the ...
See the other products
Rohde Schwarz

broadband receiver
R&S®PR100
The R&S®PR100 portable receiver has been specifically designed for radiomonitoring applications in the field. The receivers functions and control concept have been optimized for monitoring tasks. In addition, it can be used for a variety ...
See the other products
Rohde Schwarz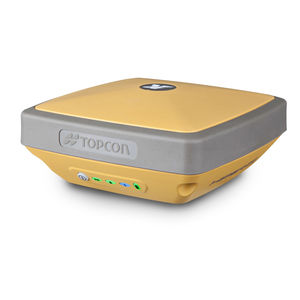 Topcon HiPer SR is a base and rover RTK system and it is the most compact solution for professional users available on the market. It is very easy to use and features no cables at all. It has a very robust design adapted for the field ...

Topcon GB-3 GNSS receiver systems are designed for users who desire flexibility in terms of configurations. They are based on Topcon's latest G3 technology with 72 universal channels. They can receive signals from all current as well ...

IC transceiver
LT17xx, LTCxxxx, LTM2881 series
The RS485 standard (formally TIA-485) is used to specify differential data transmission over a terminated twisted pair. This operates at up to 10Mbps. It specifies electrical characteristics of a receiver and driver but does not specify ...

industrial repeater
RD-48
Westermo RD-48 is a multi-utility repeater for enabling network extension much more than what is required by normal RS-422/485 standards. For extending the maximum network distance beyond 1200 m or increasing the count of devices ...

communication repeater
AD-01
The AD-01 is an M-Bus adapter that can function in several modes of communication. Using the AD-01 connection of standard RS-232 equipment to an M-bus network is viable. When utilizing the AD-01 to function as a repeater, it is possible ...

The METTLER TOLEDO fieldbus modules make connection to control systems considerably easier and enable networks with a multitude of weigh modules or platforms. A BASIC operation mode supports all frequently used commands such as transferring ...

radio integrated circuit receiver
TDA7xxx, STA6x0 series, STA3005
ST has more than 60% of the market share for receiver chipsets for the major digital radio broadcast systems. Our complete system level know-how, mixed signal CMOS and BiCMOS technologies with RF capability and design expertise in silicon, ...

communication module
H COMM series
Presenting a revolutionary new product, the H COMM Module by GF Piping System that is designed to cater a wide variety of applications and concepts. It features communication between the 9900 and a HART®-enabled device. The HART Protocol ...

wireless communication module
2.4 GHz | KR20
This KR@20 Wireless Unit has a security 2.4 GHz transmission as fast as the speed of light. It has a network that is integrated to this wireless unit with different kinds of terminal station devices. It is also designed with a complicated ...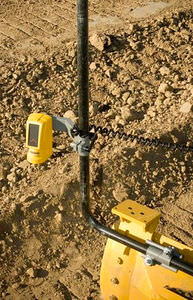 This product is attached to the cutting edge and employs a physical orientation such as control and drain, string line, existing or earlier pass as an altitude orientation.
See the other products
Trimble Navigation - Construction Division

GNSS receiver
Trimble® SPS555H
The SPS555H Modular Add-on GNSS Receiver is designed to work in combination with the Trimble SPS855 GNSS Modular Receiver and offers excellent positioning performance in marine construction applications. It is capable of tracking all ...
See the other products
Trimble Navigation - Construction Division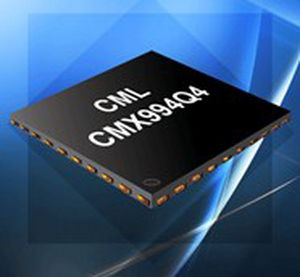 radio integrated circuit receiver
CMX994
The CMX994 is a direct conversion receiver IC. The receiver is fully integrated with a broadband Low Noise Amplifier (LNA) preceding the down-converter section and a high dynamic-range I/Q demodulator. The receiver baseband section ...

LVDS receiver
FIN1xxx series
LVDS give low power dissipation even when operating at high frequencies. This device is suitable for high-speed transfers of data and clock. This quad receiver design is suitable for high speed interconnections, through the use of Low ...

communication module
NI SCC-FT01
NI SCC-FT01 feedthrough module is useful for offering direct connections to analog input/output or counter/timer channels on E-series devices. Cascading signals from adjacent SCC modules can be accessed. To develop custom signal conditioning, ...