{{#pushedProductsPlacement4.length}} {{#each pushedProductsPlacement4}}

{{product.productLabel}}
{{product.model}}
{{#each product.specData:i}} {{name}}: {{value}} {{#i!=(product.specData.length-1)}}
{{/end}} {{/each}}
{{{product.idpText}}}
{{#if company.requestButtonsVisibility.requestButtonQuestion == "ACTIVE"}}
{{elseif company.requestButtonsVisibility.requestButtonWhereToBuy == "ACTIVE"}}
{{/if}}
{{#if product.innovationType}} {{else}} {{#if product.newProduct}} {{/if}} {{/if}} {{#if product.hasVideo}} {{/if}}
{{/each}} {{/pushedProductsPlacement4.length}}
{{#pushedProductsPlacement5.length}} {{#each pushedProductsPlacement5}}

{{product.productLabel}}
{{product.model}}
{{#each product.specData:i}} {{name}}: {{value}} {{#i!=(product.specData.length-1)}}
{{/end}} {{/each}}
{{{product.idpText}}}
{{#if company.requestButtonsVisibility.requestButtonQuestion == "ACTIVE"}}
{{elseif company.requestButtonsVisibility.requestButtonWhereToBuy == "ACTIVE"}}
{{/if}}
{{#if product.innovationType}} {{else}} {{#if product.newProduct}} {{/if}} {{/if}} {{#if product.hasVideo}} {{/if}}
{{/each}} {{/pushedProductsPlacement5.length}}

Supplying bulk material handling systems for over 100 years Metso is a leader in the field. Responding to the needs of customers at all phases of the project from planing to start-up and support services, our customers can be sure of ...

walk-behind roller compactor
XMR08
The XMR08 is a road roller with a tandem-type double-drum rolling system, and a hydraulic drive as a power line. It is drive by gear, has a brake system and drives in a speed range of 0-3.6 km/h. It has a 40L sprinkler capacity and operates ...

Big bag discharge stations from Azo are used for discharging big bags from the transport pallet into the dumping station. These are equipped with lifting gear and a big bag connection system. The big bags are deposited through a fork ...
See the other products
AZO GmbH + Co. KG

When the need arises to load from big bags, they will be hung on hoists and then directed to the combination station. There, the outlet bag is positioned over the inlet pipe and held in place manually or pneumatically, reducing the pressure ...
See the other products
AZO GmbH + Co. KG

powder discharge unit
ET...P
The Pickup Hopper Type ET...P (including claw supports) is a product feeding system which provides system quality, and in turn, displays efficient product dispensation. This conveying feeding system features an independent filter or central ...
See the other products
AZO GmbH + Co. KG

powder discharge unit
ET...F
The Pickup hopper type ET...F with leg supports, when opening the cover aspiration automatically commences the bag is placed on the table, opened and emptied into the closed system by the operator, allowing minimal dusting. But if a certain ...
See the other products
AZO GmbH + Co. KG

powder discharge unit
ET...K
Aspiration kicks off soon as the cover is opened. The operator needs to place the bag on the pick-up table, open and empty it into the closed system. If you are using a mounted filter with it, most of the dust settles back into the hopper, ...
See the other products
AZO GmbH + Co. KG

The Nordson® 5 Gallon Rhino® SD bulk unloader supports various industry applications and projects, and has superior flow properties. In addition, the ease of operation is a unique selling point of this device, as is the support for adhesives ...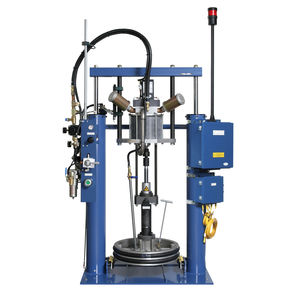 automatic unloader
Rhino®
The Nordson® 55 Gallon Rhino® SD Bulk Unloader is designed for easy operation in processes involving the dispensing of very viscous sealant materials and adhesives. Offering unmatched flow properties, this unloader is able to cater to ...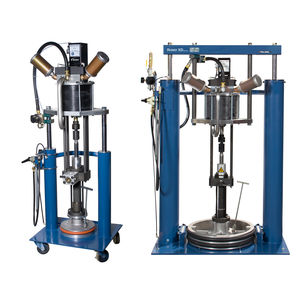 continuous unloader
Rhino® VE
This is a bulk loader from Rhino that is capable of dispensing sealants and adhesives that are highly viscous and has ambient temperature. It is designed for providing easy operation, durability and flexibility. The device is equipped ...

powder dispensing system
Dilution and Dosage System
The Dilution and Dosage System, manufactured by Anton Paar, incorporates a system that allows automatic dilution as well as the routine preparation at accurate weight to weight or weight to volume ratios. The mechanism does not employ ...

clam bucket / for bulk materials
SGZ series
The Clamshell SENNEBOGEN is specifically designed and built to provide a superior quality functionality and a high quality performance. It is an ideal solution for users in need of a maximum quality device which provides several key features ...

solids dispenser
70 - 1 800 m³/h | HFxx51, HFxx71 series
The Sandvik series of HF belt feeders ensures that the material reaches its belt destination with a consistent flow channeled onto several standard belt sizes. It is capable of handling varying capacities from 50 to 4,000MTPH of soft ...

solids dispenser
70 - 1 050 m³/h | HFxx22 series
The Sandvik HF-series of standard belt feeders is suitable for use with materials that require moderate internal cutting properties, including coal, metal concentrates, lime, Fe-pellets and various rocky materials. A beneficial feature ...

solids dispenser
150 - 2 000 m³/h | HFxx14 series
The HF-series movable belt feeders are created to handle bulk materials. Designed and develop by SANDVIK. These big equipment can be applied where accurate feeding is a requirement. It can process capacities for up to 4000 mtph and users ...

bridge scraper
300 t/h | PR500-300/35
This reclaimer is engineered to handle lower capacities and higher blending requirements, and is designed for use on not abrasive material. The bridge scraper of the NPS project in Thailand has a nominal capacity of 300 tons per hour, ...

Bulk material has to be conveyed in large quantities via motorways and railways. Building materials, coal, cereals, fodder, mineral compounds or products of the chemical industry are often loaded at the production location in suitable ...

bag loader / automatic
Autopac®3000
The concept of the bag loading machine with three-dimensional adjustment and with a loading head for loading trucks and rail wagons can be traced back to a German patent issued to BEUMER Group several decades ago. In the meantime, BEUMER ...

bulk unloader
PARCEL PICKER®
Global competitive pressures in mail and parcel logistics require constant process optimisation and lead to increasing demands on employees. BEUMER Group has developed the BEUMER Parcel Picker® so that companies can meet these growing ...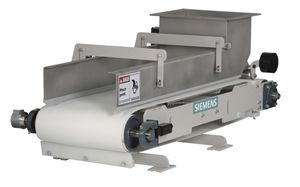 solids dispenser
SITRANS WW100
Developed by Siemens, Milltronics weighfeeders are designed to improve the accuracy of blend consistencies, processing, record keeping and accountability. This lineup of weighfeeders ship with a speed sensor and a belt weight bridge, ...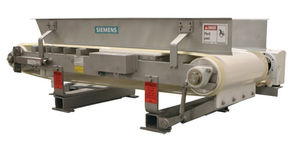 powder dosing dispenser
SITRANS WW200
The SITRANS WW200 is a state of the art product manufactured by SIEMENS. It was designed to be used with chemicals and powders as well as any granular product because of the Mild steel design it was given. It also comes in SD or the sanitary ...

solids dispenser
SITRANS WW300
The SITRANS WW300 is a weighfeeder designed to accommodate between medium to high macro ingredient additives load. The device is developed for use in heavy duty industries like mining, cement, chemical processing, pulp and paper, and ...

solids dispenser
SITRANS WW310
The SITRANS WW310 series, manufactured by Siemens®, is a weight feeder utilized for macro ingredient additives that is ideal for mining, cement, chemical processing, and the like. It has been tested and demonstrated to fit in hundreds ...

Konecranes is one of the industry leaders and over the previous ten years, has managed to successfully deliver over 20 high-capacity and heavy-duty grab unloaders. This latest model is yet another example of the manufacturer's experience, ...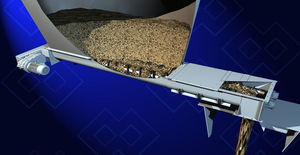 The BU Twin Shaft Screw Feeder is constructed from carbon steel and has a diminished inlet trough that supports the shape of the tapered inlet sections of the screws, nearly fully encompassing them from below. Its upper trough flange ...
See the other products
WAMGROUP S.p.A

CP Piston Type Electropneumatic Actuator is a robust and compact equipment ideal for a 90° opening and closing of VSS-type Ball Segment Valves, DVA-type Diverter Valves and VFS-type Butterfly Valves. It operates in a pressure range of ...
See the other products
WAMGROUP S.p.A

Getting rid of the torn empty bags has been made extremely easy and hassle free by this product. The COM Bag Compactor is made up of 304/316 stainless steel trough. Split in half along the longitude, this U-profile trough replaces the ...
See the other products
WAMGROUP S.p.A

drain big bag station
SBB
SBB-type FIBC Dischargers are composed of a material discharge hopper, an upper mobile cross bar, and a steel frame. A forklift truck lifts the filled bag into the Discharger via the cross bar. SBB is a modular system utilized for the ...
See the other products
WAMGROUP S.p.A

filling big bag station
RBB
RBB-type FIBC Filling Stations are designed to efficiently fill bulk bags. These stations are made up of a steel (carbon steel and stainless steel) frame and a bag-filling unit. Dust leakage during filling is impeded by an inflatable ...
See the other products
WAMGROUP S.p.A

The MULTIDOS® evaluate-supplier can be employed in a very broad diversity of methods for incessant gravimetric nourishing, and it outshines because of its elevated stage of precision of +/- 0.25 percent. It is incorporated into the MULTIDOS® ...

volumetric feeder
MULTIDOS® VDP
In the past, transporting sticky bulk materials is an insoluble challenge. Until the Schenck Process development specialist come up with the MULTIDOS VDP for a perfect economic solution which reliably feeds even sticky materials such ...

solids dispenser
MULTIDOS® L
The MULTIDOS® L weighfeeder with hygienic design from Schenck Process meets all the requirements of the food industry. Designed to be used for feeding the product line with low feed rates, the MULTIDOS® L can be optimised for any specific ...

solids dispenser
MULTIDOS® F
Open housing variant MULTIDOS® F series weighfeeders complement the product line with low feed rates. The lightweight design and easy accessibility through large inspection openings of the parts in contact with the product make the ...

gravimetric feeder
MULTIDOS® NPG
Non Pressurized Gravimetric Feeder For limestone feed to FGD systems or other inert material applications, Stock® Equipment offers feeders for controlled feed applications of bulk materials, utilizing the most advanced weighing and delivery ...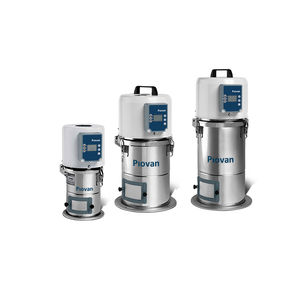 pneumatic feeder
S series
The Piovan range of single phase hopper loaders allows for automatic granule conveying to drying hoppers, volumetric and gravimetric blenders, and processing machines. The S single phase hopper loaders incorporate the vacuum motor. They ...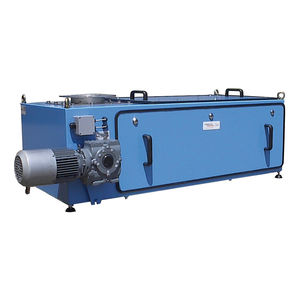 continuous dosing dispenser
MD
The MD mini weigh belt feeder performs bulk product continuous dosing operations. This dosing infrastructure ensures simultaneously the extraction and the weighing of all gravity rolling products. The MD has been especially designed ...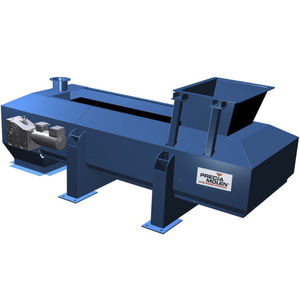 granulates dosing dispenser
WBF
The weighbelt feeder of type WBF ensures continuous bulk product closing, while the infrastructure has been designed to facilitate joint extraction, along with the weighing of any gravity flowing product, which is made possible through ...

granulates dosing dispenser
XKV, XKP
The Volumetric belt extractor XKV has a feed structure with a device allowing adjustment to the height of material layer, and a sensor for detecting material. These are extended by product edge guide strips, any potential risk of the ...

The ROTAMAT® Screenings Compactor Ro7 manufactured by Huber Technologies, are utilized for applications that demand compaction, dewatering, as well as volume reduction of screenings and a large variety of waste materials. This compactor ...

Flexco Modular Impact Beds are engineered with maximum capacity in mind, ensuring full containment in and around the load zone. Modular Impact Beds are also designed with universal components that result in an effective, yet affordable, ...

Flexco Slider Beds are engineered to provide containment around loading zones. With long-lasting UHMW slider bars, combined with the high-performance CoreTech™ roll, the Flexco Slider Bed effectively seals the load zone and minimizes ...

impact bed / for conveyor belt loading stations
Mineline®DRX™
The exclusive DRX (Dual Relief Xtra™) Impact beds are intended to give an utmost security to your belt in the load zone. It is applicable in Coal and hard rock mining, coal-fired power plants, load-out facilities and aggregate operations. ...

impact bed / for conveyor belt loading stations
Flexco Impact Beds are designed to offer a simple and effective means of protecting the belt in the load zone. Specification and installation of the bed is made easier with adjustable trough angles, while still providing the rugged durability ...

screw feeder
OHTAKE NS Series
The OHTAKE NS Series automatic screw feeder makes screw tightening much faster than with hand-based feeding. Interchangeable rails allow you to handle various types and sizes of screws. When you want to feed a different screw type, just ...

screw feeder
OHTAKE NJ Series
The OHTAKE NJ Series automatic screw feeder system makes screw tightening much faster than when using hand-based feeding. The interchangeable rail system makes the Quicher usable with various types and sizes of screws. When you want to ...

screw feeder
OHTAKE FM-36
The OHTAKE FM-36 screw feeder with counter makes screw tightening much faster than when using hand-based feeding with a horizontal screw carrying system which feeds screws more smoothly and quickly than conventional screw feeders. --Designed ...

screw feeder
OHTAKE OM-26 Series
The OHTAKE OM-26 automatic screw feeder system makes your screw tightening much faster compared to hand-based screw feeding. The interchangeable rail system works with various screw sizes and types. When it is time to supply a different ...

screw feeder
OHTAKE SSI Series
The OHTAKE SSI Series automatic screw feeder system makes your screw tightening operations much faster than hand-based feeding. Formerly known as the SS Series, the SSI Series features a horizontal screw carrying system feeds screws ...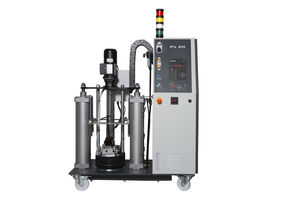 drum emptying machine
PS20 series
The Ps20 is a drum meter from Meler. It is a melting and pumping system designed to handle thermoplastic materials that uses drum containers with capacities of up to 20 L. The direct use of the material's packaging does not require protective ...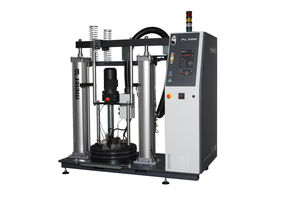 drum emptying machine
PS200 series
The PS200 Series is a range of drum unloaders from Meler. It has a 200 L diameter that is ideal for various application requirements. The series allows the assembly of three different platen up to a maximum melting rate of up to 165 kg/h. ...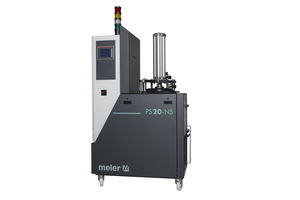 drum emptying machine
PS20 NON-STOP series
The PS20 is a non-stop drum unloader from Meler. It incorporates the features of the drum melter and the benefits of continuous work with standard tank reservoir. The machine is engineered to use 20 liters of PUR blocks in hermetic plastic ...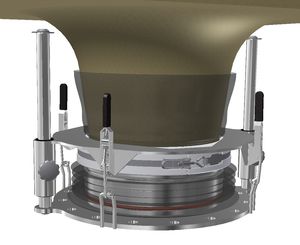 The Big bag Connection System, made by Dec Group, is specifically designed to allow the simplified charging and discharging of huge bags. It has an available whilst, ensuring an intense containment level. This system is available, ...
See the other products
Dec Group

drum emptying machine
DCS
Product, operator and environment protection are all possible, while the safe handling of toxic or explosive powders is also guaranteed by the manufacturer. The items are adaptable for emptying any type of drum, while primary and secondary ...
See the other products
Dec Group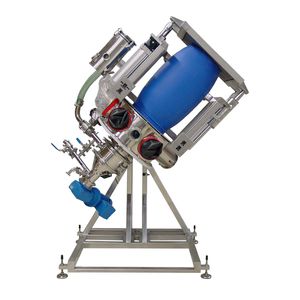 drum emptying machine
DCS Inverter
This item is ideal for misshapen products, with the operator, product and environment protection it offers. The safe handling of explosive and toxic powders is possible, while the high containment is below 1μg/m3. The primary and secondary ...
See the other products
Dec Group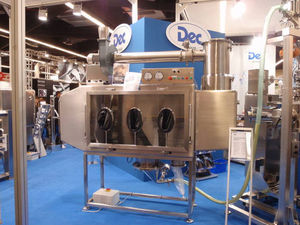 bag dump station for toxic products
DEC
DEC Isocharge is a remarkable device for quick, multiple bag emptying. The device is perfectly capable of handling toxic materials, lump powders and sticky materials. Its high containment rating is less than 1μg/m³. It acts as a stand-alone ...
See the other products
Dec Group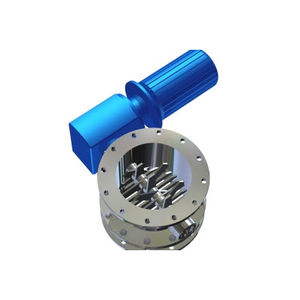 Rotational speed: 50 rpm
The lump breaker enables the safe and smooth deagglomeration of bulk materials that tend to compact and form lumps. Its double bearing design allows gentle crushing of even hard products and works well with high product columns. The ...
See the other products
Dec Group

The two-way distributors are designed for use in pneumatic actuators owing to their ability to securely keep the internal valve in position at the ends. The symmetrical units incorporate a 60-degree angle and are operated by hand.
See the other products
JACOB DOSATEC

handling bulk product cylinder distributor
The JACOB DOSATEC's Turn-head Distributor is manufactured with up to 20 outlets features. The preferred outlet of the dust tight type comes with a pressure rate that reaches up to 1 bar. A pressure tight rate of up to 3 bar for the swivel-pipe-switch ...
See the other products
JACOB DOSATEC

granulates cylinder distributor
The unit is used for the distribution of grain and granular products by means of gravity and has no overpressue inside the pipe-system. There is no demand for inside dust-tightness, and feeding can be done from the top through the turn-pipe ...
See the other products
JACOB DOSATEC

The device is used to distribute grain and bulk goods using gravity without overpressure. The device feeds from the top through two turn-pipe then to the chosen outlet inside of a closed casing.The pressing on of the rotary pipe seal ...
See the other products
JACOB DOSATEC

bulk products rotary distributor
The turn head distributor is used in distributing bulk goods using gravity overpressure of 1 bar inside the pipe system. The 0.5 bar overpressure is used on dangerous materials. The device feeds from the top through the turn-pipe then ...
See the other products
JACOB DOSATEC