The Online Industrial Exhibition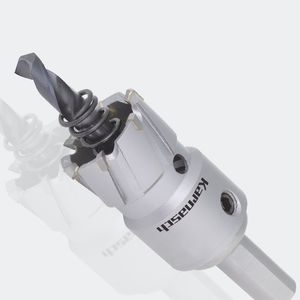 Diameter: 6 mm - 305 mm
Cutting depth: 6 mm - 60 mm
Whether on the hand drill, the pillar drilling machine, the radial drilling machine, the lathe or on a hole cutting machine, Karnasch's wide range of tools always provides you with the ideal hole saw for your application. Karnasch ...
See the other products
Karnasch


bandsaw blade
4223 series
Band saw blade width: 27 mm - 34 mm
See the other products
IZAR CUTTING TOOLS S.A.L.

metal hole saw
HL / HF / HG / HP
Diameter: 15 mm - 200 mm
Cutting depth: 5 mm
Features: - The Hole Saw Can easily and quickly períoraie hard materials up to 5mm thick. - With its extremely sharp Tungsten Carbide iipped cutting edges can be run at higher lead rates and speeds to create holes of exceptional ...
See the other products
GFB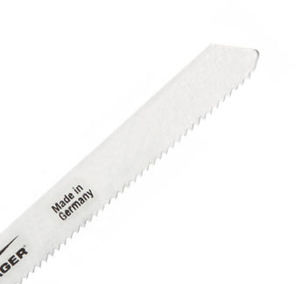 Band saw blade width: 8 mm
Saw blade thickness: 1 mm
Features Milled and wavy set teeth. Flexible blade. Steel sheets, steel profiles, stainless steel (1,2-2 mm). Materials Sheet, steel, shaped, tube
See the other products
DIAGER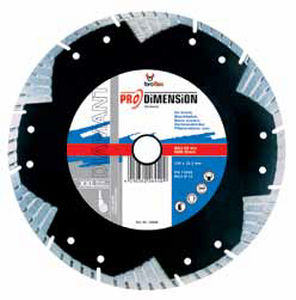 Circular saw blade diameter: 115, 125, 180, 230 mm
Comet offers products with sistem - Toroflex Transparent color system containing 3 quality levels it makes easier for client to choose a product
See the other products
SwatyComet

Circular saw blade diameter: 15 mm - 200 mm
Saw blade thickness: 0.1 mm - 6 mm
We produce circular saws to DIN 1837 standard with type A fine toothing and to DIN 1838 standard with type B large toothing. Diameters run from 15 mm to 200 mm; thicknesses from 0.1 mm to 6 mm. The most appropriate type of coating for ...
See the other products
MTV MECCANOTECNICA VENETA SRL

Iso torus cutters have a hard métal body and PCD tipped cutting edge. They are essential for the opérations of contouring, material removing at high speed, surface junctions, and création of rays when required. The materials to be machined ...
See the other products
CGM DIAMOND TOOLS SRL

shell-end milling tool
SFM series
Diameter : 2, 3, 4, 5 mm
Length: 1.57, 1.97, 2.48 mm
Features The holding power and rigidity of ShrinkFIT applied to a face mill Coolant-thru tool Benefits Longer tool life or increased feed rates Better surface finish due to increased rigidity Longer insert life
See the other products
Techniks

The high performance steel cutters of the CHAINCUTTER series are based on the HYDROCUT technology of Petig. Chaincutter Model Chaincutter 520 The sturdy and solid design is a guarantor for a long operating life of the high quality chain ...

Circular saw blade diameter: 600 mm - 2,000 mm
Band saw blade width: 4 mm - 5 mm
The very latest diamond segment development features the arrangement of diamonds. They are positioned exactly through a special technology, and set in tested arrays. The specific arrangement secures unbeatable advantages for the user! ...
See the other products
EDT EURODIMA GMBH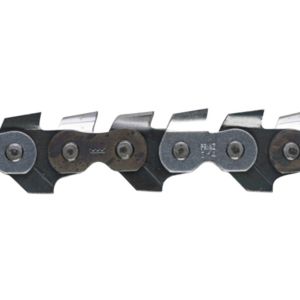 Saw blade thickness: 3, 2, 5 mm
Also the saw chains are produced at the site of Loosdorf and for a variety of applications. Scraper chains are just the right choice for accurately cutting timber packages for the timber and pallet industries. Chipper chains are ideal ...
See the other products
Prinz Kettensägetechnik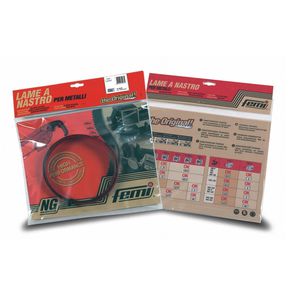 BANDSAW BLADES FOR INDUSTRIAL BANDSAWS Cobalt bimetal bandsaw blades for industrial bandsaws -cobalt bimetal M42 bandsaw blades -suitable for dry cutting too -high resistance and productivity -available in packs of 1 or 5 pieces
See the other products
FEMI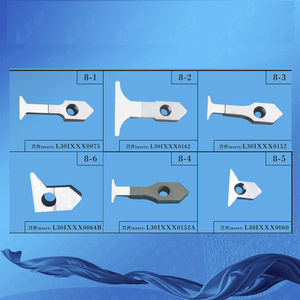 LZQ is very good at producing such tools. used to process seal ring, O-ring, rubber and polyurethane, ect. We have many sizes and shapes in stock now. And LZQ can also customize inserts and holders of any size and shape, just according ...

185.0370 ø 180 mm 36 20 mm Metal 8718375416211 185.0371 ø 180 mm 36 20 mm Aluminium 8718375406328 185.0373 ø 180 mm 36 20 mm Stainless Steel 8718375406335 200.0001 ø 200 mm 36 20 mm Metal 8718375398814 230.0003 ...
See the other products
Euroboor BV.

Circular saw blade diameter: 700, 900 mm
"A CLEAN ECOLOGICAL CUT"Noremat saw-blade units are specially suited for pruning work carried out by professionals.They are excellent in many types of work area: - sawing along the edge of routes of communication (highways, roads, paths, ...

manual diamond dresser
434.06
Design: Produced from hardened tool steel HRC 60. Available with (K) or without (N) cooling system on request. Accessories: Diamond dresser; SAV 401.01-08, Type D available against price adder.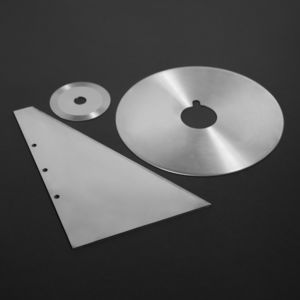 stainless steel machine knife
300, 400 series
For all of our food processing knives, only approved materials are used including 300 series, 420 and 440 stainless steel. For our food processing knives, we also offer a variety of coatings based on our customer's needs. Our ice cream ...
See the other products
The American Quicksilver Co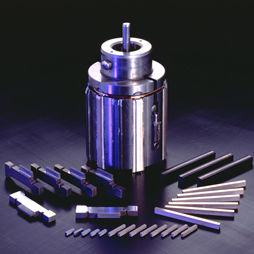 Honing stones are used for accurate and efficient honing of the inner surfaces of automotive parts, such as cylinder liners, connecting rods, crankshaft bearings, valve rocker arms, transmission gears brake hydraulic cylinders, and in ...
See the other products
ASAHI Diamond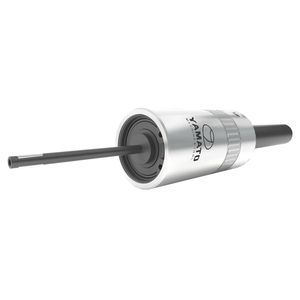 internal roller burnishing tool
CPL series
Roller Burnishing Tools;. mirror like surface in one pass. for all types of metals. can be used on all types of machines. low micro finish of 0.05 µm (Ra). increased surface hardness
See the other products
YAMATO Machine & Tool

Mills on drawing, braze welded, with ISO 50 connection, for valve processing.

See the other products
GECHTER

Universal length 300 mm (12 inches) Single-sided - In stainless steel - White blade With tempered teeth - Flexible blade In indivisible pack of 10 pieces
See the other products
ABC TOOLS SPA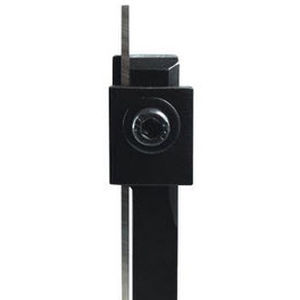 cutting tool
KESME series

Band saw blade width: 27 mm - 80 mm
Saw blade thickness: 0.9 mm - 1.6 mm
Advantages: ● Maximum productivity ● Strong continuous cutting capacity ● Longer operating life ● High cost effectiveness Description Edith-high performance band saw blade is especially suitable for all types of continuous metal ...
See the other products
Hangzhou Simsen Machinery Co.,Ltd

Reference customers in aerospace, automotive and energy-related industries, we manufacture high quality special cutting tools not only for final customers, but for renown standard and special cutting tools manufacturers worldwide. Just ...