The Online Industrial Exhibition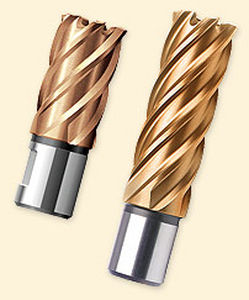 metal hole saw
Unibroach® 8 series
Diameter: 13 mm - 52 mm
Cutting depth: 1 in - 3 in
ARMOR-PLATED Unibroach™ Cutters, at 90Rc hardness, are the state-of-the-art in hole cutting technology. They multiply service life, reduce cost and increase productivity. Drill steel and hard metals Withstands higher working ...
See the other products
CS UNITEC

Honing Stones Used for honing of automobile and other parts.
See the other products
EHWA

During its use, the grinding wheels lose his cutting capacity of the clogging on its surface caused by the residues of the worked matter. To give again its initial cutting capacity, it is necessary dressing with a diamonds tool. According ...

Circular saw blade diameter: 300 mm - 400 mm

Circular saw blade diameter: 350 mm - 900 mm
Wacker Neuson's diamond blade range is tailor-made for the BFS range of Wacker Neuson floor saws. Available in a choice of three performance classes, differentiated by their segment height. Our diamond blades are "Made in Germany" and ...
See the other products
Wacker Neuson SE

bandsaw blade
CT-flex® 3000
The carbide-tipped blades with CT3 geometry are especially suited to sawing hard-to-cut materials such as titanium alloys, Inconel or nickel based alloys. Moreover, in comparison to bimetal, a considerable improvement in performance ...
See the other products
Eberle

diamond cutting wheel
XL09xxxRA series
Laser 900 Building materials laser welded, segmented blade high cutting speed and long life dry cutting
See the other products
RASTA

threading insert
ER/IR series
ECHAINTOOL is a professional manufacturer in Taiwan, specializes in producing international standard cutting tools, such as tools with drill inserts, threaded inserts, grooving inserts, u_drill Inserts and so on. At worldly, we are proud ...

cutting tool
HSG-4-VW, HSG-4-VW-mA series
Unit suitable for continuous operation with fixed blade (Type R-1 or G-90) and infinitely variable working temperature. Fumes which develop during working process can be absorbed with an extraction fan (Type HSG-4-VW-mA). Technical ...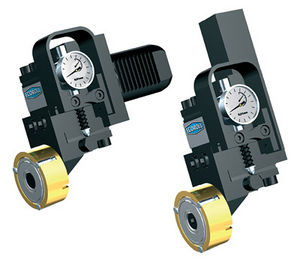 external roller burnishing tool
ø 55 mm, 0.2 µm, max. 1400 N/mm2 | EG5
The EG5 tools are suitable for both cylindrical and conical outer surfaces, plane surfaces, and bores, having 55 mm diameter. They are capable of machining internal and external plane surfaces, as well as cylindrical and conical bores. ...
See the other products
Ecoroll Tool Technology

Circular saw blade diameter: 254, 300, 520 mm
Plain Cutting Blade: recommended to cut braided hoses Available diameters: 254mm- 300 mm- 520 mm Serrated Cutting Blade: recommended to cut coated hoses Available diameters: 520 mm Scalloped Cutting Blade: universal solution recommended ...

Description Specialised cutting wheels for precision, burr free wet cutting of tubes & components. Applications Burr free cutting of: Tubes Electrical contacts Control cables Hypodermic needles Pen nibs Collet slotting, etc. Metallurgical ...
See the other products
atto Abrasives Limited


Diamond or CBN superabrasive stones that can be supplied in all common widths and heights. The stone is fixed to a suitable stone carrier or directly to a tool. Standard honing stones can either be sintered to steel bodies or manufactured ...
See the other products
KADIA Production

Have better wear resistance teeth materials than M42 Application Tool Steels Abrasive Tool Steels Stainless Steels
See the other products
Benxi Tool Co., Ltd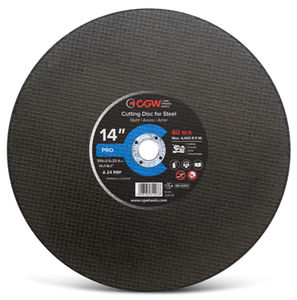 A - Aluminium Oxide For cutting structural steel, bar stock, tubing, and ferrous metals. For use on stationary machines. C - Silicon Carbide For cutting masonry, concrete, stone, and non-ferrous metals. For use on stationary machines.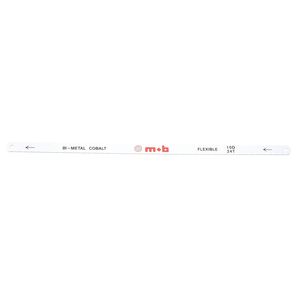 See the other products
Krino S.p.A.

Circular saw blade diameter: 250, 830 mm
Saw blade thickness: 2, 6 mm
The fact that Tsune is the manufacturer of machines and saw blades puts us in a unique position in the sawing industry. This allows us full control over the development and quality of our tipped saw blades. Primarily we offer tipped ...
See the other products
Tsune America

bandsaw blade
CAST MASTER™ XL
Band saw blade width: 34, 41, 54, 67, 80 mm
Saw blade thickness: 1.07, 1.27, 1.6 mm
LONG BLADE LIFE AT HIGH BAND SPEEDS Special grade of carbide is designed to wear slowly when cutting aluminum Multi-chip tooth pattern balances the chip load and reduces cutting forces Next generation welding technology reduces premature ...
See the other products
Lenox

Diameter: 15 mm - 100 mm
Cutting depth: 12 mm
• With its extremely sharp Tungsten CarbideTipped cutting edges, it can be run at higher feed rates and speed to create holes of exceptional quality and accuracy. • The slug is spring ejected when cutting is finished. • Cutting ...
See the other products
SHAJENG HARDWARE CO., LTD.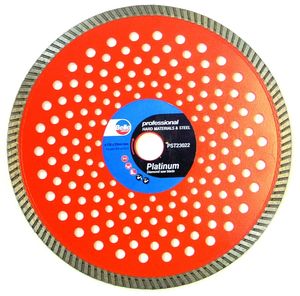 The PST and PSS/PUX Series of industrial blades are part of the Masonry Bench Saw product line. All series are commonly used for applications that involve on-site cutting operations, and cutting processes of a wide range of hard materials. ...
See the other products
BELLEGROUP

circular saw blade
Tough Black
Features & Benefits ■Reduces friction between the body and the material ■Enables a longer tool life for more machine uptime ■the saw kerf can be reduced or the feed speed increased ■Tough Black is optional for our rip saw ...
See the other products
KANEFUSA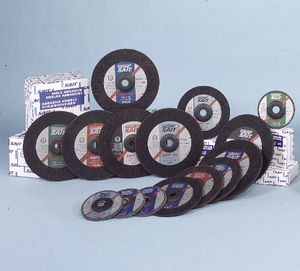 carbide cutting wheel
SAI-DT series
REINFORCED RESINOID WHEELS General purpose for heavy duty applications. Good cutting speed. Long life. Special purpose for metals tough to be cut. Wheel produced without addition of iron and sulphur compounds. Cool and fast cut. Good life.
See the other products
SAIT Abrasivi

Mastercut Cutting Systems Ltd supplies a wide range of Packaging Knives for different models of bubble-wrap, cutting tape, film packaging and heavy duty plastic packaging machinery. The knives can be either straight, circular, or even ...
See the other products
Mastercut Cutting Systems Ltd