{{loadProductsPushed('subcat','223', '','','4', '3')}} {{#pushedProductsPlacement4.length}} {{#each pushedProductsPlacement4}}

{{product.productLabel}}
{{product.model}}
{{#each product.specData:i}} {{name}}: {{value}} {{#i!=(product.specData.length-1)}}
{{/end}} {{/each}}
{{{product.idpText}}}
{{#if company.requestButtonsVisibility.requestButtonQuestion == "ACTIVE"}}
{{elseif company.requestButtonsVisibility.requestButtonWhereToBuy == "ACTIVE"}}
{{/if}}
{{#if product.innovationType}} {{else}} {{#if product.newProduct}} {{/if}} {{/if}} {{#if product.hasVideo}} {{/if}}
{{/each}} {{/pushedProductsPlacement4.length}}
{{loadProductsPushed('subcat','223', '','','5', '3')}} {{#pushedProductsPlacement5.length}} {{#each pushedProductsPlacement5}}

{{product.productLabel}}
{{product.model}}
{{#each product.specData:i}} {{name}}: {{value}} {{#i!=(product.specData.length-1)}}
{{/end}} {{/each}}
{{{product.idpText}}}
{{#if company.requestButtonsVisibility.requestButtonQuestion == "ACTIVE"}}
{{elseif company.requestButtonsVisibility.requestButtonWhereToBuy == "ACTIVE"}}
{{/if}}
{{#if product.innovationType}} {{else}} {{#if product.newProduct}} {{/if}} {{/if}} {{#if product.hasVideo}} {{/if}}
{{/each}} {{/pushedProductsPlacement5.length}}

high-shear mixer
max. 12 l | L5M-A
The L5M-A Laboratory Mixer is designed with wetted parts made from 316L stainless steel, and a robust, white nylon coating. It has a capacity of 1 ml up to 12 L, and the capability to mix in-line with flow rates up to 20 L/minute. ...
See the other products
SILVERSON MACHINES

batch mixer
max. 3600 rpm | BX, GX series
Silverson's Batch Mixers are made for applications like emulsifying, solubilizing, homogenizing, dispersing and unifying solids. Every mixer lessens the costs of time by up to 90% along with its accurately manufactured rotor or stator ...
See the other products
SILVERSON MACHINES

high-shear mixer
700X - MX series
The High Shear Batch Mixer is a device manufactured by Silverson. It is characterized by its capability to emulsify, homogenize, suspend, disperse and disintegrate solids. Additionally, it has the ability to remove agglomerates and fish ...
See the other products
SILVERSON MACHINES

high-shear mixer
Abramix RBX
The Abramix RBX, manufactured by Silverson, is a high shear batch mixer for abrasive equipment created to emulsify, homogenize, solubilize, suspend, disperse and disintegrate solids. This product features ceramic slips, liquid glazes ...
See the other products
SILVERSON MACHINES

high-shear mixer
3600 rpm
The High Shear In-Line Mixers from Silverson are elf-pumping, aeration-free mixers that have the capacity to reach up to 3600 rpm. Designed to handle interchangeable workheads, this maintenance-friendly machine efficiently dissolves ...
See the other products
SILVERSON MACHINES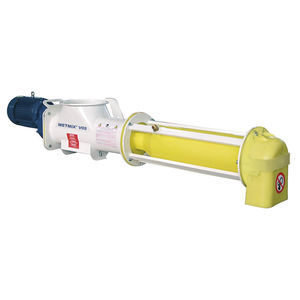 The WETMIX® V05 is a continuous modular building site mixer manufactured by Wamgroup. It is characterized by a SINT® engineering polymer mixing chamber that is sustained by four carbon steel bars. Additionally, it has a capacity ranging ...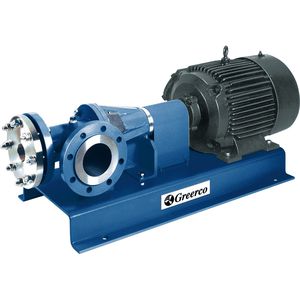 Greerco High Shear Pipeline Mixers offer a wide range of products for use in continuous inline homogenization, particle size reduction or dispersion. Reliability The Greerco Pipeline Mixer series is engineered and proven to provide ...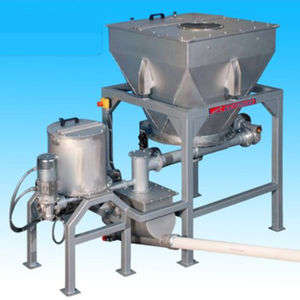 Based on the principle of using screw feeders as dosing devices a number of components can be fed at adjustable rates (Kg/hr) to a single point producing a recipe. By adjustment a number of recipes can be produced. Feed can be by volumetric ...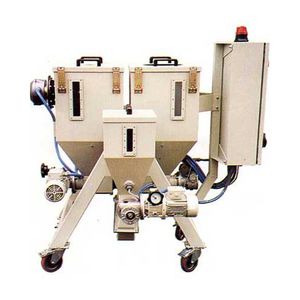 Flexible ScrewConveyors and these units can provide a totally automatic Powder Conveying system which manages flow rates till 10,000 kg/h, a batching system which is autonomous as well as Continuous Mixing. Study and supply of higher ...

homogenizer mixer
ISO,API 8 C,0~4000r/min,300W,AC230V±5%;50Hz | D-180
Characteristics TYPES: High-shear & dynamic & frequency Associated functions: metering Batch/continuous: batch Number of axes: 1-axis Other characteristics: portable & laboratory & vertical & high-speed & constant speed Applications: for ...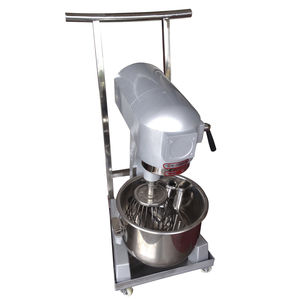 high-shear mixer
ISO,API 8 C,1400rpm/min,370W,15L | MS-15
Characteristics TYPES: High-shear & dynamic & frequency Associated functions: metering Batch/continuous: batch Number of axes: 1-axis Other characteristics: portable & laboratory & vertical & high-speed & constant speed Applications: for ...

high-shear mixer
ISO 9001, API 8C, 2000%uFF5E13000 rpm, 500ml
Characteristics Types: high-shear / digital Associated functions: homogenizer Batch/continuous: batch Number of axes: 1-axis Other characteristics: vertical Applications: container Domains: laboratory Manufacturers: RIGCHINA ...

Euromecc Twin shaft mixers MEB, characterized by the use of high quality materials and components, use the best technologies and are the result of careful studies lasting more than 40 years of experience on concrete. Euromecc MEB twin-shaft ...

EUROMECC continuous mixers are equipped with two syncornized mixing shafts rotating in opposite direction each other. The twin shaft mixing transforms the raw materials into a continuous streamj of mixed concrete suitable for cement ...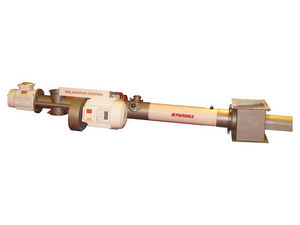 The Continuous Screw Mixer, manufactured by Parimix, is specifically engineered for applications involving the food industry. This machine features a top-rate mixing homogeneity as well as an anti-abrasion solution. In addition, it also ...

homogenizer mixer
Enigma SH
Enigma SH submersible mixers/homogenizers are designed for homogenizing liquid and viscous substances in the food, pharmaceutical, cosmetic, and chemical industries. DESIGN AND OPERATION The SH-St (stand) submersible mixer/homogenizer ...

emulsifier mixer
CosmoMix
CosmoMix series vacuum emulsifying mixers are designed for use in the pharmaceutical and cosmetic industries for the production of ointments, gels, pastes, creams, shampoos, and similar products, including products with high viscosity. ...

SOFRAMIX is a dispersion mixer that is designed for applications in all types of industries involving liquid/liquid mixing operation and solid/liquid mixing operation. This mixer is developed to meet the customers requirements and to ...

Our intensive mixers with blades MIC, dedicated for continuous type processes, share the same main features of our MIB batch mixers: a horizontal vessel, with 1 rotor provided with our patented mixing tools, the PHR blades. These mixers ...

Our twin-screw mixers MPS are suitable for homogenization and blending applications of powders or granules, for continuous-type processes. The trough vessel is provided with 2 parallel rotors, which give elective entrance activity. ...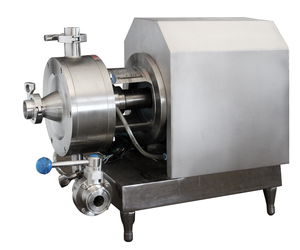 high-shear mixer
TRL series
The pipeline high-shear scattered emulsion is utilized for creation or reusing of materials, superior accuracy gear, in a restricted space of the body cavity, the gathering with 1-3 double impediment of the multi-story and rotor, rotor ...

The unit has a high shear scattering emulsifier effectively,quickly and equally scatter a stage or stages to an alternate sequential phase,usually,these stages are dissolvable to every other.the rotor rotates rapidly and solid power ...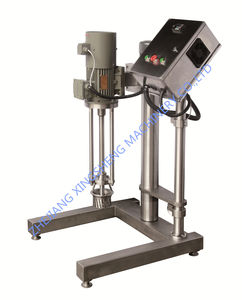 High shear dispersing emulsifier effectively, quickly and evenly disperse a phase or phases to another consecutive phase, usually, these phases are dissolvable to each other. The rotor revolves quickly and strong force is produced through ...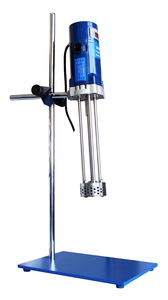 The B25 Series manufactured by TONGSHENG is a TRH high shear dispersing emulsifier equipment. This device is applicable with a wide range of applications and industries like food industry, paintings, household chemicals, petrochemicals, ...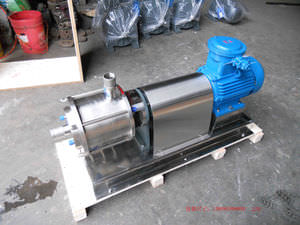 The three sets of stators and rotors are prepared in meeting expectations hole. Driving shaft in living up to expectations depression is an arm, electrical engine and the pole in bearing bureau could be associated by spring coupling ...

batch mixer
100 - 8,000 L | SF 010 – SB 5000 Series
BOLZ-SUMMIX conical screw mixers and dryers work according to the proven principle of a rotating mixing screw being guided along the wall of the conical vessel at constant close distance by means of an orbital arm. The mixing screw moves ...

batch mixer
0 - 135° C | Bolz-Summix® MF010 - MB8000
The cone screw mixer is designed for operations in both the pharmaceutical and fine chemicals sectors. The device uses low shear agitation for a gentle mixing action. It results in minimal mechanical product stress. This feature makes ...

batch mixer
100 - 1,000 L | DF 050 - DF 600 Series
Cooking and sterilising using steam and adding liquids Mixing, stirring, cooking and sterilising are basic operations in food production and processing and sometimes require special adaptation of the equipment to the raw materials and ...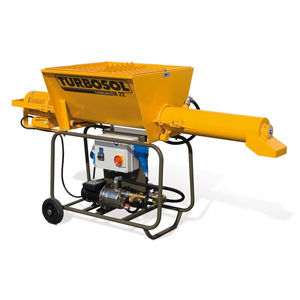 screw mixer
25 - 35 l/min | TURBOMIX M22
The mixing machine turbosol is used in conjunction with a plastering machine to set up a mixing, pumping and spraying center for ready-mixed mortars and plasters. The machine offers high speed and quality. TURBOMIX M22 is available with ...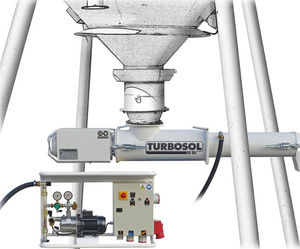 screw mixer
60 l/min | TURBOMIX M55
The TURBOMIX M55 is a continuous screw mixer developed by Turbosol. It is specially built to operate with plastering machine or pumping machine for setting up a self-contained mixing and pumping center. The system is engineered with ...

high-shear mixer
SK300 series
High shear industrial mixer is a specially designed workhead. This precision machined mixing workhead offers great versatility by allowing any machine to perform a wide range of mixing operations. The exceptionally rapid SunKaier mixing ...

high-shear mixer
max. 4000 l | SMW series
KAHL high-speed mixer can perform all mixing, drying, steaming functions within a few seconds. The hygienic complete discharge has great value in fields like chemical, food and pharmaceuticals. On request we can also integrate the KAHL ...

twin-screw mixer
max. 8 000 l | MAH, BWM series
The MAH, BWM series is a twin-screw mixer / batch, manufactured by Amandus Kahl. This product is ideal to use for homogenising raw materials and the storage of non-free flowing products. They are provided as single-shaft or double-shaft ...

GMP design with straight surfaces Modular WIP-System Multiple possibilities for liquid Addition New pharma compliant control System Temperature control jacket for heating / cooling Integrated sieve mill at ...

Description - mixing, homogenizing - construction sizes for 2.000 to 107.000 l/h (special sizes on request) - continuous operation - wide range of additional equipment and special executions - as an option conformity ...

clean-in-place (CIP) mixer
FM
Design characteristics All parts in contact with the product are made of stainless steel. The double-walled design and the customizable tool makes the FM a highly versatile mixer. Features Heater mixer with very good heating performance ...

clean-in-place (CIP) mixer
MB
Design characteristics A further advancement of the double-walled FM design with several chambers makes this mixer unique. Features: Absolutely unique functions Metallic/effect powder coatings Bonding Accurate process temperature ...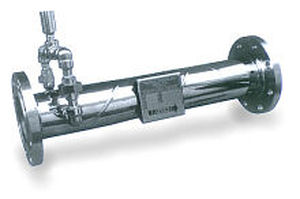 Sludge Mixer (Non-Plugging / Non-Fouling Very low pressure drop) komax_sludge_mixerThe KOMAX Hi-Pass™ Sludge Mixer is designed to effectively mix polymer solution into sludge flows prior to dewatering process. Polymer savings in ...

Mixing Granulating Heating Reacting Drying Cooling The range of options for exercising more accurate control over product properties can be broadened by supplementing the Eirich mixing technology with task-specific peripheral drying ...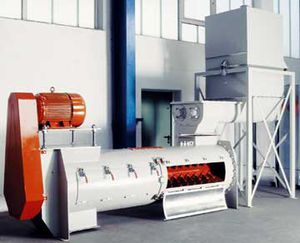 homogenizer mixer
DLM Series
Machine sizes: From 0,5 to 750 m3/h throughfeed performance with a mixer chamber volume of 70 to 4.250 litres. In corresponding high-quality stainless or special steels. Individually adjustable mixer tools make possible a variable ...