description Thermotransfering ribbons of different colours and for printing any kind of material. Letters and numbers made of bronze. Resistances and bores for all types of printers. Printing plates made of bronze. Ribbons for every ...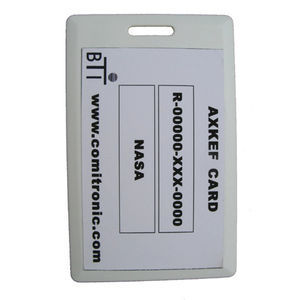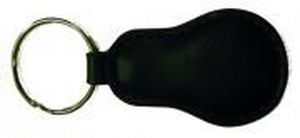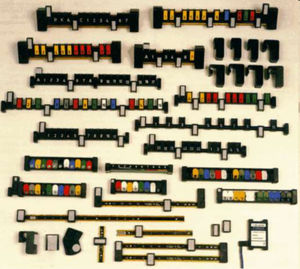 These conding strips from Fiessler are used to provide proper steering control of transport containers in tape conveyor plants. These strips can be programmed as if flaps-, tilt-, sliding-strips These devices contain a variable modular ...

identification system
max. 230 mm/s, 24 V | CIS3A
The Identification System CIS3A is used if somewhat larger read distances are required. As a result a larger data carrier is necessary. The data carrier is screwed on the product to be identified. The antenna and the interface electronics ...

identification system
24 V | CIS3A-Mini series
The innovative Identification System CIS3A-Mini is used if there is very little space to fit a data carrier to the product to be identified, or if there is very little space available for the read head. Incredibly small dimensions characterize ...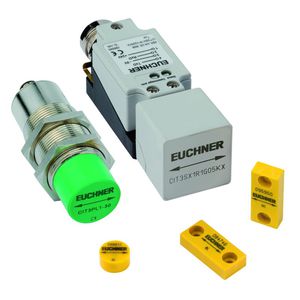 identification system
CIS3 series
The CIS3 manufactured by EUCHNER is an Identification System Device. It is equipped with a compact data and has an extremely compact head design that does not require separate interface adapter. This device is also equipped with a stick-shaped ...

The S174 50MM is a construction warning tape made entirely of plastic materials. It is a sticky tape that helps in providing a safe and secure environment. It has a design of red color and white color alternating stripes. The tape has ...

cable marking tag
max. 32 x 71 mm | CTG series
Width: 24.5 mm - 32 mm
Thickness: 1.6 mm
Length: 58 mm - 71 mm

marking clip
3.5 - 7 mm | EC-J
· Material: made from PVC, oil and erosion control. · Feature: used for circle of flat wire size from 3.5mm-7.0mm.

marking clip
ø 2 - 10 mm | EC series
· Material: made from PVC, oil and erosion control, heat resisting up to 85oC. · Struction: the inside is hollow, but elastic, The diameter can change with the needed wire.

cable marking plate
10 x 90 mm | MS-90

Width: 7 mm - 200 mm
Length: 8 mm - 200 mm
All labels listed are the new labels updated to the revised editions of the laser safety standards EN / IEC 60825-1 (2001). The changes are as follows: New labels for the new Classes: Class 1M, 2M and 3R Note that there are two labels ...

security label
LSWN-CLINIC
Width: 210 mm
Thickness: 3 mm
Length: 297 mm
The Lasermet LSWN-Clinic is a A4-sized signage which encompasses all the three signs necessitated by the Health Care Commision. This signage, manufactured with the appropriate symbols and coloring, can be installed through drilling, ...

Width: 248 mm
Thickness: 3 mm
Length: 350 mm
The Lasermet LSWN, specifically designed for Class 4 type of lasers, is an acrylic laser warning sign that can be installed through drilling, screwing or taping (with a double-adhesive tape) onto/into the wall of the restricted area. This ...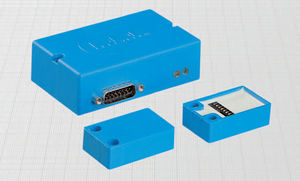 identification system
ERB 1 series
The ERB 1 series from BDC electronic is designed to assign an identification code to the fixed or mobile parts. The cold holder is the sender and it can be operate without the power supply. The code reading is finished by the reading ...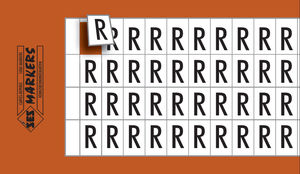 cable marking label
max. 9 x 9 mm, -40 °C ... +150 °C | S 9 series
The S9 series is a cable marking label that is fabricated from TEV vinyl covered in cotton. Its adhesive properties are made out of a specialized thermal setting substance. With a standard dimension of 255 x 48 mm, prints are sized 6.3 ...
See the other products
SES-STERLING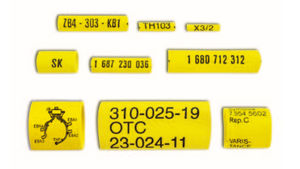 cable marking sleeve
-30 °C ... +90 °C | HELAVIA-TWIN series
The Helavia Twin Cable Markers contain an appropriate marking design because of its thin wall that attaches to the cable. The markers are protected by a coating to toughen it up. They are printed in yellow which is essential for contrasting ...
See the other products
SES-STERLING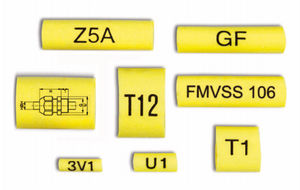 cable marking sleeve
-80 °C ... +200 °C | SILAVIA-TWIN series
The product lets appropriate marking because of its thin wall adapted to the cable. It is endorsed to have printed yellow sleeves since yellow are not easily-soiled and it is a contrast in black print. A coating protects the marking. ...
See the other products
SES-STERLING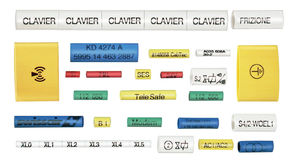 heat shrinkable wire identification sleeve
2/1 - 3/1, ø 1.6 - 12.7 mm | PLIOFINE, PLIO-R series
The Pliofine and Plio-R series are heat shrinkable wire identification sleeves that permit an aesthetic print. They are simple and easy to utilize by sliding it on to the conductor before shrinking. The units are designed with hot ...
See the other products
SES-STERLING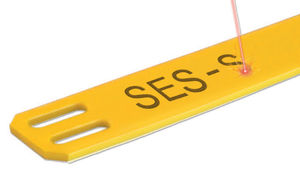 cable marking plate
12 - 25 mm, -50 °C ... +95 °C | PLIO series
The product is made in PVC PE. It has -20-+90°C and -50-+85°C operating temperatures and V0 UL94 halogen-free specifications. The carriers are specifically made to cater the requirements in speedy applications, marking of retro, cables ...
See the other products
SES-STERLING

Width: 30 mm - 100 mm
Length: 40 mm - 150 mm
The Adhesive label fabricated by Ferplast, is a label roll that features an approximately outer diameter of 200 mm. This tool is made available in different sizes from 30 mm x 40 mm -10 0mm x 150 mm. In addition, it highlights an in-coil ...

Ferplast produces ink ribbons suitable for use in thermal transfer of printers. These ribbons are compatible with the Toshiba B-SX4T printer. Sizes vary from 55mm x 600mt to 112mm x 600mt, depending on the ink ribbon type.

In addition to the bags, LC Packaging can provide a wide variety of labels, including the following: wine glass labels, ribbon and polyband tape Specifications: Wine glass labels: - Available in thermo, kraft or transfer qualities - ...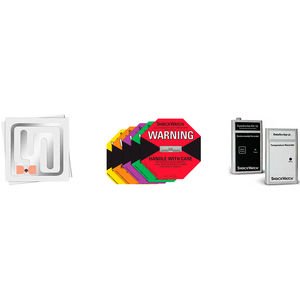 We have a smart packaging devices service, able to inform about the product they contain, all along the supply chain. We advise you about correct tags and we provide the packaging with RFID integrated, label or encapsulated for reusable ...

There are two print technologies used by Logopak print & apply systems, the direct thermal and the thermal transfer method. Both methods are commonly used for barcode printing applications. Logopak can supply systems that utilise either ...

RFID is the use of a wireless non-contact system that uses radio-frequency electromagnetic fields to transfer data from a tag attached to an object, for the purposes of automatic identification and tracking. Some tags require no battery ...

In order for Logobak to provide costumer custom-made and at the same time excellent labels for both thermal transfer and direct thermal printing, it manufactures their products from the finest, self-adhesive ingredients that are obtained ...

thermal transfer ribbon / resin-based
In order to ship our thermal transfer labels to you as quickly and conveniently as possible, we offer next-day and specific timed delivery services so you'll have supplies exactly when you need them. Our standard lead time is 5-7 working ...

A self-adhesive label is often the most practical solution for bar code identification. Only the right combination of stock, printing method, surface treatment, adhesive, backing and finishing leads to the most suitable self-adhesive ...

Special labels are bar code labels which have been developed for a very specific purpose. Fabric Labels Textile identifications are, depending on the conditions of the cleaning process, either woven using a special yarn or printed ...

A solid plate, used as support, is specifically designed for applications where the bar code is exposed to a harsh environment. Plastic Plates Some plastic materials can be marked using a laser, giving a permanent image. With nothing ...

thermal transfer ribbon / for label printers
CPM-100, SMS
CPM-100 fully compatible supplies Designed and manufactured in the Netherlands, our fully compatible ribbon cartridges and material rolls are guaranteed free from defects and manufactured to the highest standards. A material for ...

Identification devices for applying barcodes product designations production information like date of minimum durability

These Intermec Duratherm and Duratrans label media items are made to work with quality printing materials and can work in many sizes for stock products. This is made to work with managing challenging spaces where different units can ...
See the other products
INTERMEC

Intermec thermal ribbons have been designed for delivering perfect quality in combination with the correct labels and tags. Ribbon formations can meet all industry labeling demands, are capable of handling applications in both mild ...
See the other products
INTERMEC

Barcode tags from Zebra make sure reputable, great-good quality generating. Our barcode labeling are overall performance-coordinated to Zebra label and tag laser printers for distinct, reputable result. Pick from: Around 100 pieces ...
See the other products
ZEBRA TECHNOLOGIES

thermal transfer ribbon / resin-based
Zebra ribbons are quality and durable ribbons that gives you genuine results. One can choose from three formulations of thermal ribbons to match ones applications needs. The wax ribbons are for the standard printing on paper materials. ...
See the other products
ZEBRA TECHNOLOGIES

Tape Type :Hazard Warning Tape Colour :Yellow & Black Overall Width :50.0 mm Overall Length :33.0 m

thermal transfer label
3M™ 7871FL
Width: 1371 mm
Thickness: 1.5 mm
2. mil gloss bright white polyester facestock with 1.8 mil acrylic sticky 350 over a 1.5 mil very clear polyester liner Thought to be the business Common - The Tag Carry in which all other people are evaluated. Special blend of Adhesion ...
See the other products
3M Manufacturing and Industry Industrial Tape

thermal transfer label
3M™ 7816FL
Width: 1371.6 mm
Thickness: 1.5 mm
2. mil gloss bright white polyester facestock with .8 mil acrylic sticky 310 on the 1.5 mil crystal clear polyester liner Best balace of product or service price and performance for basic goal nightclub program code content label ...
See the other products
3M Manufacturing and Industry Industrial Tape