articulated robot
KLEENPal
With their dedication and attention to top quality products and service, KLEENLine systems have on offer KLEENPal robotic palletizing solutions which can easily be configured using standard packaging software. This makes the product ...

layer palletizer and depalletizer
400 - 600 p/h | Pal Pack
We have representation h Mexico NEWTEC CASE PALLETIZING this is a French company speciaSzing in equipment and palletizing depalletizing. Pal pack is a conventional for layer placement Pal pack SER1E 4000. Placement of the bottom layers. ...

First step cause is a system that let you put the empty bottle or other pack, into the conveyor that goes to the different steps for packing.

articulated robot
MPL800 II
Payload: 800 kg
Reach: 3024 mm - 3159 mm
Repeatability: 0.5 mm
High-performance, 5-axis robot with 100 kg payload capacity and ±0.2 mm repeatability. • Highly versatile, this robot is ideal for case palletizing, bag palletizing, layer forming and pallet handling, order picking and many logistical ...
See the other products
Motoman

Payload: 50 kg
Reach: 1668 mm - 1917 mm
Repeatability: 0.5 mm
Suitable for packaging, palletizing and other material handling functions, this high speed four-axis robot offers excellent performance and dependability. It has a complete 360-degree rotation and a large work envelope. Motion, axis ...
See the other products
Motoman

articulated robot
Fanuc series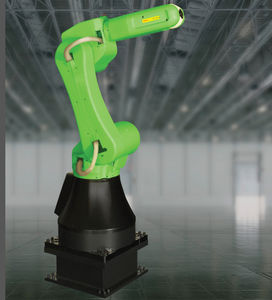 collaborative robot
CR-35iA
Payload: 35 kg
Reach: 1813 mm
Repeatability: 0.08 mm
Features The FANUC CR-35*A Robot is a 35kg payload collaborative robot that can work without safety fences. Collaborative Operation • Operates in close proximity to humans in a shared workspace without safety fences. • Works in ...
See the other products
FANUC Robotics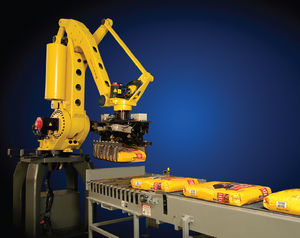 articulated robot
M-410iC/315
Payload: 315 kg
Reach: 3143 mm
Repeatability: 0.5 mm
Features The M-41o/c is the ideal intelligent solution for automation of palletizing systems. • Two models are available to meet the needs of speed and payload. - FANUC Robot M-4101C/185 Payload 185kg - FANUC Robot M-410ZC/315 ...
See the other products
FANUC Robotics

layer palletizer
PLATINUM
Features: PLATINUM is the layer palletizer made by Windmöller & Hölscher for stacking of sacks which were filled by the FFS- process. It is directly linked to the bagging machine TOPAS SL. Internal processes in the packing plant like ...
See the other products
WINDMÖLLER & HÖLSCHER

Features: The ARGON stretch-hood machine by Windmöller & Hölscher is arranged downstream of the palletizer. It automatically secures the stack of sacks ready for dispatch by applying a stretch hood. The process is fast, economic and ...
See the other products
WINDMÖLLER & HÖLSCHER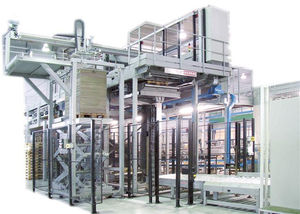 layer palletizer
Orion series
Throughput: 5 p/min - 9 p/min
Automatic palletizers come with in-line feeders that are used for cartons, bundles and other packages. These high and low level palletizers with inline feeders are able to handle packaging such as crates, bundles, cartons, multi packs, ...
See the other products
OCME

articulated palletizer
Pegasus
Throughput: 0 p/min - 7 p/min
The line of robot palletizers from Pegasus comes with multiple gripping systems and layer grippers, which makes the devices capable of handling various types of packs, including cartons, bundles and drums. In addition, the output speed ...
See the other products
OCME

high level infeed palletizer
5 - 30 kN | VERO-S NSA plus
Automated machine loading requires the level of accuracy delivered by NSA plus module in the VERO-S quick change pallet system. Noted for high quality robust design, a secure hold, even during rough machining and extra low installation ...

weight / volume control station
TLX
When the need for accuracy and speed is high, the TLX Advanced, with configurable operation modes and advanced sorting capabilities, takes revenue recovery to the next level. Handling everything from letters and flats, to small items ...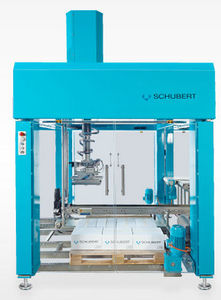 Throughput: 15 p/min
The TLM Palletizer supplements the TLM sub-machine system. Packages coming from the transmodules are picked up and directly placed on pallets by the TLM-P4 robot unit, at a 15 cycles per minute maximum strokes. Several packages can be ...

empty pallet control station
Innocheck PKS-DR
Excellent to find out You want to be sure that your products or services are certainly not ruined. To protect yourself from the chance of merchandise damage throughout delivery, our Innocheck PKS-Doctor performs a comprehensive, trustworthy ...
See the other products
KHS

layer depalletizer
Innopal AS-1-H
To get sturdy support and sustenance in manufacturing and processing of containers made of metal, plastic, and glass, the Innopal AS-1-H high-performance depalletizer is a credible name and device. This is an adjusting equipment that ...
See the other products
KHS

articulated robot
IRB 2600
Payload: 12 kg - 20 kg
Reach: 1.65 m - 1.85 m
Repeatability: 0.04 mm - 0.16 mm
The IRB 2600 has 3 robot models. They have the capacity for flexible mounting possibilities which help to reduce floor space and increase access to the equipment served. It provides 12 to 20 kg handling capacity. The wall mounted version ...
See the other products
ABB Robotics

articulated robot
IRB 460
Payload: 110 kg
Reach: 2.4 m
Repeatability: 0.11 mm - 0.2 mm
The ABB IRB 460 high speed robotic palletizer is the fastest palletizing robot in the world. This 4-axis robot is capable of up to 2,190 cycles per hour, has 110 kg capacity, a 2.4 meter reach, and compared with its closest rivals, runs ...
See the other products
ABB Robotics

low level infeed palletizer
PLS-B
To accumulate goods with roughly poor durability of shape including cement sacks, the Automatic Palletizers PLS-B Series are being used. These are evenly fitted to palletizing of boxes, cartons and ball packs with a capacity range that ...
See the other products
Möllers

To pack the goods even with exceedingly poor durability of shape, including loosely-filled film sacks, the Automatic Palletizers PLS-C Series are used. These machines hence specifically acknowledge the necessity in the chemical industry. ...
See the other products
Möllers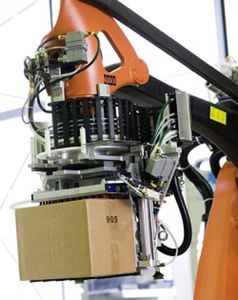 The Automatic Palletisation is an efficient and flexible robot system. It offers a complex solution for palletising outbound goods or roller containers. The unit features virtually zero risk of packed units shifting or falling down, ...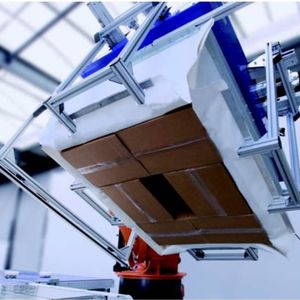 SSI SCHAEFER utilizes robot technology to offer automatic solutions for depalletization. The implementation of automated complex process chains offered by this company is output-oriented. Consistency is provided to order picking processes. ...

high level infeed palletizer and depalletizer
We serve all rate needs with 3 technological innovation which cover all refreshment containers and applications (PET, glass and can), supplementary product packaging designs (decrease-recorded packages without or with containers, carton ...

articulated palletizer
5 lines
The robotised cell of palletisation is designed to handle up to 5 lines of production at high speeds. The machine can put the products on the pallet per unit, per row or per layer based on speed. Either the gripping unit or the peripheral ...

The gantry palletizer allows users to place products on the pallet per row, unit or layer, depending on set speed. This device has a very small footprint, and the gripping unit or peripheral equipment is used to grip and lay pallets ...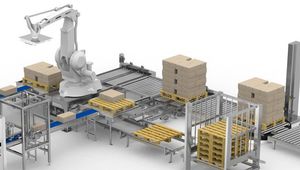 gantry palletizer
max. 200 c/h
This system is used when product versatility is required and the required production of each product is not high speed. The buffer systems optimizes the palletizing equipment, working with robots or mechanical palletizers. The criteria ...

gantry palletizer
MINISTRATUS PLUS
If a user is looking for a sturdy and reliable case packer and pallettizer, the Ministratus Plus could be the right choice. This packer offers a reduced footprint with clean and ergonomic design, and is easy on changeover while ...
See the other products
Marchesini Group

horizontal case packer-palletizer
MCP840
Unit throughput: 10 p/min
A horizontal case packer and palletizer are combined in a compact, single form with the MCP840 model, which is automatic, ergonomic, durable and reliable. It is designed to first pack products in cases and then palletize them. Thanks ...
See the other products
Marchesini Group

layer palletizer
max. 600 layers/h | Modulpal Pro 1AD
The Modulpal Pro 1AD has been specifically designed to multi-task from morning to night. The palletising robot is unconventional in that it is comprised of two simultaneously working modules. The transfer module supplies more layers ...
See the other products
KRONES

layer palletizer and depalletizer
max. 840 layers/h | Pressant
When it comes to processing returnable containers, the essential requirements on palletising units are their robustness, flexibility and performance. There is a need to quickly separate pallets with empty containers while crates with ...
See the other products
KRONES

articulated robot
50 kg, 1 917 - 1 668 mm | MPK50
The YASKAWA's Motomoman Robot comes in various models which can be installed either on the ceiling, shelf, wall or on the floor. With its payload capacity ranging from 2 up to 800 kg, the robot is capable of meeting different handling ...
See the other products
MOTOMAN

articulated robot
80 kg, 2 061 - 3 291 mm | MPL80
Rapid axial speeds, acceleration and deceleration serve to reduce cycle times in this five-axis MPL80 "master palletizing" robot. Production output is increased using this device. The robot features an 80kg (176.4lb) payload, a 3,291mm ...
See the other products
MOTOMAN