The Online Industrial Exhibition

Power: 0.1 kW - 0.8 kW
Diameter: 80 mm
APPLICATIONS Pump drive Winches Traction Marine applications FEATURES High specific output power Long brush life High ambient resistance DESIGN Excitation by high quality ferrite 4 or 6 pole permanent magnets Compact ...
See the other products
Letrika

direct current motor
NE series
Power: 7.5 ch - 700 ch
The DC motors NE series dimensionally and electrically to meet American standards NEMA. The inch sizes make them mechanically interchangeable with DC motors in NEMA Standards ...

[SPECIFICATIONS] Rated Voltage (V) 3.3 Voltage Range (V) 1.5~5 Rated Load (mN·m) 0.127 No Load Speed (rpm) 12700 No Load Current (mA) 25 Starting Torque (mN·m) 0.476 or more Rotation CW/CCW

Power: 0.4 kW - 11 kW
... aluminum frame motors use an aluminum frame and brackets. Through our optimized design, we provide a superior cooling effect and aluminum motors are 15 ~ 45% lighter than the casting-framed motor. ...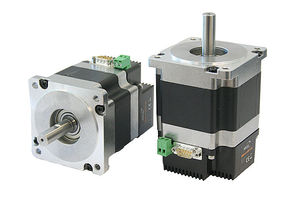 The Integrated-drive electric stepper motor DMX-K-DRV-34 Series is manufactured by Arcus Technology. The product can be either shifted to driver mode or controller mode that is only enabled in NEMA 17/23.The ...

DC motor
U&Platinum series
Power: 94 W - 350 W
- with AlNiCo magnet material - 0,34... 1,12 Nm (94... 350 W) - nominal speed up to 5,000 rpm - for high-dynamic applications and/or exact regulations at large speed range - zero cogging for smooth operation, even ...

Power: 25.7 W
Nominal voltage UN 12 V Nominal power PN 25.7 W Nominal current IN ≤ 7,5 A Maximum current Imax 22 A Nominal speed nN 700 min-1 Nominal torque MN 0.35 Nm Breakaway torque MA ≥ 1,5 Nm Reduction ...
See the other products
Robert Bosch GmbH

DC motor
0.5 - 6 mNm, 1 400 - 12 000 r/min | DR series
Power: 1 W - 750 W
... Shinano Kenshi company. It is DC motor that is brushless. It offers a wide range of motor diameter with 14 mm measurement for small ones and a 126 mm for large ones. The motor ...
See the other products
SHINANO KENSHI

... KMP series are tin can step motors that otter a 7.5 deg step angle. These models offer standard and above standard torque in a thin package. Different winding and variations are offered to match the per- formance of the ...

SMG15-12 -- Small Stepper Motor, 15 mm dia Small Stepper Motor with pinion gear, 15 mm dia

direct current motor
A112
Power: 21 kW - 36 kW
... A112 DC Motor (Series: A), manufactured by HDT®, are completely laminated (DC-type) with a square section stator. In addition, this motor is capable of offering power ranging from 21kW ...

Power: 7.3, 7.1, 5, 3.4 W
Voltage :12V DC Rated Speed:5930 rpm Rated Output:3.80W Motor Diameter: Φ27.5mm Weight: 64g Typical Application:Fuel Pump
See the other products
Chiaphua Components

Torque: 0.05 Nm - 0.29 Nm
Power: 15 W - 104 W
Rotational speed: 3,000 rpm
DCmind Brush Motors are extremely quiet, highly efficient and have a long working life.The motor's performance is built on the precision of its components and sub-assemblies, where accuracy, reliability ...
See the other products
Crouzet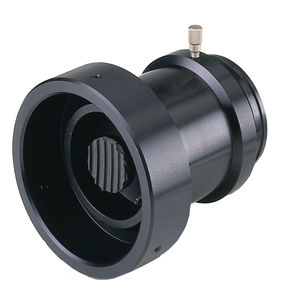 ... required, the ProScan ®III focus motor can be driven at speeds of up to 20 revs/s. The focus motor is designed with a rotating cable system to prevent cable twist. Our coupling system uses a ring ...

Torque: 0.0012, 0.0011 Nm
Rotational speed: 375 rpm
Diameter: 37.5 mm
The syncronous motors work only from an alternate current and consequently their speed is strictly bound to the frequency of the power line wired. It could be ordered in clockwise, anticlockwise and no-sense rotation.
See the other products
ELETTROMECCANICA CDC s.r.l.

Power: 50 W
Spare motor kit for PR+08 12V reversing pumps. The PR+ range of pumps do not have user-replaceable motor brushes. Instead this complete easy-fit motor ...

Power: 0.25 kW - 400 kW
Rotational speed: 1,500, 3,000, 750, 1,000 rpm
Diameter: 14 mm - 100 mm
... marine, railway…), these products can be provided with approval certificates from all the main classification companies (B.V, D.N.V, L.R, etc).They can also be used in wet and aggressive environment for ...