The Online Industrial Exhibition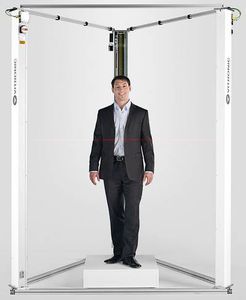 ... makes it possible to satisfy individual customer requirements without high production costs thanks to the VITUS BODYSCAN 3D body scanner, which can take automatic body measurements within a few seconds. ...
See the other products
Vitronic Machine Vision

MobileScan3D is a truly mobile CNC laser scanning solution allowing fully automatic reverse engineering and part inspection verification to occur. Its portability and rapid setup provides a unique opportunity ...
See the other products
WENZEL

3D scanner
ATOS Compact series
Operating temperature: 5 °C - 40 °C
Measuring distance: 450 mm - 1,200 mm
The ATOS Compact Scan defines a new class of scanner for 3D measurement and inspection. The lightweight, compact construction opens new application areas and ensures ultimate adaptability ...
See the other products
GOM

Measuring distance: 40 cm - 100 cm
... unlimited applications.Artec™ Eva 3D Scanner is similar to a video camera which captures in 3D. The scanner captures up to 16 ...
See the other products
Artec Group Inc.

3D scanner
Quarryman® Pro
Operating temperature: -20 °C - 45 °C
Renishaw's new Quarryman Pro builds on 25 years' experience of delivering laser scanning solutions to the quarrying industry, worldwide. It's our most robust system yet, designed to offer quarry managers the ability to: ...
See the other products
Measurement Devices

3D scanner
1250 x 800 x 700 mm | ShapeGrabber Ai810
The ShapeGrabber Ai810 Model is an automatic 3D laser scanner developed by ED ShapeGrabber. It is suitable for quickly scanning parts that is differ in size and shape. The system is built to provides ...

There's no easier way to run an inspection inside your steam generator than with our ZR-100 inspection and repair robot. It's field proven to be faster and easier to use than any other inspection or repair robot. Installation and setup ...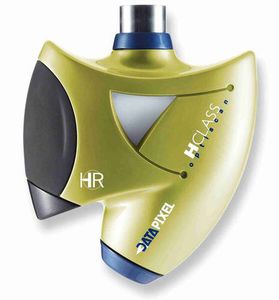 3D scanner
OptiScan 1015-L / HR
DataPixel manufactures the OptiScan high speed 3D scanning sensors, providing the best accuracy and sensitivity on the market. With OptiScan you can obtain high accuracy 3D pointclouds ...

Since 1979, over four thousand LMI/Selcom ™ laser and vision sensors have provided the transportation industry with a reliable, safe and efficient way to collect critical information. In the case of road inspection, a number of ...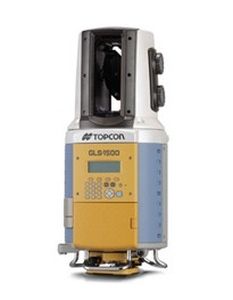 Long-Range 500m High-speed Scan with 30,000 points/second Topcon Precise Scan Technology provides Clean, Ultra-Low-Noise Scan Data 4mm Distance Accuracy at 150m All-in-one Solution for Superior Mobility Quick ...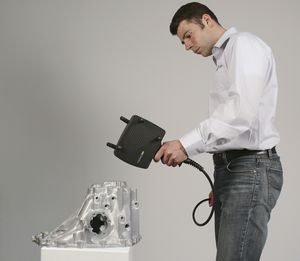 ... in many application areas. T-SCAN 3 now takes the system to a higher level with its dynamic, compact and ergonomically optimized design: The extremely light-weight handheld unit allows effortlessly capturing the 3D ...
See the other products
Steinbichler Optotechnik

3D scanner
10 kHz | ILRIS series
... large-format LCD viewfinder, ILRIS-3D has a visual interface similar to that of a digital camera. Field deployment is made extremely efficient by ILRIS-3D's high data ...

Measuring distance: 4, 6 mm
Safety laser scanners provide a laser safety solution for safeguarding mobile vehicles and stationary applications, such as the interior of robotic work cells that cannot be solved by other safeguarding solutions.

Alpha3D combines long-range laser scanner, high-resolution HDR panoramic camera, advanced GNSS receiver and IMU, in one light and compact instrument. --------------------------------------- Key ...

3D scanner
DSL-1 Schwenkarm zur Tischmontage

3D scanner
TT-1 Automatischer Drehteller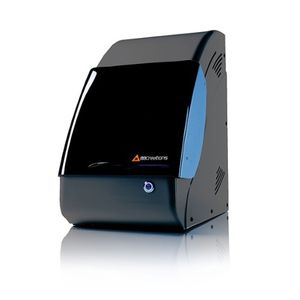 ... intuitive 3D scanner for speed, accuracy & simplicity. Designed specifically for scanning jewelry and small objects, the B9 Scan 350 can precisely capture each detail, cut, or facet of your most intricate ...

Operating temperature: 41 °C - 95 °C
Width: 25 mm
The High-speed, Large-format Scanner Built For Productivity. Now, your workgroup can take advantage of ultra-fast 2-sided scanning of critical business documents. The WorkForce DS-70000 delivers surprising speeds, racing ...
See the other products
EPSON

Operating temperature: 32 °C - 104 °C
Length: 9 in
Width: 3 in
EMPOWER SHOPPERS TO INSTANTLY LOCATE ITEMS, CHECK PRICING AND RECEIVE PERSONALIZED PROMOTIONS Raise the bar for your customer self-service and improve associate productivity with the MC18 Personal Shopper retail mobile computer. Give ...

computed radiography scanner
DynamIx HR², DynamIx VU
The DynamIx HR2 / DynamIx VU by Fujifilm is a high quality performing system, which combines software, image reading, and IP leading technologies to produce some of the most outstanding image quality. Its features include superior signal-to-noise ...

Measures depth and location of rebar up to 15 cm through concreteDetects location of wood, PEX, PVC and metalIntuitive user interface displays stud centres and edgesHigh contrast white on black display and backlight for easy readingRugged ...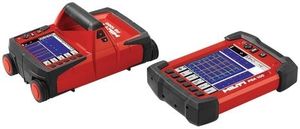 3D scanner
PS 1000 X-Scan
... immediate data evaluation on-site. It has three scan modes: Quickscan detection, Quickscan recording and Imagescan -- 2-D and 3-D data visualization with top view and cross sectional ...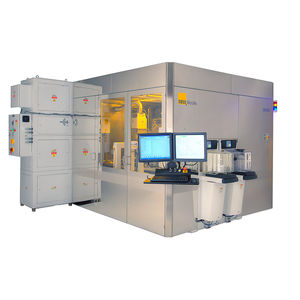 The projection scanner DSC300 Gen 2 suitable for wafer sizes up to 300mm utilizes latest technologies of projection lithography. The system is designed to meet the requirements for wafer-level packaging, ...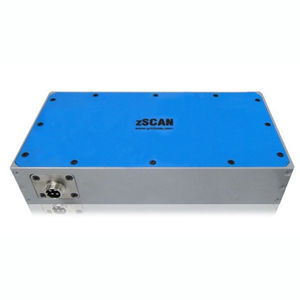 This is a laser based high precision profile scanner which can scan 1000 profiles per second and output the data in binary/text format. The system can read even black marks on black surfaces without any problem. The ...

3D scanner
AnySCAN COMFORT
Width: 490 mm
Description The AnySCAN dental scanner and the accompanying computer are used for model scanning. It´s very easy to use. Construction can be performed independently of the scan. So the AnySCAN scanner ...

Operating temperature: -10 °C - 50 °C
... components allowing the scanner to operate in dusty environments without risk of damaging sensitive parts. Description Thanks to its easy of use and the astonishing relationship between costs and operating performance, ...
See the other products
Stonex