How to choose this product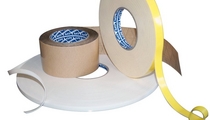 Adhesive tape is a strip of material coated with an adhesive. It is removed from its roll as needed, and is used to join two objects or as a protective covering.
Applications
Such tape is found in numerous industrial domains including automobile manufacturing, the chemical industry, building and construction, packaging, electronics and the electrical industry.
Technologies
Tape is characterized by its adhesive power, durability and resistance to weather and to heat. Both acrylic and rubber adhesives are used.

Taping irregular or dusty surfaces is possible using tape with a heavy adhesive spread. Double-sided tape is used to mount photovoltaic panels. Polyethylene foam versions with great shear resistance facilitate vertical installation. Removable tape is used for temporary adhesion. It leaves no marks when removed and can be used for masking the perimeter of areas to be painted or polished.

Aluminum butyl tape is used to seal heating and air conditioning installations. Heat-activated self-fusing silicone tape can waterproof pipes carrying liquids. Anti-corrosive and electro-conductive zinc tape provides cathodic protection to metal structures.

Certain tapes are designed for electronics applications. Some are anti-static, others shield against electromagnetic fields or constitute a thermal bridge for semiconductor components.