The Online Industrial Exhibition

Pressure: 4 bar - 13 bar
Flow: 4.9 l/s - 37.5 l/s
Power: 5.5 kW - 15 kW
See the other products
Atlas Copco Compressori

Pressure: 4 bar - 13 bar
Flow: 4.9 l/s - 37.5 l/s
Power: 5.5 kW - 15 kW
See the other products
Atlas Copco Compresores

Pressure: 0 bar - 15 bar
Flow: 100 m³/h - 3,740 m³/h
The NASH 2BE5 was developed from the proven NASH 2BE3 and 2BE4 compressors, whose reliable performance has been further improved. The development focused on optimizing performance, higher vacuum capabilities and ease ...
See the other products
Nash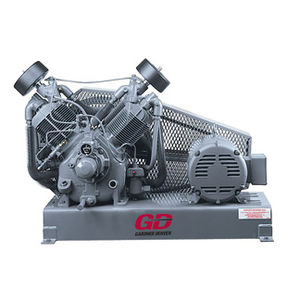 Pressure: 250 psi
Power: 3 ch - 35 ch
... a true industrial use compressor. The PL-Series features domed pistons, integral cylinder head, disc valves and an oil pump that provides lubricant to all crucial parts of the compressor. Specifications ...
See the other products
GARDNER DENVER

Pressure: 5 bar - 10 bar
Flow: 0.67 m³/min - 17.96 m³/min
Oil-free Rotary Screw Compressors DH Series DH Series - A Reliable and Efficient Heart At the heart of the compressor is an innovative single screw compression element, featuring a single main rotor ...
See the other products
COMPAIR

air compressor
ESM, VS 7-22 series
Pressure: 8.5 bar - 14 bar
Power: 7.5 kW - 22 kW
... and delivery of optimal air quality. The basic ESM / VS 7-22 compressors can be equipped with useful options to meet even the toughest demands for building up a flexible compressor station. ...
See the other products
GD Compressors

air compressor
DT 4.25 K, DT 4.40 K
Pressure: 2,000 mbar
Flow: 25, 30, 40, 48 m³/h
Power: 1.1, 1.3, 1.85, 2.2 kW
Rotary vane compressors, oil-free Simplicity of design with only one shaft and direct drive produces robust, long-lasting compressors with low maintenance and running costs. These compressors ...
See the other products
BECKER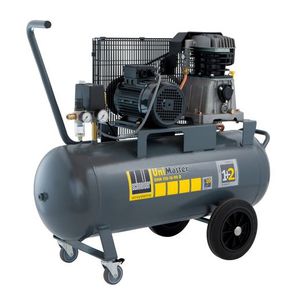 air compressor
UNM 510-10-90 D
Pressure: 10 bar
Flow: 510 l/min
Power: 3 kW
... single-stage two-cylinder piston compressor 10-year rust guarantee on all vessels Easy to manoeuvre thanks to guide rolls and longer handle Powerful 2-cylinder power unit for applications with extremely high ...
See the other products
Schneider Druckluft GmbH

Pressure: 7.5 bar - 13 bar
Flow: 42 m³/h - 70 m³/h
Power: 7.5 kW
See the other products
Vortex Compressor

compressor for dental applications
P 30 OF2 P-RES CC
Pressure: 9 bar
Flow: 155 l/min
Power: 1.5 kW
... powerful 2-hp two-cylinder compressor unit also ensures an air volume of 155 liters per minute that fully meets the needs of medium to small CAD CAM models. Complete with integrated absorption dryer ...
See the other products
Parise Compressori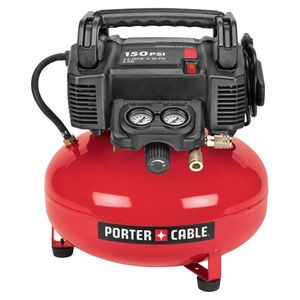 Pressure: 120 psi - 150 psi
Flow: 2.6 ft³/min
Power: 0.8 ch
Our 150 psi 6-Gallon Oil-Free Pancake Compressor is constructed with a pancake style tank for stability, with a water drain valve and tough rubber feet. The high-pressure design optimizes air tool performance, ...
See the other products
Porter-Cable

Pressure: 0.6 bar
Flow: 10, 12 m³/h
Power: 0.37, 0.45 kW
The OIL FREE COMPRESSOR CB.10 boasts a monobloc design compressor and mated with a rotor that is directly arranged on the motor shaft and this lineup of compressors is is compact sizes ...
See the other products
DVP Vacuum Technology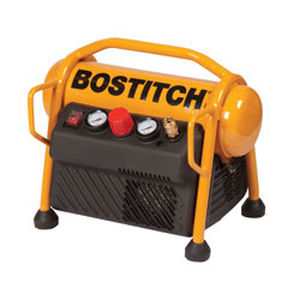 Pressure: 0 psi - 116 psi
Flow: 170 l/min
Power: 1.1 kW
Compressor Details Extremely portable compressor delivering high performance in a lightweight and compact design. 6 litre tank with high-output oil-free motor and fast tank charge, ready to ...
See the other products
Bostitch

Pressure: 0 psi - 200 psi
Power: 1.75 ch
PC0968N 1 3/4 HP, 4 1/2 Gallon Twin Stack Air Compressor Item # PC0968N SENCO's 4.5 Gallon Twin Stack air compressor is designed with the professional contractor ...
See the other products
SENCO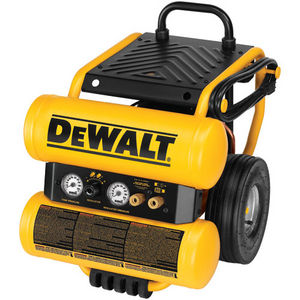 Pressure: 40 psi - 125 psi
Power: 1.1 ch
... pump provides rapid recovery Oil lubricated pump improves durability Cast iron cylinder enhances pump life 10" pneumatic wheel and handle kit for ease of mobility Top load panel with positioning holes ...
See the other products
DEWALT Industrial Tool

Pressure: 0 bar - 2.2 bar
Flow: 58 m³/h - 88 m³/h
The Compressors V-DTA from Elmo Rietschle is a dry running rotary vane compressor with attached bearing on the sides. It has a volume capacity flow ranging from 58 up to 88 m³/hr or 34.1 up to 51.7 cfm. ...
See the other products
Elmo Rietschle

Pressure: 0 bar - 350 bar
Our compressors can be configured to suit a diverse range of high pressure applications for both air and other compressible gases. We offer a range of options, from a basic compressor ...
See the other products
Wärtsilä

Pressure: 0 Pa - 250,000 Pa
Flow: 0 m³/s - 3.47 m³/s
... designed with wide diameter shafts to reduce the deformation caused by internal and external loads, thereby ensuring the compressor can work efficiently in even the harshest conditions. The bearings have an increased ...
See the other products
Gardner Denver srl - Divisione Robuschi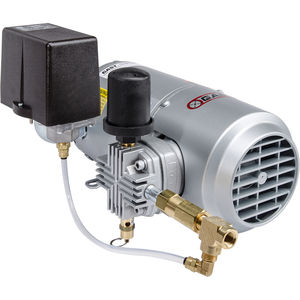 air compressor
1LAA-55S-M100GX
Pressure: 0 bar - 3.5 bar
Flow: 0 m³/h - 1.7 m³/h
Power: 0.12 kW
... rugged 1LAA-55S-M100GX offers oil-less operation to ensure the discharge air remains free of contamination from lubricants. They produce minimal noise and offer high flow, pulse free air - making it ideal ...
See the other products
GAST

air compressor
MDVN series
Pressure: 6.5, 8, 7 bar
Flow: 2,000 l/min - 8,500 l/min
The Rotair range is a vast range of motorized compressors that have been engineered to meet the high demands and diverse needs of professionals in their field. This range culminates in over forty years of on-going experience ...
See the other products
ROTAIR SPA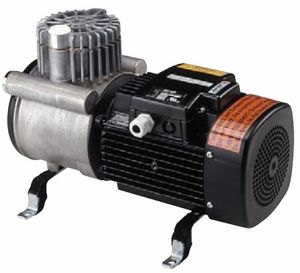 air compressor
1000 motor
Pressure: 0 Pa - 800,000 Pa
Flow: 45, 106, 88, 55 l/min
Description Seven compressor combinations and five different tank sizes are available to create the desired compressor system. The first number in the description represents the compressor ...
See the other products
JUN-AIR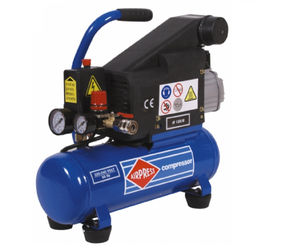 Pressure: 6 bar - 8 bar
Flow: 125 l/min
Power: 1.1 kW
Properties Motor capacity (HP/kW) 1/0.75 Number of cylinders 1 Number of stages 1 Pump speed (RPM) 2800 Working pressure (bar) 6 Maximum pressure (bar) 8 Power supply (Volt/Hz/Ph) 230/50/1 Power consumption (ca. kW) 1.13 Intake ...
See the other products
AIRPRESS

Flow: 2 m³/min - 78 m³/min
... capacities with smallest possible space requirements and weights. A rotary screw compressor is used to feed the piston compressor with pre-compressed air. Both compressors ...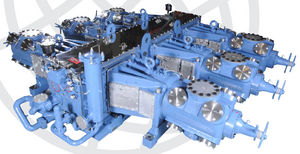 air compressor
KBZ series
Pressure: 230 psi - 6,700 psi
Power: 1,939, 3,878, 5,816 kW
The KBZ and KBU are large, medium speed reciprocating separable compressors. Since the product family's introduction in 2002, they have proven to be one of the most cost effective methods of compression for pipeline transmission, ...
See the other products
Ariel

Pressure: 25 bar
Axial compressors have been built by MAN Diesel & Turbo since more than 80 years. MAN Diesel & Turbo owns the leading position in the axial compressor market with 1000 references until today. Axial compressors ...
See the other products
MAN Diesel & Turbo