The Online Industrial Exhibition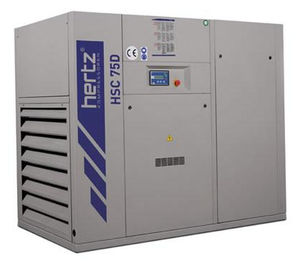 air compressor
HSC 22D, 315D
Pressure: 10, 7.5 bar
Flow: 3.6 m³/min - 53 m³/min
Power: 20 kW - 315 kW
... Drive Rotary Screw Air Compressor HSC 22D-315D are the best choice for all kind of industrial applications. The power losses generated by the use of other transmission methods can be efficiently eliminated ...
See the other products
Hertz Kompressoren GmbH

air compressor
O15 series
Pressure: 8 bar
Flow: 180 l/min
Power: 1.1 kW
... performing smaller compressed air applications in and around the house. Blowing dust away, inflating bicycle tyres and handyman applications like nailing or stapling can all be done easily with this range of small, light ...
See the other products
ABAC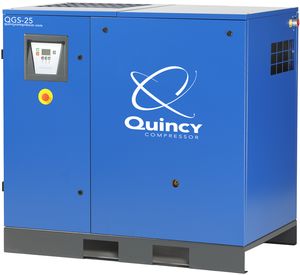 air compressor
QGS series
Pressure: 125 psi - 150 psi
Flow: 16 ft³/min - 460 ft³/min
... looking for a highly efficient 5-100 hp compressor, the Quincy QGS can meet your needs. Featuring the most advanced rotary screw air compressor technology, the QGS serves as a reliable ...
See the other products
Quincy Compressor

Power: 0 kW - 3 kW
... type series MV1 up to MV4 from Sera is an upright single-stage metal diaphragm compressor. It has the ability to suction more than or exactly 1bar of pressure. The compressor can handle up to 500bar final ...
See the other products
sera GmbH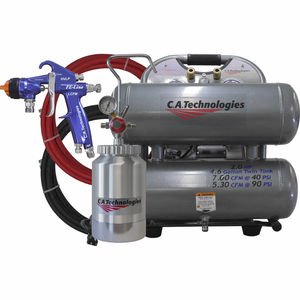 Pressure: 40, 90 psi
Flow: 7, 5.3 ft³/min
... Outfits The GO portable compressor system is CAT's new on the go unit. This systems contains a 2 HP compressor with 4.6 gallon twin tanks for a continuous supply of air, perfect for ...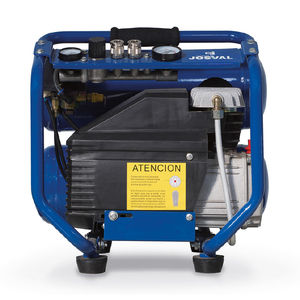 air compressor
CIERZO series NK-15
Pressure: 8 bar
Flow: 12.1 m³/h
Power: 1.5 kW
This range of air compressors covers both hobby and semi-professional needs. They are designed and developed to achieve the best quality-price ratio on the market. These are simple to use, with a low ...
See the other products
Compresores Josval, S.L.

Pressure: 800,000 Pa
Flow: 0.2 m³/min
Power: 1.5 kW
... to scroll tech.☆ Energy-saving: Direct coupling with Ganey's exclusive air end, and hourly saving at least 1.5 KW.H than piston☆ Silencing: Unique structural balance design for air end ...
See the other products
Guangdong Ganey Precision Machinery Co., Ltd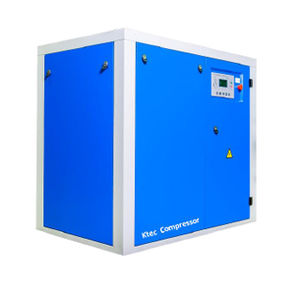 1. Without rubber shaft sealing design, no more oil leakage !​​ 2. High temperature resistance 55℃ !​ No more shut down caused by high temperature!​ 3. Less oil content, ≤2PPM.​ Reduce production line defect 4. 1:1 direct drive​ No gear ...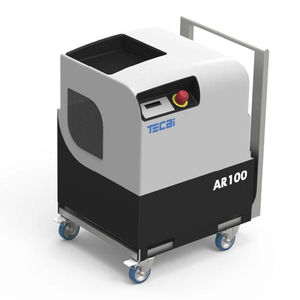 Pressure: 10 bar
Flow: 1,050 l/min
Power: 7.5 kW
... Visioair when you need huge volumes of air, continuously. It doubles the weight and dimensions of other screw compressors, but offers FIVE TIMES the air, up to 1050 l/s, and only emits ...
See the other products
Tecai Innova SL Teinnova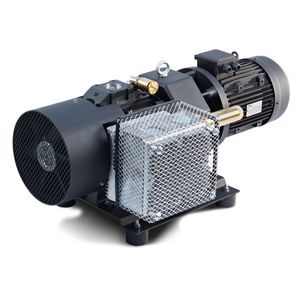 air compressor
DR0xxK series
Pressure: 0 bar - 0 bar
Flow: 0 m³/h - 14 m³/h
Oil-free dry vacuum pumps belonging to the DR series are blade rotary types with rotor supported by bearings, flanged motor and air cooling, suitable to operate without any lubrication. Their main features are heavy ...
See the other products
Ivaco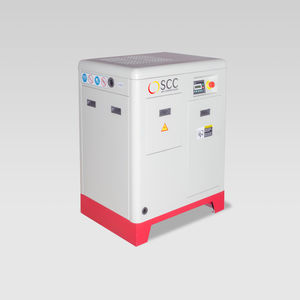 Pressure: 7 bar - 12 bar
Flow: 0.69, 0.42, 0.37 m³/min
Power: 4 kW
Our range of Smart compressors is the customer friendly answer for a simple but efficient supply of compressed air with the highest quality. Easy to install, extremely silent, customer ...
See the other products
Tolpec GmbH (SCC Air Compressors)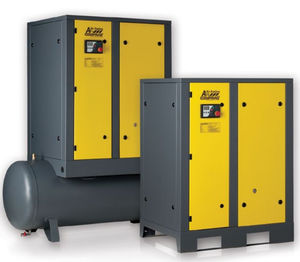 Pressure: 10, 8, 13 bar
Flow: 0.6 m³/min - 2.3 m³/min
Power: 7.5, 15, 11 kW
Comparg A-Series are oil filled screw compressors designed for smooth and economical production of compressed air in industrial plants. They feature a compact, logically laid-out design, ...
See the other products
Comprag

air compressor
MEC II S.C. series
Pressure: 0 bar - 4 bar
Flow: 541 m³/h - 830 m³/h
Power: 46 kW - 54 kW
PRODUCT DESCRIPTION The version S.C. has been projected to be used as compressor for empty hose reel irrigators. Standard features: available hose connections: Ø 2" G/ Ø 2" 1/2 G
See the other products
BATTIONI PAGANI POMPE

air compressor
IAS series
Pressure: 7, 8, 10, 13 bar
Flow: 0.62 m³/min - 35 m³/min
Power: 7.5 ch - 270 ch
Main part of Screw Compressor is Air-end, consisting of a pair of rotors. The male motor is driven by electric motor. Suction of air though Inlet filter and suction control valve. Air ...
See the other products
INDOAIR COMPRESSORS PVT LTD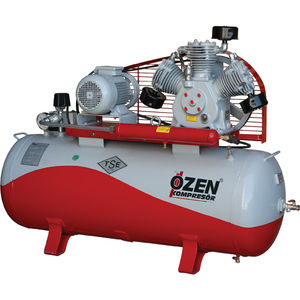 air compressor
TK-CK series
Pressure: 8, 12 bar
Flow: 100 l/min - 2,540 l/min
Power: 1 ch - 20 ch
Ozen piston compressors designed with a wide product range for using many different industrial applications. Compressors produce with mentality that quality is not control of the post production, aware ...
See the other products
Ozen Kompresor

high-pressure compressor
4V4BG-11A-P3
Pressure: 3,000 psi
Flow: 10 ft³/min - 20 ft³/min
Power: 11.19 kW
These oxygen compressors are well suited for the compression of oxygen to 3000 psig, and other clean, dry gases to 5000 psig. The 4V4 high pressure oxygen compressor will fill up to one hundred (100) ...
See the other products
RIX Industries

Pressure: 0.16 bar - 0.7 bar
Flow: 110 m³/h - 300 m³/h
Power: 1.1, 2.2, 4 kW
SIDE CHANNEL COMPRESSORS SKV FIELDS OF APPLICATIONS delivery of oil free air delivery of neutral technical gases used as pressure or vacuum generator ADVANTAGES reliable and variable operation optimal ...
See the other products
ORPU Pumpenfabrik GmbH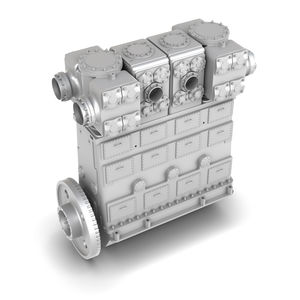 Pressure: 300 psi - 4,350 psi
The Labyrinth Piston Compressors from Burckhardt Compression is highly reliable and available because of its labyrinth sealing system on piston and piston rod gland. This system provides an oil free and contact free compression. ...
See the other products
Burckhardt Compression AG

Flow: 225 l/min - 840 l/min
Power: 2.2 kW - 10 kW
AC Air Compressor To ensure that your Zelup® cleaner is functionning optimally, we offer a large range of compressors. Equipped with the latest technologies, our compressors ...

air compressor
LH20-3-15MI-50
Pressure: 6 bar
Flow: 97, 88 l/min
Power: 1.1 kW
1.5HP SINGLE STAGE BELT TYPE AIR COMPRESSOR WITH 50 LITER TANK 2HP Single Stage Pump, 1.5HP Mono phase Iron Motor. 50 Liter Tank Including: 3m of 3 x 1.5mm2 Power Cord. Drain valve. Safety valve. 1/4" ...
See the other products
Sumake

Pressure: 2 bar
Flow: 560 m³/h
Power: 37 kW
Electro-Compressor is composed by an Electric Motor and a Compressor unit with a toothed belts transmission. Both stand on a painted steel frame.
See the other products
OMEPS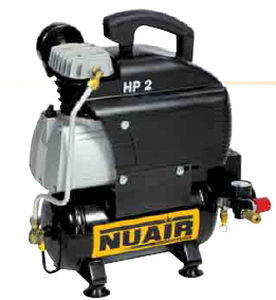 Pressure: 8 bar
Flow: 222 l/min
Power: 1.5 kW
Powerful and compact. The ideal compressor for those who need to have compressed air always available.
See the other products
NU Air compressors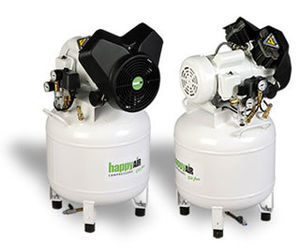 air compressor
HA-55-22, HA-75-22 series
Pressure: 0 bar - 7 bar
Flow: 60, 78 l/min
Power: 0.55, 0.75 kW
Quiet and compact oil-less piston compressor with wheels. 22 litre vessel with an inner and outer epoxy resin coating.Included in the scope of delivery: Pressure switch with manometer Start unloader Power cable 2.5 m
See the other products
Kruckenberg Drucklufttechnik GmbH

breathing air compressor
G5xx-x series
Pressure: 414, 517 bar
Flow: 340, 269, 255, 354 l/min
Power: 7.5, 10, 5.6 kW
Standard Features for Breathing Air CompressorsFive StagesRadial layout for reduced vibration and crank shaft loadingSpin-on Type Oil FilterConnecting rods with needle roller bearingsStainless steel valve assemblies on ...
See the other products
L & M Compressor

Power: 0 kW - 110 kW
... worldwide first reciprocating compressor with contactless magnetic coupling and a maximum drive power of 110 kW HAUG Kompressoren AG is the leading manufacturer of oil-free and gas-tight reciprocating compressors ...
See the other products
HAUG Sauer Kompressoren AG