Albedometers
How to choose this product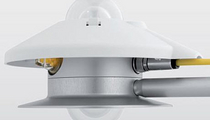 An albedometer measures the ratio between reflected and incident solar energy striking a surface. The albedo is a non-dimensional unit of measurement ranging from zero (perfectly black, non-reflective surface) to one (a perfect mirror).
Applications
Albedometers are used in the realms of atmospheric science, climatology, agriculture, at weather stations, etc.
Technologies
The albedometer consists of two pyranometers mounted back-to-back, one pointing up, the other, down. The one pointed skyward measures both direct and diffuse global incident solar energy. The one directed toward the ground measures reflected energy. The relationship between the two measurements is expressed in albedos.
4
companies |
5
industrial products
285 - 2800 nm, 7 - 14 µV/W/m² | CMA 11

Kipp & Zonen
CMA 11 complies with the highest level of ISO classification, Secondary Standard. Is recommended for scientific applications, for which accuracy needs to be according to the highest standards. The lightweight...
285 - 2800 nm, 5 - 20 µV/W/m² | CMA 6

Kipp & Zonen
CMA 6 complies with the second highest level, First Class. CMA 6 is constructed around two CMP 6 pyranometer sensors. Both sensors are contained in a single housing. The CMA albedometers are significantly...
SRA01

Hukseflux Thermal Sensors B.V.
Albedo is defined as the ratio of diffusely reflected to incident solar radiation. In general, the albedo depends on the directional distribution of incoming radiation and surface properties. Albedos...
0 - 2 000 W/m² | 1611

Wilh. LAMBRECHT GmbH
To the sun and back ... that is how the highly precise albedometer measures incident solar radiation as well as reflection radiation. Determination of radiation balance or separate signal...
Extend the search
Search by manufacturer
Search by catalog