How to choose this product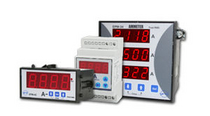 An ammeter is a device which measure electrical current in amperes. It can serve as a laboratory instrument, be mounted on a DIN rail or a panel or be portable.
Applications
These instruments are used primarily in electric power systems to keep track of current level in supply lines.
Technologies
Analog, needle ammeters operate without a power source and indicate the effective RMS of the current. The moving coil ammeter is polarized and must be connected in the right direction unless it has been modified for AC measurement. Moving iron and hot-wire models are not polarized.

The digital ammeter uses a shunt resistor. Current value is calculated by applying Ohm's Law to the small voltage drop. Effective current is calculated as true RMS, and remains accurate whatever the wave form. Resistance measurement depends on range, which can be automatic, manual or determined by encoder.

A clamp-on ammeter is a portable model which clamps around the current conductor, rather than having to be wired into the circuit. Most can measure high DC, as well as AC values. Special pico-, nano- or microammeters, are designed to measure very weak currents. Fiber optic models are used in very high voltage applications.
How to choose
Choice will depend on the nature of the current to be measured, AC or DC, and the range of values the meter must indicate.