How to choose this product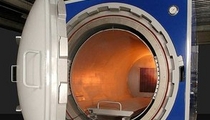 The autoclave is used in laboratory and industrial settings to simultaneously apply high heat and pressure to certain materials.
Applications
There are several distinct families of autoclave:
- Sterilization autoclaves are small or medium-sized and are common in laboratory and medical settings.
- Industrial autoclaves can sterilize large volumes of material (agribusiness, hospitals, etc.), polymerization of composite materials (aeronautics, automobile construction, etc.), manufacture of laminated glass or vulcanization of rubber.
- Chemical autoclaves are used to produce chemical reactions under very high pressure and temperature (5000 bars/900° C).
- Wood treatment autoclaves operate at low temperature, the pressure alone forcing the treatment product into the wood.
Technologies
The autoclave consists of a hermetically-sealed, thick-walled chamber which is filled with superheated steam to obtain the desired temperature and pressure. In certain applications, compressed air or another gas may be used. Size varies from small laboratory models to those of several cubic meters for treating aeronautical components.
How to choose
Process parameters and nature of the material to be treated will dictate chamber dimensions, operating temperature and pressure and the nature of the internal environment (steam, air or another gas).
Advantages
- Sterilization
- Uniformity in composite manufacture
Disadvantages
- Cost
- Batch process