The Online Industrial Exhibition

rotor-stator mixer
UM12VST
Introducing the UM16VST which is a max stirrer having a diameter of 160 mm and an energy consumption of 1,500 watts. This unit has mode of settings which controls its variable speed. It comes with 2 large bumpers for heavy-duty operation ...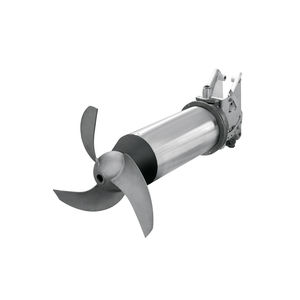 The Horizontal submersible mixer is used for applications such as municipal and industrial waste water and sludge, as well as bio-gas plats or environmental engineering industries. It is equipped with a self-cleaning ...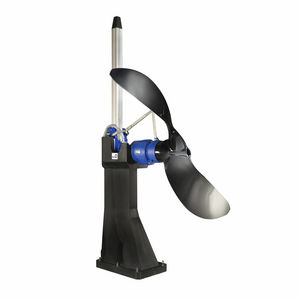 This range of horizontal submersible agitators is optimized for use in environmental engineering. It has been integrated specifically in nitrification tanks, biological phosphate elimination tanks, industrial waste water ...

... is used for the creation of mixed samples for road construction with a 30 kg mixing capacity. It ensures the accurate mixture of materials without any losses via diverse mixing times. It has the dimensions ...

Preliminary testing for determining the mix quality The laboratory foamed bitumen plant performs a series of precise measurements to determine the optimum foamed bitumen properties. The different parameters can be varied quite easily ...

dynamic mixer
BatterMixer
... - Easy to operate and clean Correct mixing starts with the Marel BatterMixer. After preparing a liquid mixture out of powder and water, the BatterMixer feeds it to a batter or tempura machine. The mixer ...
See the other products
Marel France

... Easier tracking and tracing of batches Unlike the conventional tumblers available on the market, which are loaded batch by batch and mainly by hand, ValueDrum has been developed for the in-line production ...
See the other products
Marel France

... plexiglass front cover provides visual inspection of the mixing and easy access for clean out. Compact rugged construction with choice of 6 or 8 inch mounting flanges features a product for enhancing the mixing ...

dynamic mixer
HAAKE Rheomix™ QC
The Thermo Scientific HAAKE Rheomix QC lab mixers is specifically designed for the HAAKE Polylab QC torque rheometer platform. It focuses mainly on batch testing of various substances that are highly ...

dynamic mixer
HAAKE™ Rheomix OS
Thermo Scientific™ HAAKE Rheomix lab mixers for the HAAKE PolyLab OS torque rheometer platform can be used for batch testing of several high viscosity substances. Industrial processes can be simulated ...

dynamic mixer
PURe Mix ECO
The FRIMO PURe Mix ECO is a well-equipped, reliable and cost-efficient high pressure PU mix and metering machine for processing all standard, unfilled, 2-component PU systems. The PURe Mix ECO is the ideal machine for low to medium production ...

The PURe Line Mix is a metering mixer that is specially designed for the fabrication of parts constructed from diverse PU systems. It is specially programmed to fit to specific customer specification and processing parameters. ...

horizontal mixer
MVX series
The MVX series horizontal mixers are designed for blending different types of plastic granules. Suitable for column installation Prearranged for volumetric dosing units Dosing systems for up to four components
See the other products
Moretto

These models can be directly installed on the machine outlet. The use of inclined screws prevents the granules from falling into the system accidentally. 2 to 4 stations Cylindrical stainless steel hoppers Direct percentage setting 100 ...
See the other products
Moretto

combined heating/cooling mixer
XBLEND-MC series
Capacity: 200 l - 2500 l
... -edge technology that ensures a 30% increase in the system's output. The renewed process technology and new mixing tools allow the mixer to improve its efficiency and mix even the most difficult materials, ...
See the other products
PROMIXON S.r.l.

high-speed mixer
High Speed Container Mixer FX Serie
Capacity: 150 l - 2000 l
Mixing equipment for Plastics, Powders, Additives and Colors. The FX series of container mixers provide the best alernative to conventional high speed mixers when production conditions ...
See the other products
PROMIXON S.r.l.

turbine agitator
TYPE 46-730
Air-powered, geared agitators TECHNICAL DETAILS Type 46-730 (0.55 kW, 300 rpm) Depending on material, for use with: MDG 45, MDG 60, MDG 90, MDG 120, MDG 250 Also available with oil lubrication
See the other products
Walther Pilot

Air-powered agitator with 0.06 kW Agitators for buckets and small-size containers TECHNICAL DETAILS AND MODELS Max. 800 rpm shaft and ring-propeller stirrer: 70 mm ø stainless steel with height-adjustable ...
See the other products
Walther Pilot

Numerous companies have utilized B&P Littleford Double Arm/Sigma Blade mixing technology for a wide variety of processes in the chemical, food, pharmaceutical, plastic, ink/colorants, rubber and adhesives industries. Double ...
See the other products
B & P Process Equipment

Capacity: 10 l - 2500 l
B&P Littleford LM Series High Intensity Mixers are available in 10-2500 liter sizes. These range from lab mixers to production size units. The mixers use a mechanical shear action to ...
See the other products
B & P Process Equipment

Capacity: 4, 20 l
... liter, or 20 liter mixer to improve material homogeneity during the feeding process. Made of 100% stainless steel, these mixers incorporate a powerful horizontal agitator – operated by ...

... is a horizontal mixer suitable for use in producing animal feed. The tool is designed with high production rates with mixing times not exceeding 5 to 6 minutes. It features even mixing ...

SHD Hydrator The Satake Hydrator is an innovative grain tempering mixer designed to provide high levels of moisture addition in a single operation. The use of vibration to provide exceptional water dispersion is combined ...

plowshare mixer
CM series
Capacity: 50 l - 1600 l
... Best mixing results The round bar mixing tool can be individually configured to any mixing task, achieving excellent results by optimization of the mixing vortex. ...
See the other products
Zeppelin Silos & Systems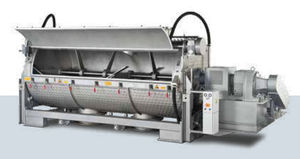 Capacity: 100 l - 6050 l
Applications Horizontal Henschel-Mixers® are used in the plastic, chemical and food industry. They allow for frictionless homogenization and tempering (heating and cooling) in both simple and highly complex mixing ...
See the other products
Zeppelin Silos & Systems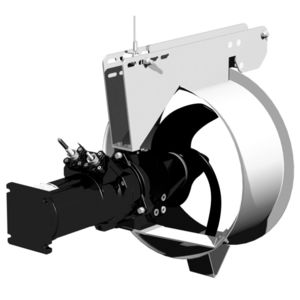 turbine mixer
EMU RZP series
Submersible mixers with flow housing, directly driven (RZP 20, RZP 25-2, RZP 40) or with single-stage planetary gear (RZP 50-3, RZP 60-3, RZP 80-2) Application: Pumping sewage via low delivery heads at high flow ...
See the other products
WILO EMU

turbine mixer
EMU TR 14xx, TR 28xx series
Compact directly driven submersible mixer Application: Swirling of deposits and solids in rain spillway basin and pump sump Destruction of floating sludge layers Other areas of application in agriculture ...
See the other products
WILO EMU

... In dosing technology, agitators are useful accessories in order to mix the media to be metered homogeneously. Especially in the case of powdery additives or liquids which are difficult to dilute, the high-speed propeller ...

... perfect dosing result Hand mixers in the form of hand stirrers or vertical-motion agitators are used in dosing technology to mix a dosing solution quickly and smoothly in the chemical supply tank. Whether ...

rotor-stator mixer
T1881, T1882
Nickel plated steel construction for strength & easy cleaning. Suitable for use with electric drills at speeds between 200 - 700 rpm.

Dynamic Mixers can be operated together with a high or low pressure gradient system to effectively homogenize various eluents. Only a small space is needed in the lab due to the compact and robust design of our mixing ...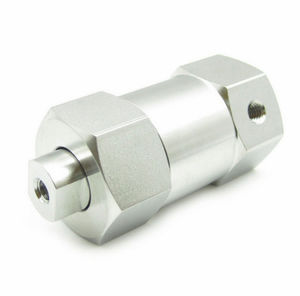 HPLC mixer, up to 414 bar, 1500 µl mixing volume Eluent mixing Recommended flow rate : 1.0 - 40.0 ml/min Mixing volume : 1500 µl Pressure rating : max. 414 bar (41 ...

Capacity: 50 l - 5000 l
... features TURBO-MIX Emulsiefer mixer in two versions: Tank size from 50l to 1000l Tank size from 2000l to 5000l Technical data All contact parts with the products are made of aisi 316L stainless steel or approved materials. Mixing ...