Bearings
How to choose this product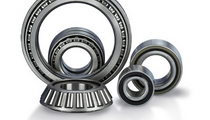 Like plain bearings, rolling bearings allow to reduce frictions between two parts in a rotational guide. Depending on whether the orientation load is axial or radial, different kinds of bearings exist. Bearings are composed of rolling elements, usually balls, cylindrical or tapered rollers, or needles.
Applications
Bearings are used in every area of mechanical construction or in precise rotational guidings. They require almost no maintenance (e.g. gearboxes, reduction gears, motors, fans).
Technologies
Three groups of parts compose a bearing. In most cases (radial rollings), they are made of an inner and an outer race separated by one or many rows of rolling elements.

Three types of rolling elements exist: balls, rollers and needles.

The different elements composing a bearing can be made of plastic, ceramic or steel.
Advantages
- Rotation velocity
- Precision
Disadvantages
- Fragility
- Maintenance
453
companies |
3393
industrial products
Hydraulic nut
Bolttech
Hydraulic nuts offer a method of tensioning 100% of the studs simultaneously in multi-bolt assemblies such as a bolted joint. Tensioning multi-bolt assemblies (such as a flange) greatly improves the integrity...
Tube connector swivel
Ham-Let
PLATING Female threads are silver plated to reduce the risk of galling and to improve the remakeability of the fitting. This highquality plating also reduces the torque required for fitting assembly....
Tube connector wall
max. 11 mm

PREVOST
Placed on a secondary pipe, the wall fastener prevoS1 offers quick coupling capability for two connections. The wall fitting's couplings are integrated and non-detachable to provide a perfect seal. The...
Recirculating ball linear guide
Setec
Precision linear guideways with rolling and recirculating elements HIWIN A complete range of linear guideways with rolling and recirculating balls or rollers for heavy duty applications on machine...
Hydraulic nut
Titan Ti
A hydraulic nut incorporates its own internal hydraulic jack. This enables large diameter bolts to be tensioned with ease to high and accurate pre-loads.Hydraulic nuts are widely used in the oil and gas,...
Filter by :
› New products

(14)

› Products with video

(154)
Refine the search
Bearings
Extend the search
Search by manufacturer
Find a distributor
Search by catalog
Associated Terms
industrial bearings