How to choose this product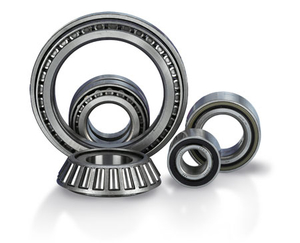 Like plain bearings, rolling bearings allow to reduce frictions between two parts in a rotational guide. Depending on whether the orientation load is axial or radial, different kinds of bearings exist. Bearings are composed of rolling elements, usually balls, cylindrical or tapered rollers, or needles.
Applications
Bearings are used in every area of mechanical construction or in precise rotational guidings. They require almost no maintenance (e.g. gearboxes, reduction gears, motors, fans).
Technologies
Three groups of parts compose a bearing. In most cases (radial rollings), they are made of an inner and an outer race separated by one or many rows of rolling elements.

Three types of rolling elements exist: balls, rollers and needles.

The different elements composing a bearing can be made of plastic, ceramic or steel.
Advantages
- Rotation velocity
- Precision
Disadvantages
- Fragility
- Maintenance