How to choose this product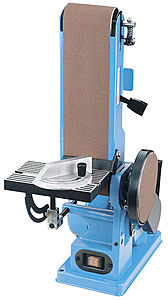 A belt sander uses a looped moving belt that wears away the workpiece to alter its surface aspect.
Applications
These machines are used to sand large surfaces.
Technologies
A belt sander consists of an abrasive band moving continuously over two electrically-driven rollers. One can differentiate portable versions (a hand tool) from workshop models, mounted on a workbench.
How to choose
Choice depends on the size of the surface to be sanded and on the abrasive material. The sander can be handheld or mounted on a workbench. Stationary models are preferable in workshops for working on large surfaces safely.
Advantages
- Handles large surfaces
Disadvantages
- Uneven surface roughness