How to choose this product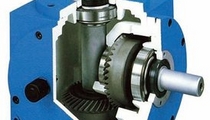 A bevel gear reducer uses a conical gear for speed reduction in angular transmission between two non-parallel axes, often in a right angle arrangement. These parts may be called angular members in the case of a 1:1 ratio.
Applications
These devices are used in secondary drive systems (differentials), where the teeth are helical. In such cases, they also are called spiral bevel gears. Bevel gears can be found in overhead camshafts, as well.
How to choose
Choice will depend on input shaft speed and torque, and output shaft speed and torque. These data will determine gear ratio. The relative orientation of the two shafts (coaxial, parallel, perpendicular, convergent or not) also must be considered.
Advantages
- High speeds possible
- Can handle significant loads