How to choose this product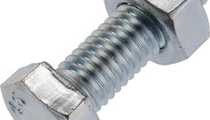 A bolt is a fastener comprising an externally threaded shaft with an attached head. It slides through a pre-existing hole in two or more objects to be joined, and is held fast by an internally threaded nut. Bolts constitute rigid, removable fastenings.

One or several washers can be added to both sides of the the fastened elements so as to spread the compressive forces and limit surface peening. An extra nut (the locknut) can secure the bolt by preventing it from loosening.
Applications
Bolts are used in all types of assemblies.
Technologies
Bolts are classified by nut and shaft type. Shaft characteristics include:
- Head shape: hexagonal, square, cylindrical, countersunk, hexagonal socket, et al.
- Shaft and thread length

Nut characteristics include:
- Shape
- Height