How to choose this product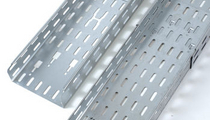 Cable trays are used in buildings to support and organize electrical cables for power distribution and communication purposes.
Applications
Cable trays are installed in buildings, along railroad tracks and in areas where cable ducts cannot be buried. They can be used for both indoor and outdoor cable installations.
Technologies
Cable trays are made of different materials, including stainless steel, galvanized steel, tempered glass, plastic and polyester fiberglass. Cable trays can be designed with perforations or can be fully closed, depending on their environment. They are also available in different shapes, including curved, vertical or laddered in order to support the cable system throughout the installation.
How to choose
When selecting cable trays be sure to determine total installation length, including curves and inclines. Other specifications to include are the width, cable size, number of cables and the type of protection required (fire, corrosion, chemical, UV, water).