The Online Industrial Exhibition

monitoring camera
ZN-M2AF
The ZN-M2AF excels in its very compact dimensions, auto focus, and a powerful 5.0mm - 25mm Vario lens. Unobtrusive monitoring of interiors or installation in cash dispensers – there are numerous thinkable applications. Along with h.264, ...
See the other products
CBC (Europe) GmbH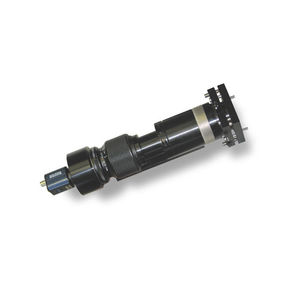 CCD camera system
CAM-1000
... CAM-1000 CCD Camera System is a modular design which can be configured in many ways. Typical systems include zoom optics, wavelength compensator optics, X-Y and Tip/Tilt adjustments and KG3 filter. Unit features a standard ...
See the other products
Haas Laser Technologies, Inc.

... process technology procedures within ranges which are or which are not in danger of explosions. The VISULEX camera technology is composed of a camera, a corresponding system control device and a data ...
See the other products
Papenmeier - Lumiglas Division

... Industrial beam profiler VUV spectrophotometer EUV/X-ray spectrometer EUV/X-ray camera Stainless steel adjustable vacuum slit X-ray pinhole camera Automated measurement system ...
See the other products
Metrolux Optische Messtechnik

Dust, Water & Shock Proof Camera.Pan, tilt and zoom industrial CCTV camera for mining operations and installations.ApplicationsThe Ryonic CCTV camera is a stand-alone video monitoring ...

surveillance camera
ExCam vario
The ExCam vario is an explosion proof camera with variofocal lens and DC-Iris. The video camera delivers superb picture quality for process monitoring and surveillance technology. The ExCam vario is approved ...
See the other products
SAMCON Prozessleittechnik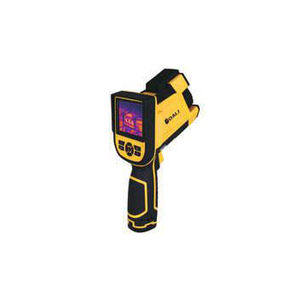 thermal camera
ALT400, ALT800
Number of pixels: 3,000,000 unit
-2-meter drop resistant -3 million daylight image -3.6'' touch screen -Dual LED film lights make clearer slot -Fusion display of IR & daylight image -Real-time transmission of pictures and infrared videos -bluetooth audio transmission
See the other products
Beijing Cap High Technology Co.,Ltd.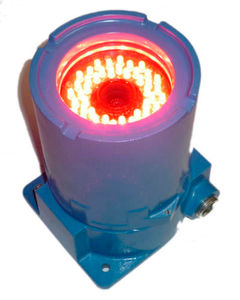 machine vision camera
ATEX CCD Camera
CyXplus is specialized since its creation in process automation in harsh environment. "ATEX automation" activity fully integrates this approach with an experience of 25 years. The ATEX Directive is a legal requirement in all European ...

surveillance camera
FLARE 48MP
Number of pixels: 48 unit
The Flare™ 48MP series is a part of our family of industrial video cameras designed with advanced CMOS image sensors. The all-new CMV50000 sensors feature high pixel counts, producing highly detailed images with a 7920 ...
See the other products
IO Industries

... the cameras views. IP Camera LCD Monitor connects to Digicom IPCam and displays them on its LCD screen. The displaying can be Full screen (one camera), Dual View (two cameras) ...
See the other products
Digicom SpA

... software downloads in your phone. From a mobile phone (UMTS) a call can be done to the camera and after a password you can video control the site in real time. The camera has infrared LEDs for night ...
See the other products
Bioaccez Controls

inspection camera
1/3" | CCIR
The CCIR camera from Microstep Europa may be appended to an existing tool station of on a separate tool station. This unit is used in dealing with applications that are concerned with scanning the shape of a template ...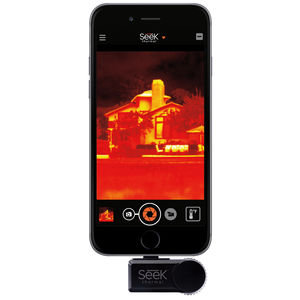 thermal imaging camera
Compact
Number of pixels: 32,136 unit
... , and poor construction. Finding and assessing these problems requires a thermal imager to identify hot and cold spots. Seek Thermal Compact thermal imaging cameras enable contractors to conduct building ...
See the other products
Seek Thermal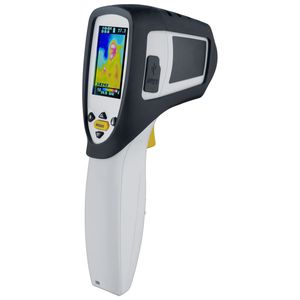 thermal imaging camera
ThermoVisualizer
... – Built-in USB 2.0 PC interface for smooth data exchange and transfer of real-time measurement data – Practical and sturdy camera Technical Data: IR sensor: Thermal array sensor IR optics: High-quality infrared lens ...
See the other products
Laserliner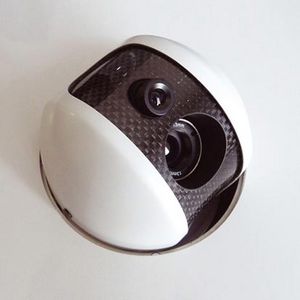 This infrared and color video camera is equipped with a 2 axis stabilization system that allows the operator to utilize the payload to its fullness. The 115 х 140 х 112mm unit weighs 500 g, and supports elevation viewing ...
See the other products
ZALA AERO

thermal imaging camera
9830 series
Number of pixels: 16,384 unit
SEFRAM Thermal camera 9830 is a multipurpose diagnostic tool. The infrared image allows you to detect the hottest zone and thus to target the measurement. It offers diverse applications: - Enables the electrician ...

polarization camera
SAMBA
... polarization-difference digital camera. Compact and robust, SAMBA has all the attributes of a regular digital video camera (easy operation, point & shoot, firewire connection) plus the polarization analysis ...
See the other products
Bossa Nova Technologies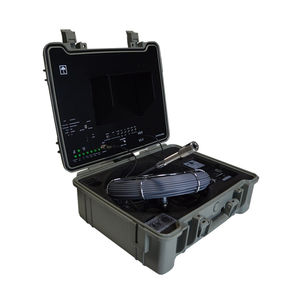 inspection camera
Tubicam® R
... TUBICAM/R® is a video inspection system which allows the inside pipes visualization. Totally waterproof, its cylindrical 22 mm camera (7/8'') outing of 12 white LEDs around the objective offers a clear vision on its 7 ...
See the other products
AGM TEC - Caméra d'inspection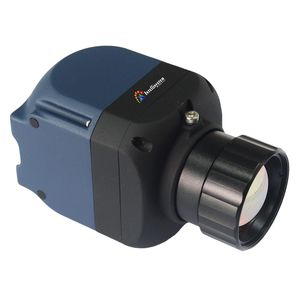 thermal imaging camera
ThermalTronix TT1640S
... all the thermal imager you need for UAV, UAS, DRONEs operations without having to pay for functionality you'll never use. THERMALTRONIX© IS A TRADEMARK OF INTELLISYSTEM TECHNOLOGIES - ALL RIGHTS RESERVED Light infrared ...
See the other products
Intellisystem Technologies

acoustic camera
SeeSV-S205
SeeSV-S205 is a real-time handheld sound camera which implements FPGA-based high speed beamforming technology. SeeSV-S205 is developed for Buzz, Squeak and Rattle (BSR) noise source detection as well as Noise, Vibration ...
See the other products
SM Instruments

surveillance camera
1360 x 1024 pix | SIM
... Multi-Channel Framing Camera, using ultra high-resolution image intensifiers, no-compromise optical design, and double pulsing takes ultra high-speed framing to the next level of flexibility. The Specialised Imaging ...
See the other products
Specialised Imaging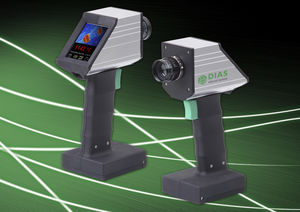 thermal imaging camera
PYROVIEW 480N
... in glass production and processing, the hand-held thermal imagers in the new series PYROVIEW portable are now available. The PYROVIEW 480N portable is the world's first handheld infrared camera for ...
See the other products
DIAS Infrared

... fine detail, at full production speed. The 16X zoom allows analysis of the print details down to the dot. 6 Mega pixel camera resolution assures great image quality and realistic color reproduction LED illuminators ...
See the other products
Grafikontrol S.p.A.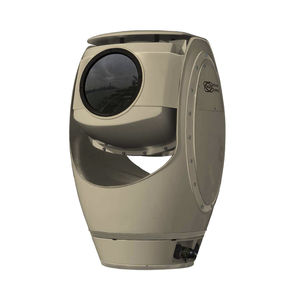 CCTV camera
max. 120 Mpx, max. 8 km | Spynel-X
... and mechanical design. The device can do 24/7 human intrusion alerts over a diameter of 16 km. It can replace the 90 HD MWIR camera with its high-quality single-sensor head.
See the other products
HGH SYSTEMES INFRAROUGES

Hausherr's camera systems consist of different forms and prices. They have a colored or black and white LCD monitor with a single or many camera connections. They also have a cable or wireless cameras. ...