How to choose this product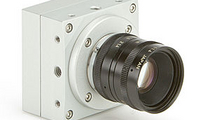 A video camera is a device that can record moving images to a a physical or electronic support, or transmit a video stream to a remote location.
Applications
Video camera applications are numerous throughout industry. They enable one to monitor production lines and sites, collect data at a distance, recognize objects, etc.
They may constitute the sensing component on an automated line. Finally, they can record video documents for the reconstruction of past processes.
Technologies
Camera technology depends on several parameters, such as the nature of the video sensor (CMOS, CCD, et al.), the wavelengths used (infrared, visible, or other) and the shooting speed (high-speed camera).
How to choose
To determine which type of camera to use one must define application parameters. Thus, if shooting is to take place in the dark, an infrared camera is necessary. If shooting must decompose rapid movement, a high-speed camera (>1000 images/second) is necessary. If precise recognition is required, high-definition resolution is recommended (megapixels).
Advantages
- Precise
- Easy to handle
- Light
- Versatile
Disadvantages
- Fragility
- Lens requires cleaning
- Price