How to choose this product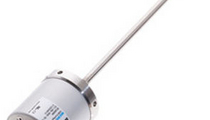 A capacitive sensor measures variations in capacitance engendered by the presence of an object in the electrical field.
Applications
These devices are used in industry to measure fluid levels and as short-range presence sensors. They also serve as pressure sensors. They are particularly common in processing operations and in automated and robotized systems.
Technologies
The level sensor type consists of a stainless steel shaft, or probe, sometimes designed for use with corrosive liquids. It also has a second electrode. Changes in level result in capacitance variation, since the ensemble acts as a capacitor. This enables the unit to measure the level of liquids and of loose granular or powdery solids.

Ceramic and metal diaphragm capacitive pressure sensors are able to withstand excess pressure, especially surges. However, they are sensitive to high temperature. They are used to measure relative, differential or absolute pressure.

Presence sensor versions can detect the presence of conductors and, in some cases, non-conducting materials. They are used where induction sensors are unsuitable. The output signal of certain models is proportional to distance.