How to choose this product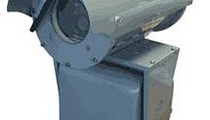 A CCTV (closed-circuit television) camera is a camera type intended for industrial site surveillance.
Applications
CCTV camera applications are mostly site surveillance against degradation and theft, but also, more generally, industrial installation and building monitoring.
Technologies
CCTV cameras offer different technologies appropriate for varied settings and desired results. Infrared or thermal cameras are necessary for night surveillance. Motorized cameras are useful for wide-area surveillance, but fixed cameras with wide-angle lenses can be used, as well. Megapixel cameras offer high-resolution imagery.
How to choose
Camera selection depends on specific use. The first choice might be between fixed and swiveling models. Infrared-sensitive cameras for night-time images can then be considered. A high-definition camera is necessary to record distant details.

Image transfer mode is another important factor. Cordless Wi-Fi and PoE (Power over Ethernet) cameras are being developed. The latter use energy supplied by the Ethernet, eliminating the need for power. This is particularly useful for remote locations.