How to choose this product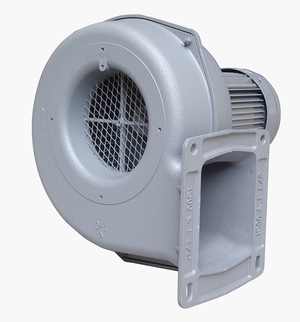 Centrifugal fans have a spiral shape, their turbine displacing air by centrifugal force. The suction inlet is axial and the outflow is radial. They are common in public and industrial facility ventilation.
Applications
These devices are used for ventilation, heating and air conditioning, for supplying air to ovens and for tunnel ventilation. Different models exist for clean, dusty, dry, humid or corrosive air.
Technologies
Such fans are composed of an inlet device, a paddle-wheel turbine, a streamlined spiral case (the scroll) and a base. The inlet and the turbine can have single or double intakes. Fan geometry can favor either flow or pressure.

A forward curved impeller has blades curved in the direction of fan rotation. Straight radial blades are self-cleaning and relatively unaffected by dust and humidity, but are comparatively less efficient. If the concave side of the blades faces away from the direction of rotation, it is a backward curved impeller.

The motor coupling is usually direct and fixed-speed. It also can use variable-speed V-belts. Fans are carefully designed to achieve optimum stability and minimum noise. They are made of aluminum or of stainless steel. The blades are welded or bent.
How to choose
Consider the characteristics of the air to be moved and the required airflow rate or air pressure. Load curves can help determine the technical parameters necessary for fan dimension calculations.