The Online Industrial Exhibition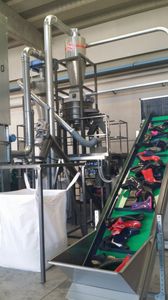 air separator
T-AIRSEPARATOR
... field of tire recycling and recovery of copper from electric cables. Unlike the systems actually on the market, the T-SEPARATOR is distinguished by its compactness and high efficiency and it also does not require continuous ...

Width: 230 mm
Flow rate: 120 m³/h
Current environmental laws stipulate that most of the oil contaminants must be removed from the condensation generated throughout the air compression process before being evacuated to the drainage system…
See the other products
Compresores Josval, S.L.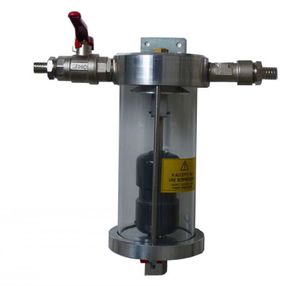 Flow rate: 10 m³/h - 100 m³/h
When machining under liquid, obligatory system to protect the vacuum pump Delivered with automatic stop(version O) or without. Enter / Exit : 3/4¨

cyclone separator
CICL series
Filtration size: 10 µm
Flow rate: 1,550 m³/h - 26,000 m³/h
Areas of applications Used as a first filtration stage in complex systems Abatement of coarse particles Systems where it is not possible to use mechanical filtration or other filtration technologies Very high concentration of dust Removal ...

air separator
HGS, HPE series
Condensate is a by-product that is generated via the cooling/dehydration process of compressed air generation and treatment. Lubricated type air compressors pass a small amount of lubricant into the air stream. Atmospheric borne water ...

centrifugal separator
WTZA
The WTZA is a centrifugal separator manufactured by Wolftechnik. With an internal structure specially shaped to allow medium to circulate around it, it features an efficient operation process with stronger ...
See the other products
Wolftechnik Filtersysteme GmbH & Co. KG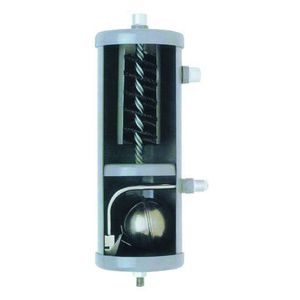 ... refrigerant in vapour phase at compressor outlet of refrigerating and air conditioning installations. • The TURBOIL® oil separators limit the amount of oil within the circuit, thus allowing increasing the performances ...
See the other products
CARLY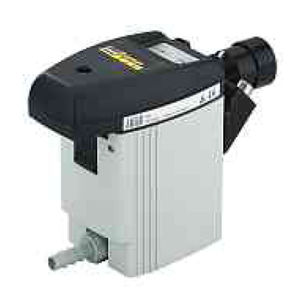 air separator
KAL-Ecomat 3100
Width: 149 mm
Flow rate: 2,500 l/min
Ready to install with 2.5 m connection cable Simple installation using attachment set Compact design Automatic drainage of generated condensate reduces maintenance work Permanent drainage of aggressive condensate preserves ...
See the other products
Schneider Druckluft GmbH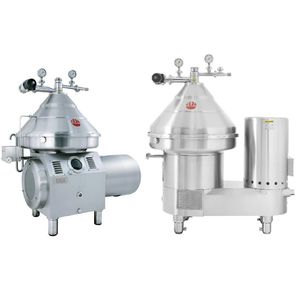 Flow rate: 1,500 l/h - 50,000 l/h
REDA centrifuges of RE-T serie are specifically designed to skim, clean and standardize milk, cream and whey. These separators are specially built for dairy applications and match very high bowl speeds for the best performances ...
See the other products
REDA S.p.A.

The condensate separator is designed for fuel dispensers to be retrofitted with a decentralized active-vapour-recovery-system. The condensate separator collects large quantities of condensate and converts ...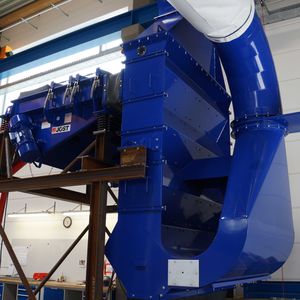 ... the flow of air and are discharged at the base of the separator. The light material carried by the air flow exits out the top through the sifter channel and is conveyed via ducts to the cyclone where ...
See the other products
JÖST

air separator
75HTL, 75VTL
Filtration size: 0.1 µm - 10 µm
Since introducing the filter-separator in the 1950's, PECOFacet Model 75 filter-seps have set the standard for reliability and performance in gas filtration. Now, PECOFacet reinvents the filter-sep introducing the TITAN ...

Filtration size: 0.01, 1 µm
Flow rate: 850 ft³/min - 17,050 ft³/min
PRECISION-ENGINEERED FLANGED FILTERS. CUSTOM MODELS Larger Flows / Higher Pressures Stainless Steel Vacuum Applications Activated Carbon Tower
See the other products
Xebec Adsorption

Type of machine: Separator based on the different resistance to air of the fractions to divide Treated product: Dried fruit, spices, aromatic herbs, leafy products, dehydrated products and others Description: Machine ...

drum separator
YL1 series
Series YL1, are also called magnetic pulley or dry large separator, adopts high-performance hard material featuring high field intensity, simple structure, convenient, maintenance-exempt, no energy consumption, not demagnetization ...
See the other products
Hunan Kemeida Electric Co., Ltd.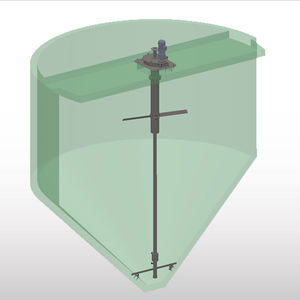 DSP Grit Traps are designed to remove grit from sewage in waste water treatment plants. Description The DSP Grit Trap is used to remove sand from sewage in waste water treatment plants. The equipment consists of a drive unit complete ...

cyclone separator
Euro CLS series
Flow rate: 8,000 m³/h - 86,400,000 m³/h
See the other products
Eurotherm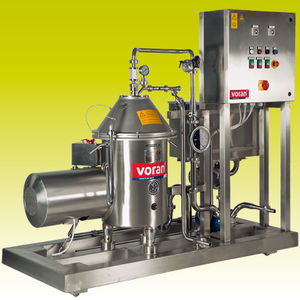 2-phase separator
CA 21-P
Width: 800 mm
Flow rate: 1,500 l/h
2-phase centrifugal separator with automatic control system and self-emptying drum mounted on a stainless steel frame.
See the other products
Voran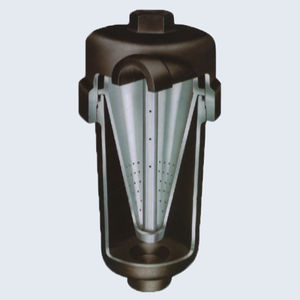 cyclone separator
Quicktoron
Flow rate: 9 l/min - 100 l/min
Quicktoron is a device to remove air bubbles from liquids. It's based on the cyclone principle, and very efficiently eliminates all the fine air bubbles trapped and mixed inside the fluid. Quicktoron also helps to retain ...

cyclone separator
F 2500 / F 3500
Flow rate: 200 m³/h - 500 m³/h
... and F 3500 are wall mounted cyclone type pre-separators used directly at the work station to relieve loading on the tubing system/filter or for separation of recoverable material. These can also be used ...
See the other products
Dustcontrol

High Volume Moisture Separators As an added protection for better quality air, high volume moisture separators are recommended. They also allow several blast machines or airless spray pumps to be supplied ...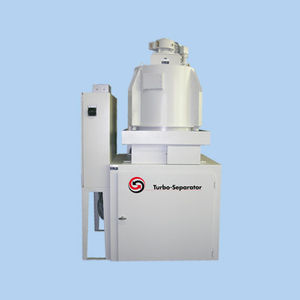 centrifugal separator
AZF series
Filtration size: 1 µm - 10 µm
Flow rate: 250 l/min
Benefits Filtration result 1-10 µm Without disposable filtering material Low disposable costs Better finishing process Easy maintenance Automatic process Long lasting filtration method Reliable and solid construction
See the other products
FILTRA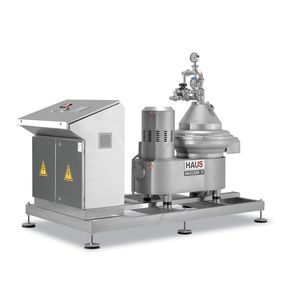 disc stack separator
MAXCLEAN 5T
Width: 1,700 mm
Flow rate: 5,000 l/h
... liquid or two liquid phase in a single stage by using high centrifugal force. Separator, by utilizing high centrifugal force, separates a solid and one or two liquid phases from each ...
See the other products
Haus Centrifuge Technologies

Aircon Cyclone Separators that is widely demanded by our clients for their efficient performance and durability. Manufactured using the high quality raw material, this cyclone separator ...

MG Recycling separators use the air separation technology. They separate metals and other granulated materials with different specific weight between them.
See the other products
MG RECYCLING SRL