The Online Industrial Exhibition

Electromagnetic separator drums to separate ferromagnetic material from a conveying stream. These magnets are used in the areas of recycling of waste and recovery of metals. The drums can be used in many ways and are ...

Filtration size: 125 µm
Flow rate: 5 m³/h - 2,000 m³/h
... sedimented substances are discharged into the hopper of the separator and can be derived by pump or outlet into the AWAS drainage container. More information about the simultaneous separator you will ...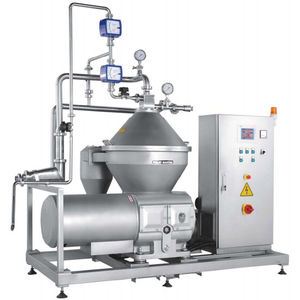 Flow rate: 4,000 l/h - 5,000 l/h
... purpose of the PMS 505C / PMS 405C Cream Separators is to provide an uninterrupted cream taking and separating from the milk at the high efficiency level. Polat Machinery's PMS 505C / PMS 405C Cream Separators, ...
See the other products
POLAT MAKINA SANAYI VE TICARET A.S.

blow-off separator
IDS-25CS
Width: 915 mm
Flow rate: 100 m³/min - 130 m³/min
Wind Force Separator Characteristic Grading dockage and impurity before pre-cleaner (Capacity 20-30 ton/hr) Maximizing grading efficiency with dispersion screw Distinguished grading efficiency with uniform supply ...
See the other products
IGSP

Cyclone separators are used where pre-separation due to long fabric materials or large area production wastes is necessary.

centrifugal separator
Podbielniak®
B&P's Podbielniak® Contactor (POD®) is a horizontal axis centrifuge that processes liquids for accelerated solvent extraction. The two main functions of this machine are liquid liquid separation (must have specific gravity difference ...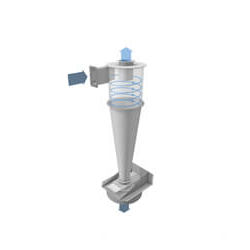 centrifugal separator
ZSA series
Filtration size: 3 µm - 20 µm
Flow rate: 300 m³/h - 1,000 m³/h
The air stream enters the separator tangentially at the top, creating a rotating airflow (vortex). By centrifugal force the dust or liquid particles are moved along the outside wall where they are separated ...
See the other products
LTG Aktiengesellschaft

cyclone separator
SPC series
In order to avoid dust problem during process of granulating, we develop dust separation system to make granulating and depowering at the same time which guarantee output to have clean material.
See the other products
Pulian International Enterprise Co., Ltd.

... For effective separation of moisture from Steam Air and other gases, is the uniquely designed Baffle type of separator. In this separator the incoming fluid hit the baffle and the changing contour ...

This range of oil separators 5mg/l is designed to trap hydrocarbons in suspension in waste water. A silt storage unit V100 integrated into the separator retains heavy matter. Our devices are in accordance ...
See the other products
SIMOP INDUSTRIE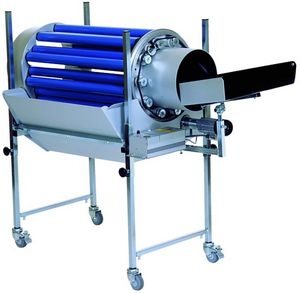 drum separator
PZ 257 B , PZ 3512 B
The separation drum with central adjustment Type PZ 257 B is the best-seller among the MTF separators. Separation drum with central adjustment Type PZ 257 B - the best-seller among the MTF separation drums. Because of ...
See the other products
MTF Technik Hardy Schürfeld GmbH & Co. KG

... Detection fo all types of metals Ferrous Stainless steel Aluminium Copper Brass Others The INDOSA electronic metal separators automatically detect and eject metallic contaminants from free falling bulk materials. ...

centrifugal separator
CGS / HC / GC
Filtration size: 5 µm
A cyclone is a separator that uses centrifugal force in order to clean air laden with shavings or dust. Its performance depends on the rotational speed of the particles, their density ...

rotary separator
SP1-1750
Width: 1,750 mm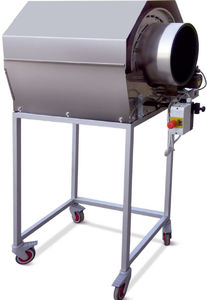 New Omap offers a wide range of belt conveyors for the collection and transport of moulded or blown parts. All models are made of extruded aluminium, giving a light yet robust structure which is practical and reliable.
See the other products
New Omap S.r.l.

centrifugal separator
CS series
Width: 420, 490 mm
The , manufactured by Mill Powder Tech®, is a centrifugal type separator, wherein the product that is to be screened is transferred to the blades through a screw feed that is moving along to the cylinder ...


AIR BY ZIG-ZAG through fall and air jets, allow the separation of light plastics inerts from non-ferrous metals and more. They are designed to be fix or mobile plants. PANIZZOLO SOFTWARE The top quality processing of Panizzolo ...

The Drum Separator is constructed in a 1500 mm x 600 mm x 1800 mm framework with pump types DOMO S7T/B 220-240V-50Hz. The separation system used is water and the cycle time is 4 minutes. Lastly, the maximum voltage is ...
See the other products
LM srl

centrifugal separator
MAXCLEAN 5T
Width: 1,700 mm
Flow rate: 5,000 l/h
... liquid or two liquid phase in a single stage by using high centrifugal force. Separator, by utilizing high centrifugal force, separates a solid and one or two liquid phases from each ...
See the other products
Hakki Usta

cyclone separator
Vacu-Press® Separators 8000
Fitted with a pneumatically cleaned filtration system (46-m² surface area).
See the other products
Naaktgeboren Rotterdam B.V.

... circulating freely within the installation can only be collected via separators. Freely moving, vapour filled gas in various sizes start centrifugal movement when enters into the separator ...
See the other products
TULPAR

Flow rate: 20 us gal/min
Centrifuges provide excellent separation of very fine contaminants from water and low viscosity oil based coolants. Applications Surface Grinding. Fine: < 16 rms End Mill Grinding Abrasive Slicing Honing, Lapping, & Superfinishing ...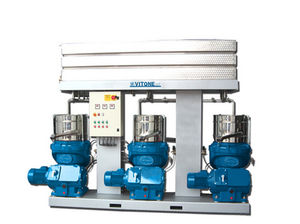 ... unit, thickness and flow rate. The VITONE ECO Vertical Separators along with disks are units manufactured out of stainless steel at superior withstanding capability. The VITONE ECO Vertical Separators ...
See the other products
VITONE ECO S.r.l.

... strict limits on the discharge of industrial effluent containing oil. The low cost, effective solution is an oil/water separator from General Air Products. Installed as part of the compressed air system, it simply reduces ...