How to choose this product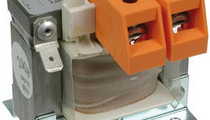 A choke is a wound component that tends to block the current variations that cross it. It is characterized by its inductance or reactance value.
Applications
Chokes are used in electronics and in electrical installations to filter signals. As coils, they block high frequencies. Common-mode chokes eliminate overvoltage by opposing current surges that tend to go to ground.

In the realm of high-power devices, chokes protect the capacitors designed to increase motor power factor and act as EMI filters. Anti-harmonic chokes help to eliminate harmonics interference in the network.

Quick-discharge chokes accelerate the discharge of low-voltage capacitors. Shunt inductance chokes compensate grid line capacitive currents.
Technologies
Chokes consist of a coil around an empty core or on a ferrite core. Their inductance depends upon the number of turns and on the nature of the core. Common mode chokes are structurally close to transformers. They have two coils on a single magnetic field or core. Choke series resistance generates electrical losses and heat. Dry power or oil chokes require aeration or an active cooling system.
How to choose
Chokes are characterized by inductance value, maximum current load and overvoltage, and series resistance.