How to choose this product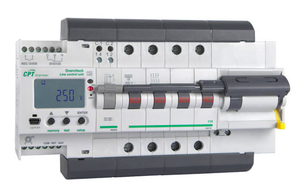 A circuit breaker is an electrical protection device that cuts power to an electrical cable in case of overvoltage, short circuit or if the circuit presents an isolation defect.
Applications
Circuit breakers are used in industrial facilities to protect circuits and electrical machinery.
Technologies
Thermal circuit-breakers use a bimetallic strip that expands and opens the circuit in the presence of excessive currents. It protects conductors from prolonged over amperage and fire-risks. Magnetic circuit-breakers use a coil, as in relays. They can open the circuit immediately or after pre-set delays (e.g. for motor-starting). Thermal magnetic circuit-breakers combine these two systems. High-end electronic circuit-breakers can be adjusted for extremely precise activation.

Differential circuit-breakers protect against ground leakage. In case of isolation defects, the sum of the phase currents is not equal to the current circulating in the neutral. A magnetic circuit uses this difference to trigger the device. Circuit-breakers interrupt power to electrical supply lines. High-voltage circuit-breakers use gas, oil or compressed air to increase their ability to cut power and extinguish electrical arcs.
How to choose
The main parameters are the rated current (In), well under the trip level (Icu or Icn), beyond which the circuit's integrity is at risk, and the device's class.