The Online Industrial Exhibition

The most versatile 32amp underfloor power distribution system - All pre-wired and tested, plug together modular units - Offers engineers and installers greater scope in layout design - Standard CE systems - Allows a range of distribution ...

data connector
PL-500 series
Current: 0.9 A - 7 A
Voltage: 300 V
Alden's PL-500 Series miniature circular connectors feature Pulse-Lok®, auto-latch mating action that provides audible, visible, and tactile confirmation that connector pairs are fully ...
See the other products
Alden

... WATERTIGHT FEMALE CONNECTOR This STAINLESS STEEL version meets up with the sternest constraints in terms of rust resistance. It accepts exposure to chemical agent, saline mists, petroleum products, etc. CAT 6 RJ45 ...
See the other products
CAE GROUPE

audio/video connector
CON-AVJ series
... Hirose HR10A-10J-12P(74) RoHS jack connector with gold-plated pin terminals – plug compatible with Hirose HR10A-10J-12P RoHS version with gold plating CON-AVJ-002 Equal to Hirose HR10A-10J-12S(74) RoHS jack connector ...

RF connector
MA05FAF**STXXXX14
Standard:IEC 61076-2-105 Ambient temperature:-20℃ ~ +80℃ Connector insert:TPU;PA Connector contacts:Brass with gold plated Connector over-molding:TPU Coupling nut/screw:Brass with ...
See the other products
Dongguan Finecables

Plastic connector Extreme sealing performances: Dynamic IP68/69K and sealed unmated (UTS Hi seal version) Rapid and secure 1/3-turn plastic connection solution Available with crimp, handsolder, dipsolder, screw contacts Backshells ...
See the other products
SOURIAU - Esterline Connection Technologies

The value line connectors which are manufactured by Fargo Controls Incorporated, has three different types. The female M8 has 3 wires, with straight and right angle, and it has either 2 m or 5 m of length. The female ...

Non-rewireable connector, straight version with M12 locking nut, male contacts
See the other products
ATAM S.p.A.

DIN connector
Micronector 200
Current: 1.5, 1.75, 2 A
Voltage: 120 V
Pitch: 2 mm
... high specification 2mm pitch connectors meeting demanding performance requirements and available released to BS9525 - F0033. 2mm pitch. High reliability circular contacts for increased vibration and ...

Although these connectors do not carry the MS prefix, they are of the MS type. Other than the alumina ceramic dielectric, these connectors meet standard specifications for MIL-C-5015 connectors. ...
See the other products
MDC vacuum products

data connector
HS-AA series
HS Connection Bracket For remote sensors which are permanently mounted on machinery, allowing quick connection to be made to a portable data collector. Comes with a right-angled fixing bracket and socket protection cap.

... APC, ST/PC, and LC/PC Connectors Available Bare Fiber Terminator for Temporary Terminations Dust Caps Protect Fiber Tips Thorlabs stocks an extensive selection of single mode fiber optic connectors. Our ...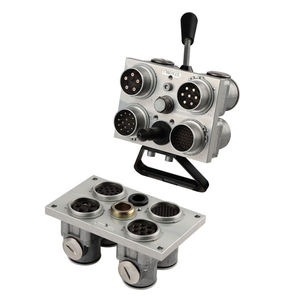 ... electrical multi-connector plate. As your processes require precision and high quality connection for each type of electrical circuit (control, power, thermocouple...), Stäubli has developed a new modular and ergonomic ...

electrical power supply connector
4840 series
Current: 0.5 A - 2 A
Voltage: 12 V - 18 V
The 4840 Dc Connector series has a nickel-plated solder terminal for cable mounting. It functions as a low voltage DC plug and socket with 2 poles straight DC plug. It is guaranteed to last long up to 5000 Insertions. ...

data connector
4850 series
Current: 1 A - 2 A
Voltage: 12 V - 100 V
This device features a straight, 3 pin DIN connector, also a solder termination in case of cable assembly. Made with top quality materials, this device is tested multiple times to withstand aggressive environments and ...

audio/video connector
MTC series
These thermocouple alloy sockets and pins are MTC precision contact compatible. They feature aluminum shells, a black anodized finish, and threaded coupling. They can be used with 20-24 AWG stranded wire, and offer removable crimp ...

The IGUS Quicklock connector Intercontec Speedtec will save IT industry its precious time with its quick and easy to assemble service packs. It the no.1 choice for any IT industries electrical connections. It can be made ...
See the other products
igus®

Current: 10, 9 A
Voltage: 160, 125 V
Based on Intercontec standard Indicate plug-in connector M23 standard [6 to 19-pin] kinds Plug, standard as well as push-pull model, angular connector Lead-through Coupling, ...
See the other products
igus®

Current: 10, 30 A
Voltage: 250, 630 V
... installation and turnable flexed with flange. The lead through connectors contains pole-ners insulation body, 6,8,9 personal contact. Please refer to pdf file for samples and catalog order and contact connectors ...
See the other products
igus®

data connector
BCC, BKS series
... You can select exactly the product that fits your application from various configurations and housing materials. All plug connectors are extremely robust and industrial grade.

data connector
BCC M4 series
Our plug connectors RJ45 and M12 (A-, B- and D-coded) in various designs are exceptionally robust, resistant to shocks and vibration. High dust and water protection and high-quality materials distinguish the connectors. ...

electrical power supply connector
C9, C12, B12, ONC, RS10
Current: 0.01 mA
Voltage: 5 V
9-pins round connector C9, male Encoder Electrical Connection Sine-wave current signal, version A (~11 μA); U=+5V±5%

electrical power supply connector
Voltage: 24 V
The Power Media Connection Devices are connectors designed to provide power for three-phases such as motor branch circuits, ArmorStart® distributed motor controllers, and 24V DC power to auxiliary devices separate from ...

Current: 1.5 A - 13 A
Voltage: 30 V - 600 V
... different cable models available for this version, 18 AWG and 22 AWG. Each of these can be shielded or unshielded, with connectors that come with a right angle or a straight one. On request, the manufacturer can also ...
See the other products
Allen Bradley

data connector
756 series
WAGO's 756 Series includes IP67 cables and connectors with configurable connectors. This is an M8 (three-pole, with pin penetration) connector, also available is the M12 (four- or five-pole, ...

data connector
Appleton MN series
Voltage: 0 V - 600 V
Multi-pin connectors are designed to provide power, control, or instrumentation connection to fixed or portable equipment. They are mainly used in zero hazard conditions in applications like process and control, ...

electrical power supply connector
Quick connect couplings have a tubular valve with the ability to interchange with ARO 210 and similar systems parts.They are available in 1/4" size only, but can the thread can be size of 3/8". The body is made out of brass, with ...

Female couplings are used for joining fittings. Available insulation thickness: 10,15, 25, 50 and 100 mm insulation.

data connector
MS31 series
... of connectors and cable assemblies for your convenience. For ease of selection, the connectors and assemblies are divided into groups. Group "A" is designed for 2-wire items, Group "B" for 3-wire. Complete ...