How to choose this product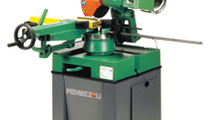 A circular saw consists of a cutting disk attached to a shaft driven by a motor. The saw can be stationary or movable.
Applications
These saws often are used to cut thinner items; they have the advantage of being compact.
Technologies
In stationary circular saws, the material to be cut moves toward the blade. Movable circular saws may be portable or mounted on a frame. In the latter configuration, the saw moves toward the object.
How to choose
The thickness and type of material to be cut are the principal criteria for choosing a circular saw.
Advantages
- Simplicity
- Ease of blade change