The Online Industrial Exhibition

solvent cleaning machine
SAWS
... provide chemistry cleaning capability to an existing cleaner that may not support a chemical wash process, or may have poor chemical isolation. SAWS is a SMEMA compatible module that ...
See the other products
Stoelting

water cleaning machine
miniwash 480
... . The Miniwash Degreasing Machine has been designed to operate in machining cells, allowing operators to batch wash their components efficiently. Vixen Surface Treatments can offer customers portability ...
See the other products
VIXEN

stainless steel cleaning machine
PF iSeries
Pharma Flex PF iSeries dedusting technologies are available in Hi-Containment and Washable WIP (Washing In Place) or WOL (Washing Off Line) execution .
See the other products
Pharma Technology

solvent cleaning machine
LCO2
Capacity: 75 l
Name:LCO2 Workpiece Cleaning Eyuipment No: Info: ●LCO2 Application Equipment ●Cleaning tiny holes without the aid of liquid, better effect of surface treatment and immersion. Product Description   Specification: -Operation ...
See the other products
TST taiwan supercritical technology

... ultrafine cleaning are omitted entirely. Also, the time- and energy-intensive drying processes necessary in wet chemical treatment are no longer required. Advantages of Openair® plasma systems for coil coating: High ...

water cleaning machine
Buggy
... cabinet buggy washing machines are used for automatic washing of buggies and V carts with hot water/detergents. The buggies are loaded into the washer automatically and ...
See the other products
Kompo North America Inc.

plasma cleaning machine
PE-25
PE-25 Low Cost Plasma Cleaner The PE-25 is our most affordable, entry level plasma cleaner. It's a robust machine that is perfect for small production facilities, research labs, universities or any industry ...
See the other products
Plasma Etch

ALL PNEUMATIC BLASTER READY FOR LARGE JOB! With a unique disk-style specially coated aluminum air lock, the IS 75s is both reliable and powerful. This fully pneumatic unit features controls for powerful and fully adjustable ...
See the other products
ICEsonic

water cleaning machine
ZY 03/1200
... conveyor line is poured into washing machine. Heavy materials such as stone, etc. inside the olive passing through the washing reservoir sink to the bottom of the water at specially curled ...

... Our brushing machine can carry out work on both dry and especially in the wet conditions. In case of wet processing, the machine is implemented including a self-cleaning rotating filter ...
See the other products
COST-FER

water cleaning machine
FlaskScrubber series
FlaskScrubber Glassware Washers are designed to wash and dry narrow-neck and general purpose labware. They have a lower spindle rack that holds up to 36 pieces of primarily narrow-neck glassware such as volumetric flasks. ...
See the other products
Labconco

carbonic ice cleaning machine
COB series
The COB Blaster is considered as high quality single hose dry ice blaster with a low air consumption and a powerful cleaning performance. The superior quality device is built with an ...
See the other products
CRYONOMIC

solvent cleaning machine
80 mm | VEN CLEAN ICE DUST FREE
... VEN CLEAN ICE D.F. is a carbon dioxide solvent cleaning machine/spray, manufactured by Venjakob Maschinenbau. This product features CO2 cleaning and excellent performance removing dust ...
See the other products
Venjakob Maschinenbau

closed-loop washing machine
DM EVOLUTION 400
Vacuum closed-loop cleaning machines with four baskets Standard configuration: • Cycle completely under vacuum • Chamber of washing-tanks-distillers – separator – capacitors made ​​of stainless steel • ...
See the other products
Dollmar Meccanica

Pipe and Tube Cleaning Equipment Tube and pipe cleaning presents a difficult challenge in part washing because cleaning solution must flow through the pipe in order ...
See the other products
Best Technology

CLEAN YOUR MIX TANKS, VESSELS, DRUMS AND CONTAINERS This ergonomic and affordable carboy cleaning and rinsing system is available from WMProcess to improve COP clean out of place for smaller scale tanks and containers. ...
See the other products
White Mountain Process

Can be gantry, robotic, or manually loaded/unloaded. Designs for 3, 4, or 5 station rotary washers are available. Can incorporate precision moving wash manifolds. Can be used as either an in-process or final washer.
See the other products
Harry Major Machine

The PL front washer is a device designed for washing municipal public surfaces using high-pressure water. It consists of a front ramp with nozzles, as well as optional controllable lateral "frog" nozzles and a vertical ...

ultrasonic cleaning machine
5 - 70 °C | XUB series
The XUB range of digitally controlled benchtop ultrasonic baths offer consistent and reliable performance in a variety of environments. Incorporating Frequency LEAP technology to ensure uniform levels of ultrasonic activity throughout ...
See the other products
Grant Instruments

ultrasonic cleaning machine
CD 4820
Capacity: 2.5 l
Technology Ultrasonic cleaning depends upon cavitation, the rapid formation and violent collapse of minute bubbles or cavities in a cleaning liquid. This agitation by countless small and intense imploding ...
See the other products
Aczet Pvt Ltd.

ultrasonic cleaning machine
... - Thorough cleaning of all mechanical parts, semi-finished or finished products from waste processing machine tools. - Processes of decarbonization for particular applications on demand. - Removal ...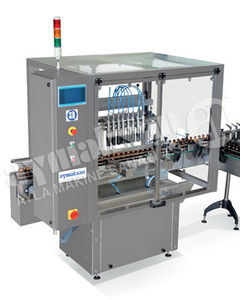 dry cleaning machine
KHST 4208 PAL
... series machines are used to remove any solid particles, dust or foreign materials that may have been left in various packaging such as PVC, PET, PE, glass or can after manufacture or entered the packaging during shipment-stocking. ...

water cleaning machine
DIR-100, DIR-131, DIR-200
Cleaning system for empty cans and glass jars Can cleaning station with 2 independent chambers System built-on to INDOSA conveyor 1 meter or built-on to all existing INDOSA conveyors Cleaning ...
See the other products
Grabher INDOSA AG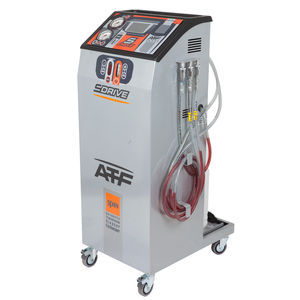 cleaning machine for automotive applications
ATF S-DRIVE 5000
... ) are starting to ask their assistance network the MOT coupon for "CLEANING AND REPLACEMENT OF OIL OF THE AUTOMATIC GEARBOX" at 50/60.000 km. Therefore, the computerized gearbox cleaner is a key product ...
See the other products
SPIN s.r.l.

washer with water jet
8 bar | Inox Line AQUA
Stainless Steel Electroclean Body and Tank Available for automatic and manual washing and final rinse. Diaphragm pump connected with the brush for automaic washing and Venturi pump for manual washing. ...
See the other products
Anest Iwata