How to choose this product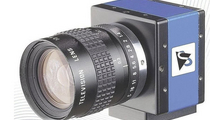 A CMOS camera contains a complementary metal-oxide semiconductor sensor.
Applications
The CMOS sensor's rapid data treatment enables it to be used in high-speed scientific cameras (>1000 images per second). Its low cost favors its use in cellphone and OEM cameras.
Technologies
The basic element of the camera is the CMOS sensor. Each pixel contains a photon sensing surface and a signal-conversion surface. This results in a loss of sensing surface compared to a charge-coupled device (CCD) sensor. In contrast, there is less circuitry and a simplification of the electronics dedicated to converting the light image to a voltage. This makes the CMOS sensor faster.
How to choose
The need for high-speed imaging and low power consumption favors the choice of a CMOS camera, which is also less expensive.
Advantages
- High signal-to-noise ratio
- High image quality and speed
- Low power consumption
- Low cost
Disadvantages
- Lower dynamic range