The Online Industrial Exhibition

iron cutting machine
Optium ADS-800
Cutting speed: 0.004, 0.01 m/s
... monitoring for areas up to 9". The spindles are high in stiffness and torque air bearing with low harmonics. Veeco HMI software defines the entire cutting process as user-accessible high-level scripts. ...
See the other products
VEECO

For further treatment of metal strip the strip very often has to be cut. Slitting or transverse cut, trapezium cut or form blanks, we dispose of the right solution for you. In this context it does not matter if we coil the material ...

plastic cutting machine
DIVISIO 4000 Volume
... adapter system. Spring loaded hold down clamp assembly. Ionization unit. ESD proofed Spindle Options Vacuum system Barcode reader Automatic gripper change (7 way) Vacuum system monitoring ...

aluminum cutting machine
EFM-L
The universal cutting device EFM-L is a worlwide unique machine and is used for cutting segments for the (sheet) sheathing of insulation and rationally drilling holes. The machine ...

metal cutting machine
Monograph Extreme series
X travel: 60, 72 in
Y travel: 120, 144, 240 in
Cutting speed: 0.42 m/s
... footprint as compact as possible, thus maximizing your production space. This design allows the operator full view of the cutting operation. Maximum fume extraction is achieved with the deep design of the downdraft table.
See the other products
Koike

metal cutting machine
GB CUT
Tube diameter: 4 in - 80 in
... flame pipe cutting and beveling machine GB CUT with cutting torch on a torch holder is used for cutting and bevelling of pipes ranging from 4-80 diameter. Torch holder ...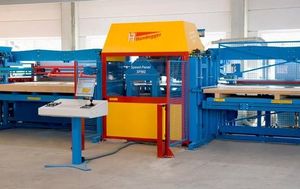 wood cutting machine
SPM2
The SPM2 is a fully automatic machine for the production of all panel materials, which are used in construction. The laminar parts from 600 x 600 mm to 3200 x 1300 mm or 6000 x 2600 mm and a thickness of 5 to 120 mm are ...

metal cutting machine
Beaver 8 CB
stationary pipe cutting and bevel machine Usage: pipe cutting and beveling in one machine Machining range : from 1" to 8" ( from 33 to 219 mm) Controls ...
See the other products
Copier Bevelmachines

... excellent cut quality with all types of tobacco, stems and cloves plus lowest knock-out rates and highest filling power. The cutter has individual electric drives and a modular design. This unit has fewer parts and incorporates ...

metal cutting machine
DL-C 160
... time saver. Less installation time, less adjustment duration and less tooicnanging process, on l profiles; marking (laDeiing), puncning and cutting can De performed automatically without requiring additional processing. ...
See the other products
Durma

die cutting machine
MASTERCUT 106 PER
X travel: 746 mm
Y travel: 1,060 mm
... intuitive Human Machine Interface. With its new generation SMART FEEDER 3 intelligent feeder, more powerful POWER REGISTER 3 sheet registration system and automated MATIC settings, the MASTERCUT 106 PER delivers consistently ...
See the other products
BOBST

metal cutting machine
VCM 200
Cutting speed: 127 mm/min - 3,048 mm/min
... 200 Portable Cutting Machine, MT 210A Torch & Rack, 1-60 inches/minute, 3-Hose Manifold Block The versatile VCM-200 is a precision, tractor-type machine that can be used on its own track ...

fabric cutting machine
LK.120
Cutting speed: 0 mm/min - 24,000 mm/min
Laser Fabric Cutting Machine Technical Details Weaving, tulle, organza, embrodery, viole, jacquared etc. fabrics edge pattern laser cutting with cameras follow-up Fabric correction ...
See the other products
DEMAS MAKINE

Rotary cutting technologies are employed for the form cutting of materials, laminates, non-wovens and films as thin as 10μm. Using state of the art CNC-technique almost any imaginable ...
See the other products
SCHOBER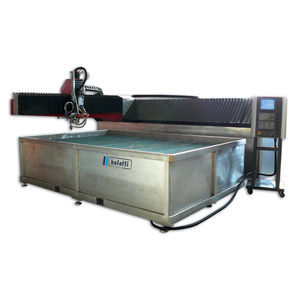 water-jet cutting machine
WING JET series
The WING JET is a CNC water-jet cutting machine that is specifically designed to significantly minimize overall dimensions, enabling piece loading and unloading on its three sides. Designed ...
See the other products
Belotti SpA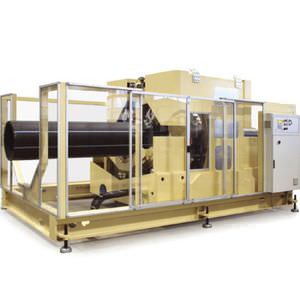 plastic cutting machine
TPK series
Tube diameter: 25 mm - 2,000 mm
Cut with knife, ideal for PE pipes (polypropylene), this type of machine effects the cut without material removal and thus generates neither dust nor chips nor noise. Traditional blocking vices or system for universal pipe blocking.

steel cutting machine
Plasmasonic
X travel: 2,000, 3,000 mm
Y travel: 3,000, 4,000, 6,000, 12,000 mm
Cutting speed: 7,500, 9,800 mm/min
CNC plasma plate and pipe cutting systemPlasmasonicCut, write, mark and perforate – all with one machineThis cnc plasma table is available with a semi-automatic control system for ...
See the other products
KAAST Machine Tools Inc.

metal cutting machine
PM series
X travel: 48, 60, 72 in
Y travel: 96, 120, 144 in
Vanguard CNC plasma and oxy-fuel cutting machines are available with a wide range of cutting widths and rail lengths to fit almost any shop's cutting ...
See the other products
Vanguard Machinery International

stainless steel cutting machine
BLS-F series
X travel: 3,000 mm - 12,000 mm
Y travel: 1,500 mm - 3,200 mm
BLS-F Fiber laser cutting machine offers you the highest quality parts in thin sheet metal range with the best part precision and the highest efficiency. It takes full advantage of the high cutting ...
See the other products
Baykal Makina

metal cutting machine
Combicut series
X travel: 750 mm - 3,080 mm
Y travel: 810 mm - 3,000 mm
... with the fine plasma technology firm of Kjellberg, Boschert has developed a cost effective alternative to combination punch / laser machines. Because of the advances in the fine plasma technology in ...
See the other products
Boschert GmbH & CoKG

PVC cutting machine
ATEKA 7A, ATEKA 7P
Description Cutting centre for Aluminium or PVC profiles Materials Aluminium PVC Applications Entirely automated centre for continuous flow machining and cutting of Aluminium ...
See the other products
Bjm Dubus Machines

plasma cutting machine
PYROTOME
Cutting speed: 6,000 mm/min
PYROTOME CNC is a small mechanized machine with a numerical control for cutting plates with dimensions 1500 x 2000 and 1500 x 3000 mm. It is a simple machine, ...

steel cutting machine
KF 1614
X travel: 1,600 mm
Y travel: 6,000 mm
... sinking, thread-cutting, countersinking, thread-cutting, contourmarking, oxyfuel and plasma cutting bundled on a single machine Powerful drives for optimum performance ...
See the other products
KALTENBACH

granite cutting machine
StarCut Tube Series
X travel: 300, 600 mm
Y travel: 75 mm
Laser power: 6, 10, 15 W
... be integrated into StarCut Tube New user interface Human Machine Interface (HMI) for easy control The 4-axes CNC laser cutting system StarCut Tube is the solution for fully-automated ...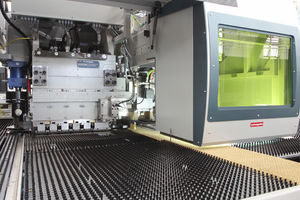 metal cutting machine
SL4 series
... the Salvagnini solution that combines 4 different functions in a single compact structure: the S4Xe punching system the laser cutting with an optic fibre power source the complete automation ...
See the other products
SALVAGNINI