How to choose this product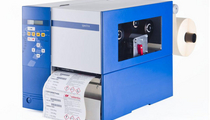 A color printer can print on paper, labels and other media via an ink deposit system. The ink may be a liquid stored in a reservoir or small cartridge, or a powder, called toner.
Applications
Color printers can produce production schedules, architectural designs or other documents. Industrial label printers produce labels at the same speed as the packaging line.
Technologies
Print resolution is measured in DPI, dots per inch. Each pixel requires several print dots. Printing speed is expressed in PPM, pages per minute. Paper is fed from a tray or drawer within the printer, or from an external supply. Options may include two-sided printing. A multifunction model also scans, photocopies and faxes.

Laser printers offer excellent quality, speed, economy and rapid ink drying. Liquid or solid inkjet printers are slower, while thermal transfer technology has lower resolution. Large-format units print in A2, A1, A0, A0+ or 60-inch formats. The paper is fed from a tray, inserted by hand one sheet at a time or cut to size from a roll by a blade. Offset printers are used for high production runs.
How to choose
Choice will depend primarily on printer speed and resolution.