The Online Industrial Exhibition

COM Express Mini computer-on-module
CEM300
... Braswell) with support for 4 GB DDR3L memory onboard. Integrated with Intel® Gen 8 graphics, the COM Express® Type 10 computer-on-module provides excellent graphic performance including support for DirectX 11.1, OpenGL ...
See the other products
AXIOMTEK

NXP computer-on-module
SMARC-FiMX7 series
The SMARC-FiMX7 is a versatile small form factor Computer-On-Module with Qualcomm/NXP i.MX7 processor and offers scalability with single and dual core processors. The dual core ARM Cortex-A7 runs a peak frequency of 1GHz, ...
See the other products
Embedian

Qseven computer-on-module
AQ7 BT
Description Measuring just 70mm x 70mm, the AQ7 BT is Qseven Rev.2.0 specification and is available with the Intel® Atom™ E3800 Series Processor SoC (and the N2807 Processor) with up to 2GB of onboard DDR3L memory. Expansion can be through ...
See the other products
Blue Chip Technology

COM Express computer-on-module
COMe-SL6
6th Generation Intel® Core™ processorThree DDI channels, one LVDS, supports up to 3 independent displaysIntel® Gen9 HD Graphics with HEVC (H.265) support up to 32GByte dual channel DDR4 memory8 PCIex1 Gen 3Wide range voltage input 8.5~20VWide ...
See the other products
AEWIN Technologies Co., Ltd.

COM Express Mini computer-on-module
mSiEcomTCtt
The extremely compact computer-on-module has an Intel ® Atom ™ processor and various interfaces. Thanks to the extended temperature range of -40 ° C to +85 ° C, the module is also ideal for the use in harsh environments. Variety ...
See the other products
Sontheim Industrie Elektronik GmbH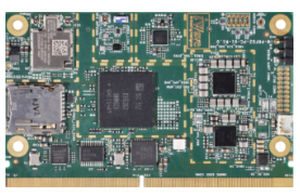 GPS computer-on-module
iW-RainboW-G25M
The Snapdragon 820 SMARC System On Module integrates Qualcomm's APQ8096 SOC offering 64-bit Quad Kryo CPU, H.265 hardware decode & encode, Adreno 530 GPU with on board 802.11ac Wi-Fi, BT4.1 and the GPS. The Snapdragon 820 SOM module is ...
See the other products
iWave Systems Technologies Pvt. Ltd.

Qseven computer-on-module
KEEX-200T
ARM® Cortex®-A9 Based Qseven® Computer-on-module (Extreme Temperature) Features:NXP® ARM® Cortex®-A9 Core i.MX6 Dual Lite / Dual / Quad Automotive Processor1GB DDR3 memory onboard4GB eMMC NAN Flash onboard, 1x SATA for ...
See the other products
Quanmax

ETX computer-on-module
E3845ETX
TECHNICAL SPECIFICATIONSForm FactorETX 4.5" x 3.7" (114mm x 95mm)ProcessorIntel® Atom™ E3800 family E3825 ProcessorsChipsetIntel® Bay TrailBIOSAMI® UEFI BIOSMemoryDDR3L SO-DIMM socket, supporting up to 8GB 1333MHz SDRAMUSB 2.04COM3 x ...

COM Express computer-on-module
BC-0928
CPU SupportIntel® 4th Gen. Core™ i7/ i5/ i3 processorCPU Frequencyi7-4700EQ - 47W(4C), 2.4 GHz (turbo 3.4GHz) , i5-4400E - 37W(2C), 2.7 GHz (turbo 3.3GHz) , i3-4102E - 25W(2C), 1.6 GHz (no turbo)ChipsetIntel® QM87DRAM2 x 204-pin SO-DIMMs, ...
See the other products
Protech Systems

quad-core computer-on-module
DHCM-iMX6x
Freescale ARM Cortex-A9 i.MX6 @ 1.2 GHz Single-, Dual-, Quad-Core 2D / 3D graphics acccelerator imaging processing unit 256 - 2048 MB DDR3 DRAM 0 - 512 MB SLC-NAND FLASH 2 / ...
See the other products
DH electronics GmbH

Freescale i.MX6 computer-on-module
PICO-IMX6-SD
The PICO-IMX6-SD reference design based on the NXP i.MX6 multimedia processor is a purpose-built, small footprint hardware platform equipped with a wide array of high-speed connectivity engineered to support IoT endpoints, wearable applications, ...
See the other products
TechNexion Ltd.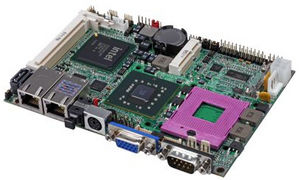 Intel® Core™ 2 Duo computer-on-module
3.5" | EB-373
The Intel® Core™ 2 Duo 3.5" Miniboard is another revolutionary invention from Intel, which brings to the benefits of enduring service and premium quality and has the multiple connectivity options and has the much needed technical specifications ...
See the other products
ADES corporation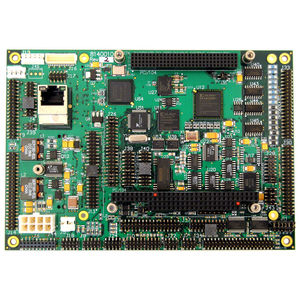 ETX computer-on-module
Neptune
Neptune: EPIC format CPU with integrated autocalibrating analog I/O, digital I/O and DC/DC power supply Neptune introduces a new concept in small form factor embedded SBCs. The CPU core consists of an ETX module which mounts on the ...
See the other products
Diamond Systems

Imagine all your computer and add on I/O with connectors integrated into a single PCB. Then being able to select any type, speed, or manufacturer of off-the-shelf standard CPUs to add to your personal I/O motherboard (baseboard). This ...