Connectors
313 companies | 3118 products
How to choose this product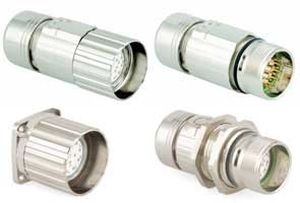 A connector joins the end of a cable, wire, optical fiber, pipe or other conduit to the end of another, or to a piece of machinery, equipment or other element in an integrated system.
Applications
Electrical connectors are used in electronics, power control, metrology, audiovisual systems and computer networks.
Technologies
Electrical connectors vary by configuration, number of contacts and the nature of the transmitted signal.

This can be a strong power supply signal or a low-power digital data signal. The former will have contacts designed to limit resistive loss and adapted to the conductor's diameter. The latter have contacts offering low capacitive attenuation to preserve bandwidth. These factors will determine whether the contacts are covered by alloys of copper, nickel, platinum or gold.

The connector body can be round or rectangular, and may have a polarizing slot. It also may have a clamping ring to secure the connection. The wires insert into the contacts or are soldered to them. Male or female, connectors can form the end of a cable, be soldered to a printed circuit, serve as a fixed connection or be mounted through equipment housing.

Thermocouple connector contacts are made of particular metals. Fiber optic connectors ensure proper fiber alignment.