The Online Industrial Exhibition

conveyor furnace
2500 Series
Maximum temperature: 1,050 °C
The 2500 Series Controlled Atmosphere Conveyor Furnace from SCHMID is designed for precision processing in manufacturing operations requiring performance of the highest quality and consistency. ...
See the other products
Gebr. SCHMID GmbH

heat treatment furnace
PNF
Maximum temperature: 0 °C - 538 °C
The PN Series Inert Atmosphere Ovens are designed to accommodate a wide variety of processes where an inert atmosphere is required to prevent product oxidation. Typical applications include ...

Conveyor furnaces available: Thick-Film firing furnace in air atmosphere (TFA Series) Thick-Film firing furnace (TF Series) Quick Response thick-film conveyor furnace ...

Inductotherms rollover furnace is ideal for close control of pouring and metal quality to produce high-end investment castings. Charge size can be accurately controlled and molds filled completely due ...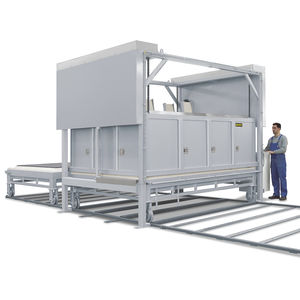 chamber furnace
HG series
Maximum temperature: 900 °C
Nabertherm markets this range of top-hat furnaces for bending and slumping of large glass parts. The standard furnace is equipped with one table running on rails which can be pulled out for easy charging. ...
See the other products
Nabertherm

... of CHQ(Cold Heading Quality)wire for manufacturing materials of bolts, nuts etc. Energy Saving, accurate thermal and atmosphere control, and total automation system from charge to discharge achieved. Greater productivity ...
See the other products
HANWHA MACHINERY

These roller hearth furnaces (Stein HeaTreat RollH range) are used for normalising and for the different annealing treatments of bars, tubes, plates of any sections, in some cases under controlled atmosphere. ...
See the other products
Fives DMS

Maximum temperature: 20 °C - 1,800 °C
... is created for all brazing processes, in which the most variables are being presented when there's a brazing process in atmosphere or vacuum.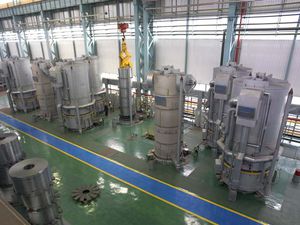 Maximum temperature: 850 °C - 1,200 °C
... heating bell and inner cover. Cooling bells are used to cool the charge down to below the ignition threshold of the hydrogen atmosphere - possible thanks to the metallically-tight workload space.

sintering furnace
+1 500 °C, 30 kW
Maximum temperature: 1,500 °C
The Top Hat furnace can be utilized under an operating temperature up to 1500 °C. It is well suited for use with argon/CO/SO3 type of processing atmosphere. The unit operates at a 30 kW power rate. The ...
See the other products
AET TECHNOLOGIES

THe MKe sereis is a range of laboratory units designed for heating, drying, curing and short time high-temperature applications. It is integrated with Pyrometer and temperature controller, timer, and heat insulation housing, The models ...
See the other products
Linn High Therm

heat treatment furnace
RT/T
Is there anything more convincing than quality? The new Ipsen RT/T. To Ipsen, quality means offering you technology that is intelligent, energy efficient, and easy to operate. With innovative technologies such as Recon® Burner, SuperQuench, ...
See the other products
Ipsen International GmbH

heat treatment furnace
GRS series
This type of furnace can be used both for CVD coating and for removal of such kind of layers (stripping). We ideally adapt the furnace system to your process requirements and design the furnace ...

burnout furnace
FC200 / FC300
Maximum temperature: 800 °C
... time for each of them), or 4 segments plus delayed start. A furnace grate plus a wax tray made in stainless steel for long durability are provided with the oven (tray is outside the furnace ...

conveyor furnace
FOX series
... series of compact ovens designed for the needs of medium-small glassware. Despite its small size, every Fox Series machine ensures high quality and cost-effectiveness even in small series machining. The new Fox EcoConvection ...

high-temperature furnace
heat treatment furnace/electric/high temperature
Maximum temperature: 1,000 °C - 1,700 °C
... needs, the furnace is constructed with brick or fiber insulation and various heating and / or control zones. Our customers can be found in the glass, heat treatment and ceramics industries, as well universities and laboratories. Our ...
See the other products
Wuhan Zeolite Technology Co., Ltd.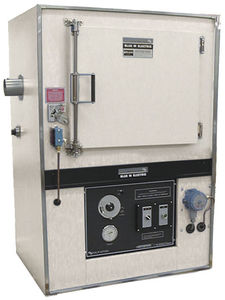 Controlled heat source eliminates atmospheric explosions and ignitions when working with Class 1, Group D materials Ideally suited for testing and processing of hazardous materials, paints, solvents, and lacquers. ...
See the other products
Thermal Product Solutions

STATIC MELTING FURNACE SLIM, MADE OF COMPACT REFRACTORY MATERIAL PROTECTED WITH STRONG METAL CONSTRUCTION
See the other products
F.LLI FOSSATI S.R.L.

... the wafers. Doping is accomplished in a diffusion furnace using a phosphorus atmosphere. Due to the high process temperature, a quartz boat is loaded with wafers and then transported into the furnace. Main ...

Maximum temperature: 700 °C - 1,200 °C
PROCESS: continuous furnaces for tubes, bars, wire and forged parts. Annealing, normalizing, quench and tempering, stress reliving and heat treatment in controlled atmosphere. MATERIALS: ...
See the other products
I.C.M.I. S.R.L.

Maximum temperature: 1,220 °F
... crucibles use less energy than channel-type induction furnaces, and they provide more accurate temperature control. Both manual and power-operated tilt-type versions are also available. Crucible furnaces ...

Capacity: 44 l - 170 l
Maximum temperature: 1,150 °C
ROHDE Toploaders from the TR series for raku applications stand for easy handling, durability and flexibility. Toploaders from the TR series are effortless to transport and easy to handle. High standard technology such as a V2A stainless ...

Maximum temperature: 427 °C - 1,204 °C
... assembly during a series of protective atmosphere heat treatment steps in a CEC Retort furnace. This is one of many detailed and difficult machine components that are made in the USA within a high alloy ...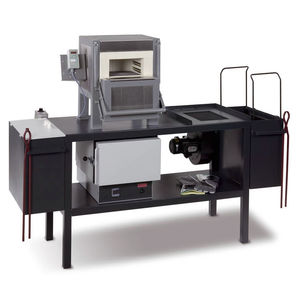 controlled atmosphere furnace
Maximum temperature: 1,200, 1,100 °C
Systems for controlled-atmosphere hardening, semi-vacuum hardening, carburisingSystems for controlled-atmosphere hardening, semi-vacuum hardening, carburising Components ...
See the other products
ThermConcept Dr. Fischer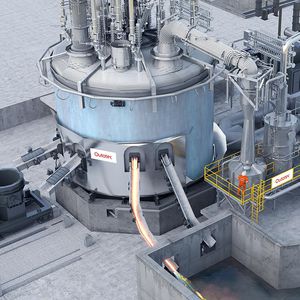 ... through optimized layout and design Robust, safe, and easy to operate, our DC furnace solutions are custom-designed for each individual application. The optimized furnace and feed system layout makes ...