How to choose this product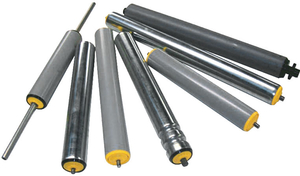 Multiple conveyor rollers are placed between two rails to allow objects to be transported from one point to another. Cylindrical in shape, they can be found in various sizes and materials. Depending on the application, rollers can be tapered, belt-driven, individually powered or non-clogging.
Applications
Conveyor rollers are mounted in series between two rails to facilitate the transport of objects from one area to another.
Technologies
Amongst the multiple technologies we can find tapered, belt-driven, individually driven or non-clogging rollers. They are also available in multiple materials such as stainless steel, resin, thermoplastic and plastic.
How to choose
The application required will dictate the roller to be chosen.