The Online Industrial Exhibition

Pressure: 10 bar
Flow: 10.4 m³/min - 36.3 m³/min
TWO STAGE OIL-FREE DIRECT DRIVEN (water/air cooled) Fixed Speed Variable Speed from 75 to 200 kW F.A.D. from 10,4 to 36,3 m3/min Pressures from 7 to 10 bar
See the other products
Power System

Pressure: 20,000,000 Pa
Flow: 2, 1.8 m³/min
Power: 0 kW - 47 kW
The compressors are provided with water cooling and electric motor drive. They are equipped with automatic control and emergency protection system ensuring manual and automatic control, visual control of main parameters ...

Power: 22 kW - 37 kW
Absolute Air - an ultimate oil-free compressor that provides high efficiency, durability and clean air ・These models feature an oil-free, uniquely shaped claw compressor main unit that provides clean ...

Pressure: 8 bar
Flow: 970 l/min - 2,450 l/min
Power: 7.5 kW - 23 kW
Oil-less two in one compressors. This series equipped dual control PLC can offer single or duel compressors' operation. You can base on different compressed air demand to choose the operation mode. It ...
See the other products
SWAN AIR COMPRESSOR

biogas compressor
RF series
Air cooled single stage rotary compressors for biogas / Dimensions
See the other products
MAPRO International S.p.A.

Flow: 144 m³/h
twin screw compressor for applications with NH3, HFC, HFO, HCFC - Oil water cooling - Integrated check valve - capacity control and idle start system - discharge temperature control sensor - protection charge (inert gas ...
See the other products
FRASCOLD

... diverse range of customers through a series of modular, ready-to-run packages based around the Gazpack range of air and water cooled reciprocating compression units. The Gazpack series is designed to cover the full range ...
See the other products
Reavell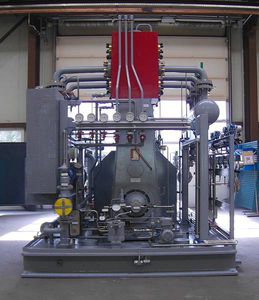 Pressure: 3,000,000 Pa - 10,000,000 Pa
Flow: 6,100 m³/h - 16,500 m³/h
Power: 400 kW
The Natural gas Compressor serves as a solution for natural gas storage application in power plants. It comes with a water cooled structure which is integrated with a closed cooling water circuit and ...
See the other products
KÖHLER & HÖRTER GmbH

air compressor
RFL series
Pressure: 2 bar
RFL/G-series air-cooled rotary compressors are specially suitable for transporting and compressing air and gases of varying chemical analysis, at optimum performance efficiency in continuous duty, for ...

Flow: 2 m³/min - 3 m³/min
Power: 18.5, 25 ch
Features of Screw Air Compressor: 1, High stability, high efficiency, small vibration, low noise; 2, Less wearing parts, low failure rate; 3, No need maintenance during normal operation; 4, Large working area, long service ...