CPU boards
37 companies | 226 products
How to choose this product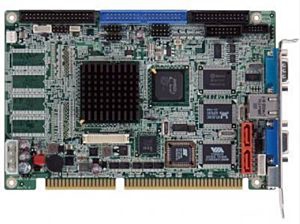 A CPU (central processing unit) board is the computer component that executes programs. A CPU consisting of a single integrated circuit is a microprocessor.

CPU boards are the most widely-known computer hardware element. They process information and read, decode and execute assembler programs (sets of internal instructions).
Applications
Different types of CPU boards exist for different applications.

Microprocessors are designed for computers and are optimized for processing and calculating speed. Capable of managing large amounts of random access memory (RAM), they use different external communications components (nowadays a chipset, beforehand a PIC, UART, PIO, RTC, etc).

Microcontrollers handle inputs and outputs. Directly integrating communication ports, they are designed to control processes using information received from their buses rather than for speed. They can be found in a variety of electrical and non-electrical devices (from washing machines and cars to television control circuits). Their limited memory is generally directly integrated into the electronic circuit.

Digital signal processors (DSP) are similar to micrcontrollers in that they do not handle much memory but are significantly faster. This type of microprocessor is often used in high-end sound cards. GPUs are designed for graphics processing cards.