How to choose this product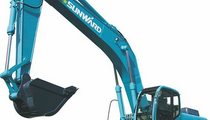 A crawler excavator rides on caterpillar treads, or tracks, and is the most common type of hydraulic shovel. The house mounted on the X-shaped undercarriage can rotate 360°. It contains the operator's cab, the engine and certain elements of the hydraulic system. Small models are called mini or compact excavators.
Applications
This type of equipment is used primarily for digging, including earthworks, grading and quarrying. However, it can perform numerous additional tasks when its bucket is replaced by other attachments, such as vibrators, saws, wrecking tools, hammers, demolition jaws or grapples.
Technologies
Crawler excavators move more slowly than wheeled versions, but have greater traction and maneuverability. Caterpillar track width should be suitable for the work zone. Wide tracks offer more stability and are better on soft ground. However, they wear out more quickly on hard surfaces and increase fuel consumption.
How to choose
Choice will depend on the excavator's working size and weight, bucket capacity, bucket scooping and dumping height, maximum digging depth and penetration and pulling power.