How to choose this product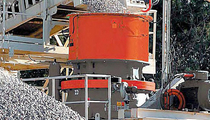 A crusher uses mechanical energy to break stone blocks into smaller pieces of a desired size. Maximum input size is limited by the machine's design. Several crushing stages may be necessary to obtain the desired final product. Primary and secondary crushers handle large pieces, while tertiary and quaternary models produce finer particles.
Applications
Crushers are used in mining to reduce the size of ore blocks, facilitating subsequent treatment. In quarries, they transform rock into a finished construction product (gravel, sand, etc.) or a raw material for industrial use. They are also used to recycle concrete, road surfacing and other materials.
Technologies
The different crushing systems are adapted to the hardness of the material to be handled. The main types are jaw, cone, impact, hammer and cylinder crushers.
How to choose
Choice of crusher model will depend on:
- material to be crushed and its resistance to compression
- the maximum size of the initial pieces
- desired output size
- treatment capacity in tons per hour