How to choose this product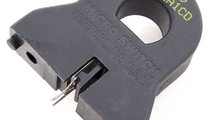 A current sensor is a transducer used to measure electrical current, usually in the form of a ring. Examples include the clamp ammeter used by an electrician and the closed-ring type, encompassing the electrical conductor whose current is to be read.
Applications
These devices are used in electrical generating and distribution systems or for the control of machinery and electrical installations.
Technologies
Hall-effect sensors are the most commonly used technology. Direct or alternating current passes through a magnetic circuit with the Hall detector in the circuit's air gap. The conductance change induced by the magnetic field is measured by the accompanying electronics. Hall-effect sensors ensure galvanic isolation using either open or closed circuitry. Closed-circuit sensor compensation tends to nullify the induced field, reducing nonlinearity effects and increasing accuracy and performance.

These sensors can measure AC or DC without interrupting the conductor. In contrast, current transformers interrupt the conductor and can only measure AC. Shunt elements measure both current types but do not offer galvanic isolation. Other technologies include fluxgate sensors.
How to choose
Choice will depend on sensor precision, response time, bandwidth, the range of currents that can be measured without saturation, power consumption and compactness.