How to choose this product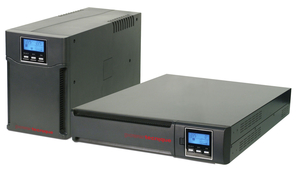 A uninterruptible power source (UPS) furnishes electricity during a power outage or in the absence of a grid connection. It can use a backup battery, which is recharged when there is a grid connection. It also can use an independent energy source, such as solar panels or a generator set.
Applications
These devices provide backup power to equipment requiring a continuous electrical supply. They also are used to convert independently-generated electricity to the equivalent of grid power.
Technologies
The UPS contains batteries, switches, rectifiers, chargers and transformers. Efficient offline, or standby units (up to 2 kVA) include filters and surge protectors.

Line-interactive versions (to 5 kVA) are reliable, compensating for voltage drops and providing backup power, like the offline supply, in case of an outage. Ferro-resonant units (to 15 kVA) operate like standby offline models, but tend to be unstable with power-factor-correction equipment. Their advantages are reliability and output filtration.

Online supplies can operate to 5000 kVA. Double-conversion models provide a permanent flow of electricity, grid power serving only to recharge the batteries. There is no source switching, but there is constant component wear and efficiency is modest. Patented Delta conversion supplies offer better efficiency.
How to choose
The UPS is characterized by the amount of power it can supply to its load.