2 photos
decontamination equipment max. 660 x 1 444 x 710 mm | Z-2

The Bioquell Z-2 is a complete solution for room/zone bio-decontamination, offering user-friendly operation with unique parametric cycle control, eliminating the necessity for gas cycle development studies (non-GMP facilities). Features The Bioquell Z-2 incorporates...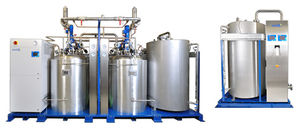 1 photo - 1 video
decontamination equipment CAT3

Astell manufacture a wide range of aqueous liquid Effluent Decontamination Systems (EDS) to service any Category III or Category 4 facility. Particularly suited to High Containment Facilities or High...